Rhodes > Music > Latest News
Department of Music and Musicology Welcomes International Guests
Date Released:
Fri, 29 May 2015 10:32 +0200
The Department of Music recently hosted several overseas visitors in the Department. On 7 May Professor Tiago Pinto, Professor and Chair of Transcultural Music Studies in the Department of Musicology at the University of Music FRANZ LISZT Weimar, in Germany, gave a fascinating talk entitled 'Transatlantic Connections in Brazilian Music'. Professor Tiago explored and gave an historical account of the relationship between the music of Brazil and the music of west Africa, drawing to attention the rhythmic connections between the two regions. Professor Tiago visited RU with the intention of setting up an exchange programme between our institutions.
On 14 May, the American rapper, Dessa, and the Zimbabwean world music performer on the mbira, Hope Masike, provided brief performances and discussed their careers as women performers in different parts of the globe, thereby providing interesting thoughts on how their experiences could be similar or different. Their talk elicited much interest from the audience who were invited to ask them questions about their careers.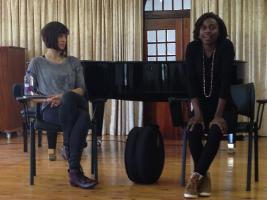 Hope and Dessa in conversation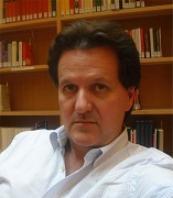 Professor Tiago Pinto
Source:Department of Music and Musicology