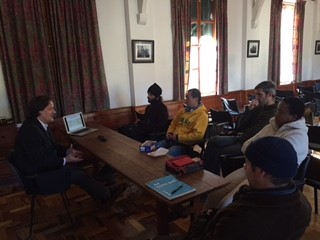 Eva-Maria von Adam-Schmidmeier studied organ, musicology and music education at the universities of Regensburg and Würzburg, Germany. She obtained a PhD in Regensburg 2001 on poetic cycles in the piano music of the 19th century. Her research is on music and romanticism, piano music, music and poetry, as well as on music education, especially also on transcultural music education. Dr. Eva-Maria was a music performance teacher at several high schools in Bavaria. She had a teaching position at the Salzburg "Mozarteum University" and held a position as a professor for musical didactics at the Hochschule für Music Detmold until 2014. She is the co-editor of the music education review, "Musik und Unterricht", and member of the German Musicological Society (Gesellschaft für Musikforschung) and German Association for Research in Music Education (AMF).
Tiago de Oliveira Pinto studied music, musicology and anthropology in Sao Paulo (Brazil) and in Berlin (Germany) and obtained a PhD on Afro-Brazilian music from the Free University in Berlin in 1990. After acting as head of the Brazilian Cultural Institute and as professor for Social Anthropology at the University of Sao Paulo, Brazil, Dr. Pinto became Head of the Chair of Transcultural Music Studies, Department of Musicology, University of Music Franz Liszt, Weimar, Germany, in 2009. His research areas are Brazilian and Luso-phone music, African music in the Latin-American diaspora, music in transcultural processes, music as intangible cultural heritage, globalization and world music. He has been guest professor and visiting scholar at the universities of Harvard, Leipzig, and Lisbon. He is a member of the UNESCO committee on Intangible Cultural Heritage and of the Academia Europaea / The Academy of Europe (London), among others.
During their visit the two scholars gave lectures to students and two seminars for the general public. Professor Eva-Maria von Adam-Schmidmeier discussed some of the orientations of music education in Germany in the 20th and the 21st century and Romanticism in music and German lied, while Professor Tiago Pinto spoke about the musical relationship between west Africa and Brazil. This was Professor Tiaogo Pinto's second visit to the Department this year and they will return in future. One of the purposes of their visit was on behalf of the bi-lateral cultural and scientific agreement between Germany and South Africa (2014). Their visit was supported by the German Foreign Office. The agreement will be realized in the near future and the Department is looking forward to collaborating with Professor Eva-Maria von Adam-Schmidmeier and Professor Taigo Pinto in areas such as fieldwork, historical musicology, online courses, and transcultural studies.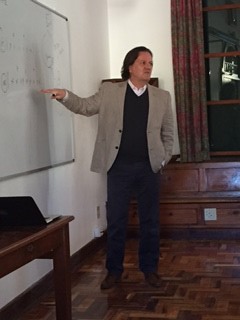 Tiago Pinto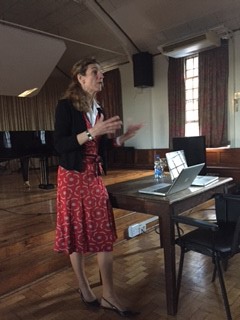 Eva-Maria von Adam-Schmidmeier