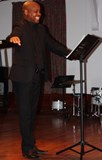 Solo tenor and music teacher Mr Sibusiso Mkhize presented an engaging and technically adept concert recently at Beethoven Room in the Music Department.
Accompanied by Peter Breetzke on piano, Mr Mkhize presented a lively repertoire of beguiling Baroque pieces, ranging from well-known pieces such as JS Bach and Handel to lesser known gems by Pergolesi and Thomas Arne.
Mr Mkhize has been a music teacher at Victoria Girls' High School (VGHS) for eight years and leads the school's award-winning choir. In taking the choir into a new direction, he has shifted the emphasis from light music to performing more challenging works which include choral, classical and opera.
This has resulted in the impressive feats of performing seminal works such as Carmina Burana, Handel's Messiah and Mozart's Requiem. More recently, the choir competed against performance artist Anthea Moys at the National Arts Festival.
Having obtained his BMus at the University of Natal in 2004, he joined the VGHS staff in 2005. With a full teaching schedule, he also teaches music and singing to underprivileged children in the township and is currently completing his Grade 8 music examinations.
Mr Mkhize discovered his love of teaching during teaching method classes where he taught people who had never sang before – thereby igniting a passion for singing for sheer pleasure.
"Singing makes me happy and I'm lucky that it makes other people who listen or sing with me happy too!" he says. With a distinct love for Italian – most noticeable in his passionate pronunciation of the expressive R's – he researches the story line and context of each piece, which many young singers are prone to neglect.
His performance highlights include the role of Alfredo in a Gothenburg, Sweden, production of La Traviata and Lensky in a German production of Tchaikovsky's Eugene Onegin. Describing the Romantic style as quite cynical at times, he says he has gravitated more towards Baroque.
"I love the textures and harmonies of Baroque music. It's easy to sing and has a range of emotions, with a bit of humour as well." One of the challenges of preparing for the concert was to look after and conserve his voice, which took a lot of discipline and restraint because of his long and busy schedule.
Fellow music lover and retired teacher, Mr Breetzke invited Mr Mkhize to join the pro Carmine Choir and from then it was just a matter of time before a solo concert was on the cards.
"I love to learn from other musicians like Peter, you can be a good musician but there's always something to learn from sharing and experiencing music together," he says.
By way of an introduction, Mr Breetzke described his colleague as a thoroughly musical person who loves to share his gifts and enthusiasm for music. "It takes a special brand of humility, as an accomplished tenor solo singer who is dedicated to teaching and community work," he said.