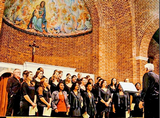 Old Rhodians to sing along.
The Rhodes Chamber Choir will celebrate its 60th anniversary on Saturday by bringing former members and music lovers together, while raising funds for charity.
Rhodes University choir conductor Peter Breetzke said a combined choir event will be held at 4pm on Saturday at the Chapel of St Mary and all the Angels on St Peter's lawns on the Rhodes campus in Grahamstown. It will be conducted by Dr Christopher Cockburn, who directed the choir in the 1980s.
"The Rhodes Chamber Choir was founded in 1953 by Dr George Gruber. It was not the first choir at Rhodes but it has an unbroken history from that date," he said. Former choir members from across South Africa will converge on the City of Saints gathering to be part of the celebration.
Dr John Stonier, the well-known educationalist and one of the members of Gruber's 1953 choir will be joining other choir members. "There are just over 30 choir alumni who will attend practice sessions on Friday and Saturday. They will be joining members of our present choir," Breetzke said.
The concert is free but a collection will be taken for the Friends of Fort England, a support group for patients at the mental hospital. "There will be music from the 16th century to the present day, sacred and secular, from South Africa and Europe and arrangements by past conductors of the choir.
The choir members are fortunate to be experiencing the joys of singing at a stage when the vision it provides for a cooperative future is so important," Breetzke said. For further information contact Breetzke on 072-264-6462.
Photo caption: IN UNISON: The Rhodes Chamber Choir will sing in the chapel on Saturday afternoon in Grahamstown
By Octayvia Nance
Article Source: The Herald