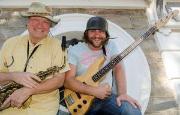 Jazz and blues lovers no longer have to wait until the Arts Festival to get their fix of swinging music in Grahamstown.
With the opening of Hill Street Jazz next Sunday afternoon, the first Sunday of every month will now see the upstairs pub lounge at the First City Drill Hall fill with live music and good vibes.
First in the line-up are well-known Grahamstown musicians Rick "Random" van Heerden and Kingsley Buitendag.
Van Heerden and Buitendag have been working together for two years and have forged a close, intuitive musical rapport.
Their music is largely improvised, sometimes within loose skeletal frameworks, sometimes with total spontaneity.
Their inventions veer between periods of lyrical, romantic introspection and violent, chaotic outbursts.
They will be joined by special guests Nishlyn Ramanna on piano and Steve Ellis on drums.
Ramanna, of the Rhodes University music department, said he came up with the monthly jazz club idea to give promising jazz students at Rhodes a space to share their talents with the Grahamstown public.
He also hopes to attract sponsorship in the future to be able to invite jazz musicians from all over the country and especially from elsewhere in the Eastern Cape.
Van Heerden plays saxophone and studied with Norbert Nowotny and Darius Brubeck. He has performed throughout southern Africa in a variety of contexts and has toured overseas.
He now teaches at the Diocesan School for Girls. Buitendag is a pianist, multi-instrumentalist and composer.
He studied with Noel Stockton and holds a Masters degree from Rhodes.
His work won him second place at the Southern African Music Rights Organisation (Samro) composition awards in 2011.
He performs extensively and plays bass with guitarist Quinton Maritz and Ramanna. He also teaches at DSG and Rhodes Hill Street Jazz will open from 4pm to 6.30pm on Sunday, 3 March.
There will be an entrance fee of R40 or R20 for students. For more information please contact Ann Ashburner on 083 632 6350.
Written by: Ann Ashburner
Picture credit: Harold Gess