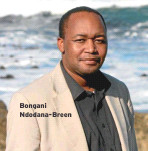 The invitation extended this year to SA born composer Bongani Ndodana-Breen by the Johannesburg International Mozart Festival (JIMF) is of significance, especially in the context of SA classical music.
Ndodana-Breen's latest work is a piano concerto, which will be premiered this Saturday evening (February 2) in the Linder Auditorium in Parktown. Called Mzilikazi, the concerto is based on a theme from Mzilikazi Khumalo's Bawo Thixo Somandla, an anthem he wrote 40 years ago at the height of SA's liberation struggle.
The German pianist Florian Uhlig, the festival's artistic director, is the soloist and the Johannesburg Festival Orchestra will be conducted by Richard Cock, the executive director. Born in Queenstown, Ndodana-Breen studied at Rhodes University in Grahamstown and then at Stellenbosch under Roelof Temmingh, who composed Enoch, Prophet of God, the first full opera in an African language, which premiered in Cape Town in 1995.
Sixteen years later, in 2011, NdodanaBreen's opera, Winnie, received its first performance at the State Theatre in Pretoria in the presence of the 75-yearold anti-apartheid activist Winnie Madikizela-Mandela. And to justifiably great acclaim. This takes us back to the premiere in 2002 in Durban of Khumalo's opera, also based on an influential woman, Princess Magogo kaDinuzulu, and with the incomparable Sibongile Khumalo in the title role.
It was initially performed in local opera houses and eventually in Chicago, Amsterdam and Oslo. At the time, the now 80-year-old Mzilikazi Khumalo, also professor emeritus of African Languages at Wits University, lamented the fact that only a few black SA composers could study music in the apartheid days, and thus his original work based on recordings he made of Princess Magogo songs had to be orchestrated by Michael Hankinson.
This was indeed unsatisfying, for the orchestration only slightly encompassed the overriding African element. However, the Cape Town composer Peter Klatzow composed eight Magogo songs as a cycle, Haya, Mntwan' Omkhulu, which, musically, is far more effective as an African work. Klatzow's excellent orchestration was again per-
formed by Sibongile Khumalo.
Thus, the presence of Ndodana-Breen at this year's Mozart Festival suggests progress is being made by the younger generation of black composers who are now studying at our music schools, colleges and universities. Ndodana-Breen is now an internationally recognised composer, and many of his works — vocal and orchestral, music for modern dance companies, chamber music and solo instruments — are being performed in Canada, the US and Europe.
He has received commissions from all over the globe and from institutions in Hong Kong, Indianapolis, London, New York and Vancouver, the Ensemble Noir/Musica Noir and The Emancipation Festival in Trinidad & Tobago; and locally from the SA Music Rights Organisation and National Arts Council. SA is blessed with many such talented artists who, if supported by a dedicated government programme, could have a significant impact on SA's post-apartheid cultural landscape, which remains far too focused on sports.
This neglect of the arts, and artists, has led to a huge artistic brain drain, with both white and black classical musicians leaving the country, literally in their hundreds. For example, the tenor Johan Botha is a regular soloist at arguably one of the world's foremost opera houses, the Metropolitan Opera in New York.
He sang the lead in Verdi's Otello, screened at Cinema Nouveau theatres countrywide last December. This year, within a month, two SA sopranos, Elza van den Heever and Pretty Yende, also made their debuts at the same opera house. Ndodana-Breen himself now lives mostly in Canada. And now, in what can only be described as a case of cultural neglect, the much-loved Johannesburg Philharmonic Orchestra will be playing its last note.
Many of its highly regarded musicians, both local and from abroad, have not been paid — some waiting in vain for more than a year. And with the return of one of SA's great musical sons to home shores for the Mozart festival, there is an opportunity for reflection on how best to nurture and retain this country's artistic talents.

Story By: Thys Odendaal
Caption: Bongani Ndodana-Breen
Source: FINANCIAL MAIL