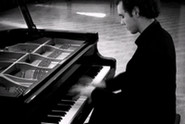 Christo Greyling is a student in the Music Department studying towards his Bachelor of Music degree. He is an intelligent young man with a passion for music and has dedicated his life to playing and teaching music.
What makes Greyling's story interesting is the fact that he is not the typical businessman or entrepreneur. Even after talking to him, one gets the impression that this particular young man would probably not describe himself in that way either.
However, after looking at how Greyling spends his days and some of the activities he is involved in, the business aspect begins to become quite apparent.
Greyling, whose love for music began when he saw one of music teachers performing a solo piece when he was 11 years old, plays a total of five instruments including the piano, violin, guitar, tuba, and euphonium.
The business of his life in music is two-fold. On the one hand, he offers music lessons to local pupils at St Andrews College. For this service, he is paid about R140 per hour for each lesson.
The other component to this is the performance side. On a local level, Greyling is often called upon to provide entertainment at society and hall events on campus. In this regard, he has performed at events for Allen Webb Hall and the African Women Chartered Accountants Society.
Despite this, Greyling admits that most of his performances are done at private functions, usually outside of Grahamstown. For such events, he may be paid about R4500 per hour. In addition, organizers of such events will usually provide for transport costs as well.
Greyling considers himself to be a performing musician before anything else.
Admittedly, teaching was not something he wanted to do but once he began doing it in 2012, he says that he found it be rewarding and something he loves to do with is time.
In terms of the South African music industry, Greyling said "there is a lot of networking that is needed in a place like South Africa. The classical music scene is not as developed as in Europe, so we do what we can make the most it."
Locally Greyling has amassed quite a following from his performances. Shannice Nandhoo, a second year Bachelor of Commerce student said, "I like the way he plays and I've seen him practice. He is serious about what he is doing and the music he plays is really good."
A third year Bachelor of Arts student and former res-mate, Mark Mdluli was quite candid when he said, "Christo is just something else. There's so much passion in that music and it takes you to another place. He is talented."
In terms of maintaining a balance in his life, Greyling cites the fact that academic deadlines do a lot to keep him going but that it is a passion for his craft that really motivates him to do his best, improve and strive to be the best. He practices for an average of 4 hours.
As a full time student though, he is quick to note the fact that he does not have as much time as he would ideally want to have for performing and giving music lessons.
Greyling is a good example of the types of opportunities that can materialise when a person has a passion for something and they work hard to gain the necessary skill, practice and become better at it. His passion has provided avenues for income generation in his life.
Greyling is in the process of preparing for an upcoming performance in Johannesburg.
You can contact Greyling on 084 233 9065 or greylingchristo@gmail.com
Caption: Christo Greyling is a talented musician and is gradually carving out a space for himself in the South African industry.
Picture: Christo Greyling
By Mudiwa Gavaza
Source: Oppidanpress.com