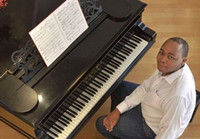 MORE than 60 years ago, Queenstown, in the Eastern Cape, was South Africa's "Little Jazz City". Almost every black home hosted an instrument, or a player or singer of note, and musical dynasties such as the Matshikiza family were being established.
By the time composer Bongani Ndodana-Breen was born there, in 1975, apartheid had dismantled much of the self-confident prosperity on which that bustling cultural milieu had been founded, but the legacy remained.
"Growing up, music was always present," says Ndodana-Breen. "One of my great-aunts played the piano. When we visited my mother's branch of the family, there was a harmonium sitting in the back room. My grandmother was a staunch churchwoman, so hymnody was also in the air."
Based in Cape Town, we talk in Johannesburg on the eve of the premiere of his piano concerto, Mzilikazi: Emhlabeni, at the city's International Mozart Festival, and anticipating the July premiere of Credo, his oratorio based on the text of the Freedom Charter, written for the University of South Africa's 140th anniversary.
Since those childhood experiences, he has achieved much: work in Canada and the US; the directorship of various ensembles and cultural organisations; commissions from a dozen orchestras and festivals from Trinidad and Hong Kong to Eisenstadt and the Wigmore Hall; operas based on the poetry of Guy Butler, and on the lives of Chris Hani and Winnie Madikizela-Mandela, and more.
The new concerto marked an additional landmark: "It was my first piano concerto and, I believe, the first such from a composer of colour here. It's a homage to Prof Mzilikazi Khumalo, a great man of music and letters, but also — because it is based on his liberation anthem, Bawo Thixo Somandla — a bridge between the two parallel musical worlds that have grown up here: the white orchestral/classical world and the black choral world."
He well understands the roots of that separation. Classical music had been appreciated and played in many black homes before apartheid, "but with the advent of the performing arts councils and Nationalist rule, a barrier was placed around it. It became a property of cultural identity for one group, no longer really about the art." His own education reflected that.
At the elite but relatively progressive St Andrews School, South African concert music was studied "via compositions by Hubert du Plessis. The same with literature: I think I was set one poem by Mongane Wally Serote. However liberal, we still had to pass Cape matric."
The school did encourage extracurricular awareness of African culture, though, and he found alternatives. By his mid-teens, he was writing his own music for school productions and church, and escaping to the International Library of African Music in Grahamstown. "I spent whole afternoons absorbed in the most wonderful field recordings from across Africa."
With matric, then Rhodes University, came "liberation from the rigid Anglosphere — Lord! That whole Jerusalem thing", with the discovery of 20th-century European composers such as Stravinsky, Schoenberg, Berg and Webern and, subsequently, Americans such as Phillip Glass and John Adams.
The US (and later Canada) showed him a different musical landscape. He discovered a world where classical music, including new music, was part of a country's experience; where a distinctively national voice sounded in music and libretto, and where contemporary issues were legitimate subjects for composition.
To foster a similar climate here, he is unapologetic that transformation must happen. But he emphasises it must be a transformation of mind-sets and discourse, rather than some glib, box-ticking process. Opportunities for instrumentalists alone are not enough. "Even in the US, there was some unwillingness to mentor cultural leaders of colour in music institutions. Yet it's at the level of arts administrators, arts managers, composers, musical directors and other policy makers that real change happens."
And he's a gentle revolutionary, talking in terms of strengthening what South Africa has at present ("We are fortunate to have our classical music infrastructure") and growing it in diverse directions. His heroes and friends are those who build awareness and bridges: conductor Richard Cock, the Masote family, composer Neo Muyanga and others.
He is more trenchant about the content of the music to come. "There are certain things we do here we should not try in any way to repress. It's absolutely not about trying to sound like we've just stepped out of Darmstadt."
South Africa also offers a composer inspiration from a vibrant natural world, but he finds the greatest richness — classic operatic narratives of tragedy and heroism, such as those of Madikizela-Mandela and Hani; authentic human stories; challenging dilemmas and poetic texts — in the country's lived experience and history.
Music education, he feels, should include fostering "the skills to explore our own cultural memory". He contrasts the sneering tone in which a white musical acquaintance inquired "How's the (2010) Struggle Cycle going?" with the audience reaction to his 2012 Winnie, The Opera. "When I talked to audience members after the show, I met a public hunger: people coming out wanted to know more; to discuss more.
The people who have the ability to commission operas are far more afraid of talking about our issues than the audience, who know that we have a lot of stuff to unpack."
To create those works, however, composers also need to absorb another lesson he learnt in the US. "That institutional support for development is vital, but we also need our own entrepreneurial skills. We can't always be complaining about needing more grants when 50 yards down the road people may be starving in shacks.
These days, I'm forced to be an advocate, a producer, a presenter and a proposal writer, as well as a musician."
Grants and business skills alone, however, cannot overcome the perceptions of difficulty that often surround modern concert music. "The dilemma contemporary composers face is being criticised simultaneously for being 'too conservative' and 'too avant-garde', as the Winnie opera was."
Referencing familiar themes, as Ndodana-Breen does in Mzilikazi: Emhlabeni, is one strategy for opening a sound-world to new audiences. Employing traditional musical textures is another. "Writing a concerto, one can be haunted by Grieg and Rachmaninov. I decided to use different, sparse, African textures. The piano is the first among equals, not a prima donna.
There are patterns from amadinda and mbira music and passages of near-transparency. Sometimes I'm trying to make 65 orchestral players sound like 12."
He remains optimistic about the future. "I think 2013 could be the year South African classical music turns a corner."
He cites the growing exposure for his own work, and for new music from composers such as Mokale Koapeng, Phelelani Mnomiya and Paul Hanmer. "Those guys hung in there during difficult times; now they are acknowledged as senior figures and mentors.
It wouldn't surprise me even to see a couple of new South African operas before the year is out."
Picture Caption: IN THE FAMILY: Music was always present when Bongani Ndodana-Breen was growing up in Queenstown in the Eastern Cape.
Picture by: TREVOR SAMSON
Article by: GWEN ANSELL
Source: Business Day