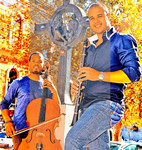 Series of collaborations staged to entertain and teach.
FROM classical music to proudly South African offerings and jazz, an innovative alliance will showcase an exciting blend of local talent and visiting performers on stages in Nelson Mandela Bay.
The newly formed South African Music Alliance and local production company Two Tone Music will host the first of a series of concerts featuring collaboration between international and local performers and titled Music Across Borders on Tuesday March 26 at the Collegiate Girls' High Auditorium.
Concert organisers Caleb Vaughn-Jones and Gareth Williams are excited about the prospect of supplementing the culture of music concerts in the Bay by initiating a year-round series of chamber concerts and shows across various genres.
"We'd love to see a growing audience of younger people supporting chamber music, and bringing highly qualified and inspiring performers to the Bay is one way of exposing them to the magic of musical interaction," said Williams.
"During my two years living and working in South Africa I have noticed that, compared to larger cities, there is very artistic stimulation in smaller cities like Port Elizabeth, which makes it very difficult for aspiring musicians to stay motivated," added Vaughn-Jones.
The team is planning varied concerts for the year, featuring performers from across the globe. Williams said: "The aim is to pollinate our local music scene with well-respected international musicians who are all looking forward not only to performing in 5A but also to enriching the local music culture by presenting various interactive workshops and master classes."
Clarinetist Williams, in addition to being a director of Two Tone Music, is also the founder and conductor of the Mandela Bay Symphonic Wind Orchestra and has directed various other ensembles such as the Mandela Bay Big Band and Mandela Bay Youth Ensemble.
American cellist and music outreach educator for the East Cape Philharmonic Orchestra, Vaughn-Jones is passionate about developing classical music among young people in South Africa. He has secured a colleague, violin professor or Quinton Morris from Seattle University in Washington, for the alliance's inaugural concert which will feature Jones on cello and local pianist Mariel Ilusorio on piano. _ Ilusorio, who attended Juilliard among other prestigious schools, lectures piano at Rhodes University and hails from the Philippines.
This international trio prompting the concert title Music Across Borders promises to deliver an outstanding musical experience ' featuring works by ' Beethoven, Mozart j and Gliere. Tickets for the 7pm concert on March 26 cost R90 while pensioners pay R60 and students and school pupils pay R50.
To book, call 071-414-7726. Morris will also host a workshop and master class for local string players although the session may be attended by any interested musical parties next Saturday March 23 from noon to 3.50pm at the Feather Market Centre, with seats limited to 20 participants at R150 per person.
An additional five string players will be able to participate in the practical master class and will be selected by the organisers based on a first come, first serve basis. The cost of the performance class will be R300 per person. To apply for the workshop/master class, e-mail musical liance@acalebvaughnjones.com
Photo Caption: IN TUNE: Musicians Caleb Vaughn-Jones on the cello and Gareth Williams on the clarinet prepare for the forthcoming concert to be held at the Collegiate Auditorium
PHOTOGRAPH: EUGENE COETZEE
Source: Weekend Post