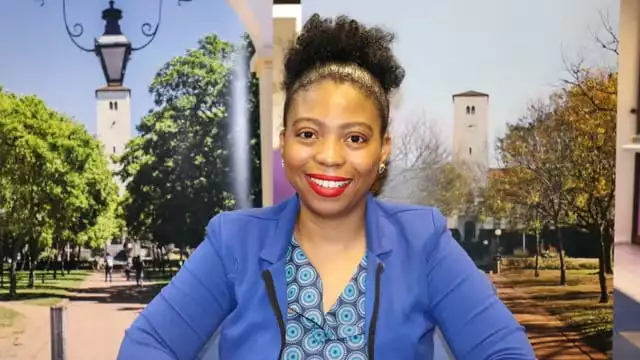 By Karabo Dikobe, Third-year BJourn student
There is ample space in academia for brilliant young black minds, especially young black women. Rhodes University Psychology lecturer Ms Dineo Diale, is an exceptional example of the bright minds in this space.
Diale is a registered Industrial Psychologist with HPCSA as well as a lecturer in Organisation Psychology. She is currently a PhD Candidate in Multi-disciplinary for Industrial Engineering, Industrial Psychology, Green Economy, and Entrepreneurship. She has passed the Proposal stage at the University of South Africa.
At the beginning of the year, Diale was awarded the certificate of competence for a Doctoral Supervision Course. The Doctoral Supervision Course is facilitated by the Centre for Postgraduate Studies, Director Sioux McKenna, former Deputy Vice-Chancellor for Student and Academic Affairs, Chrissie Boughey, and colleagues from other African and European higher learning institutions. It is a collaboration between African and European Universities and was the first of its kind in 2020. "These types of collaborations are needed to engage with epistemologies from around the world and host roundtable discussions to find our voices and our epistemology and pedagogy, which will make sense to ourselves and our students. Ultimately, they define what you are trying to achieve and so on," Diale explained.
Diale further received a special award at Nelson Mandela University. This special award was for her contribution to the School of Industrial Psychology and Human Resources for 2020. "Words cannot express how grateful, honoured and truly blessed I am feeling right now to have been recognised in the prestigious award, especially the sort of unheard-of recognition. It indicates how hard work and determination pay off," she said. As someone who has done the menial work and is now reaping the rewards of her perseverance and hard work, this advice comes from a valuable reputable source.
All the accolades humble Diale, and she believes that if she can do it, anyone else can do it. She said one should be willing to start at the bottom and persevere, especially young black women. "Being black is never easy; you need to work twice as hard. In some instances, you are judged by the fact that you are a young black woman. Some people judge you without even checking your credentials or recognising your capabilities, everywhere you go, even in societies, until they see you in action and see what you can do and your capabilities, then the stereotypes changes. I find this model disturbing, but it is a sad reality. Age, gender or even ethnicity needs to come after capabilities or potential. National policies need to be revised with strong integration of intersectionality: ethnicity, gender, and age. It needs to start from the societal level," she explained.
Diale calls on other young black women to enter Industrial and Organisational Psychology as she said it forms part of scarce skills. She said the number of black women, especially young black women registering as Industrial Psychologists, is low across the country, yet it is a versatile profession. "As an Industrial Psychologist, you get to wear multiple hats, and there is always an opportunity for you to contribute to various areas. You can wake up and work as a Career Counsellor and then one day specialise in an assessment centre or Executive coaching, Managerial Psychology or leadership and management training or Psychometrics or even specialise in the 4th Industrial revolution knocking fifth Industrial revolution. Furthermore, you can be an Organisational Development Specialist, specialise in employee and organisational wellbeing, or specialise in strategic human resources with an integration of behaviour (high level in nature)," she advised.
Diale acknowledged God, her family, students, colleagues, Head of Department, Dean, and all top management for the support throughout her academic journey. "Keleboga go menagane go Botlhe ba ba tsereng karolo mo tirong e kgolo e yame. Bopelonomi le Boikokobetso," she thanked them in her home language, Setswana.