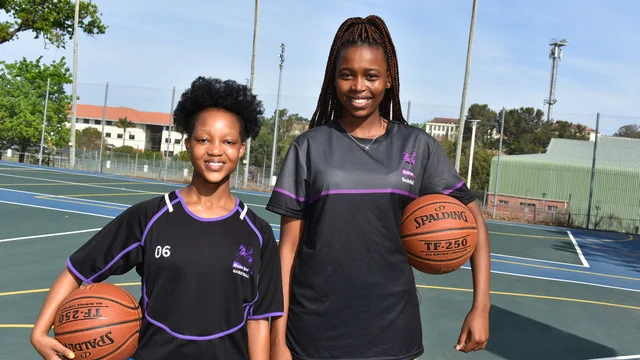 By Zintle Nkunzi
Two Rhodes University basketball players have been rewarded for their brilliant work during the recent University Sports South Africa (USSA) national basketball Championships. The two women from the Rhodes University basketball team are Siyamthanda Sigwela and Thina Dumalisile. The duo was selected after both men and women participated in the USSA Championship held in Gqeberha from 23 to 26 September 2021.
The Rhodes University ladies team gave an impressive performance and came in 7th place out of 16 teams. Their performance earned the team a qualification for the Basketball Varsity Sports championship tournament next year.
Siyamthanda, a 21-year-old first-year Bachelor of Social Science student, started playing basketball in primary school and is a firm believer of teamwork in sport. "My performance is never about me as an individual but about the entire team. Whatever personal rewards that come out of teamwork are all by God's grace," she said.
Being selected to be in the Student National Squad is one of Siyamthanda's major recent highlights. Her first major highlight was when she played for her primary school, Montevideo Primary School, in a "Are You Top schools?" tour held in Bloemfontein. Siyamthanda's school won the tournament, and she was awarded the National Most Valuable Player award and was rewarded with a bursary for her high school studies.
The Gugulethu-born athlete chose to play basketball to escape the societal ills in Cape Town. "Basketball is time-consuming, and it kept me within boundaries and focused. I also had to work harder because people underestimate short players. This took most of my time, and I spent time in court rather than on the streets," she added.
Siyamthanda said she was excited about the national call-up as it is a reassurance that she still has the best in her. "This call up is the best thing that could have happened to me, especially since I lost my mom recently," she concluded.
Another player, Thina, said basketball is part of who she is. She said her goal is to see the Rhodes University basketball team going to the top. "I wish the Rhodes University basketball team continues with the good performances and that the team goes to the next USSA and does better than we did with the last one because no one expected us to reach the level we achieved," she said.
She said the selection to the national team came as a surprise for her. "I wasn't thinking about an individual selection to the national team because that can put pressure on an athlete, and you end up not performing well. My focus was playing as a team and having a great time on the court because things come together when we are all in that mindset," she explained.
When asked how she balances her academics and basketball, the Psychology honours student said: "Time management is something that I learnt back in high school as I played several sports, and this is the skill I have learnt. When I know that I have something to do, I make sure to do it in time. So, I wake up early and start working on what needs to be done and get it done. I do also get in contact with my lecturers for academic assistance if need be."
After sports were cancelled due to COVID-19 restrictions, Thina said she was looking forward to enjoying basketball again. "It feels good to be back on the court again, and I feel like us playing now is a privilege because, with COVID-19, you do not know for how long we will play," she said.
Sports Administration Manager Frans Mamabolo congratulated the two athletes and said: "I am very happy for the two students, and this is a challenge to others to pull up their socks as well. When individual players put in the effort, the whole team benefits. The call up of these students to the student national team is a testimony that the strategy and effort we have been putting since 2019 on our sports are coming to fruition, and these are the results. This tells us that we are on the right track".