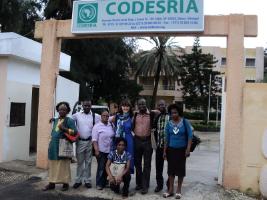 Jaclyn Lotter, a PhD candidate and part-time lecturer in the psychology department, was selected from a group of approximately 300 applicants, as one of fourteen young African academics to attend the 2013 Child and Youth Institute hosted by CODESRIA in Dakar, Senegal from 16 September to 4 October 2013.
CODESRIA, the Council for the Development of Social Science Research in Africa, was established in 1973 as an independent Pan-African research organisation with a primary focus on the social sciences, broadly defined. It is recognised as the pioneer African social research organisation.
The theme for the 2013 edition of the Child and Youth Institute was "Social Protection and the Citizenship Rights of Vulnerable Children in Africa".
Participants included academics working in various fields, ranging from law to social work, but all concerning that of childhood and youth. The African countries represented amongst the participants were that of Senegal, Togo, Ghana, Cameroon, Burkina Faso, Nigeria, Kenya, Uganda, Lesotho, Zimbabwe and South Africa.
The institute was directed by Professor Auma Okwany of Erasmus University Rotterdam (Netherlands). Furthermore, three resource persons, all senior scholars/researchers in the field, delivered lectures and lead discussions during the course of the three weeks. These included Professor Hassina Ebrahim from the University of the Free State, South Africa, Professor Georges Mulumbwa Mutambwa from the DRC and Professor Jace Pillay from the University of Johannesburg, South Africa.
Jaclyn had the opportunity to present a paper, related to her PhD, entitled "Children's understandings of domestic mobility within South African grandmother-headed households and its implications for child sensitive social protection", which after peer review is to be published by CODESRIA. In the final week Jaclyn also had the opportunity to engage in round table discussions, which included representatives from the UN and UNICEF.