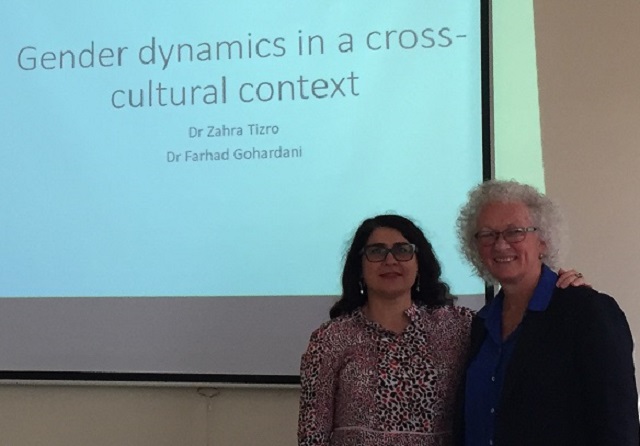 Rhodes > Psychology > Latest News
Gender Dynamics Seminar
Date Released:
Thu, 8 August 2019 14:46 +0200
The Psychology Department's first staff seminar of the 2019 series was presented on Friday, 2 August. It was presented by Dr Zahra Tizro, originally from Iran and currently based at the University of East London, UK. Her PhD was completed at the University of York, in Gender Studies; and her earlier degrees were in educational psychology. Dr Tizro's areas of interest focus on gender and violence from cross-cultural perspectives. She has been hosted as a visitor to the department by Prof. Jacqui Akhurst.
The title of the seminar was 'Gender dynamics in a cross-cultural context: the impact of socio-political violence'. This was a cross-cultural study to investigate the formation, re-formation and transformation of violence through exploring the multiple and diverse relations between sexuality, death, and socio-political violence at micro, meso and macro levels. The participants in the study were 20 people of the Iranian diaspora (10 men and 10 women) resident in the UK; and 20 non-Iranian British citizens (10 men and 10 women). Participants of the Iranian diaspora expressed confused and divided identities; and cognitive dissonance in their lived experiences of embodiment and sexuality due to their state of belated 'inbetweenness'. In comparison, the non-Iranian British participants demonstrated more consistency in their identities (due to their engagement in a form of cynical and playful postmodernism in theory but an immersion to modernity in practice, although there were some expressions of liminality in female British participants).
Source:Psychology Department - Prof Jacqui Akhurst