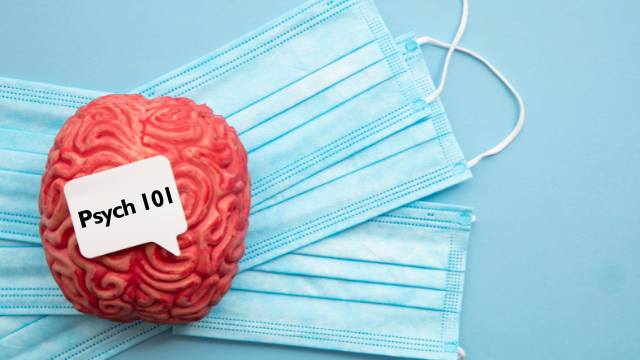 In an effort to better equip students to cope with the impact the pandemic has had on their mental health, the Psychology Department has implemented a Mental Health and Wellbeing course as part of its first-year psychology curriculum.
Head of the Department of Psychology at Rhodes University, Professor Chares Young, explained that the course resulted from the deliberations of the Vice-Chancellor's Mental Health of Staff and Students Task Team, one of the sub-task teams of the Coronavirus Task Team at the University.
"I had been toying with the idea for a while, but it was the Task Team that gave impetus to the course," he said. "It is a direct result of the concern about the impact that COVID-19 would have on the already precarious mental health of many students."
Currently offered to 832 new students, the course is designed to increase mental health literacy and to teach evidence-based strategies that help students manage their own psychological wellbeing using behavioural activation practices.
According to Prof Young, behavioural activation is a relatively simple, evidence-based intervention for depression. "It grew out of a 1990s component analysis of the dominant psychological therapy, Cognitive Therapy, that found that behavioural techniques, performed in isolation from the larger cognitive therapy package, produced good outcomes for the treatment of depression. In behavioural activation, people are helped to engage in meaningful and sometimes difficult activities consistent with their life values. Put simply; this involves doing more of what matters to you," he explained.
The structure of the course aims to achieve two distinct objectives. The first part of the course covers useful information about the latest research on students' mental health, common mental disorders with an emphasis on destigmatising mental distress, the different categories of psychological practitioners and the different psychotherapies, and the ethics of psychological practice. "The first part is largely aimed at ensuring that the students are informed and empowered consumers of psychological and mental health services," said Prof Young.
The second part of the course, he continued, teaches the students evidence-based strategies that they can apply in their own lives to protect and enhance their mental health. "These include the monitoring and scheduling of valued activities, which has been shown to be helpful for many. Additionally, students are taught to identify and respond to unhelpful thinking, which is a central part of cognitive therapies," Prof Young said.
He added that students are not obliged to apply the strategies to their own lives. "They were invited to do so, but this component is not compulsory or necessary for the completion of the course," Prof Young explained. Compulsory experiential psychological intervention would be a contravention of the Health Professions Council of South Africa's ethical code.
"However, it does appear as if most of the students chose to apply the taught strategies to their own lives, and feedback has been largely positive," he said.
Some of the feedback from students of the course so far include:
"Through this course, I have been able to speak more openly about aspects of mental health and wellbeing. I found that many of us are in similar boats. Being able to help one another has made the course extremely beneficial and vital to future Psychology 101 students."

"The course changed my life completely as I was going through a hard time during the past weeks. I applied the knowledge I was learning from course slides to my personal life, and since then, I feel positive, as if I am destined for greatness, and I trust myself with everything that I do."

"Not only can I now apply some of the knowledge I learnt to my everyday life, but the real-world practicalities of what we were taught assists in learning the material; I found that information was retained better when I could apply it to either my life experiences or someone else's."

"This made the course more personal, and I appreciated that because it was not just about learning information for the sake of learning it. We were being taught to practice and apply the knowledge that we have been given into our lives. This course is extremely relevant, considering that we are in a pandemic, and most of us have been struggling with our mental health during this time."
Prof Young is confident that developing mental health literacy is beneficial to those who receive psychological care at any stage of their lives. "Some students are applying the strategies and reporting real benefits to their own lives and to the lives of friends and family members who seek psychological care. This small difference in our curriculum may have made a significant difference in the lives of our students and those around them. If that is all this course has achieved, then I would be satisfied."
Source: Communications