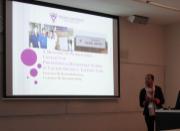 Staff member attends 5th International Community, Work and Family Conference in Sydney
Richenda Koeberg, who was appointed on the Kresge Accelerated Development Programme in 2011, recently attended the Fifth International Community, Work and Family Conference which took place on 17-19 July 2013 at The University of Sydney in Sydney, Australia. Ms Koeberg was one of two South African researchers who participated in the conference with the other South African delegate being from the North West University.
The aim of the conference was to "focus on how the rapid changes and transitions in society present challenges and opportunities for families, communities and organisations, with a special focus on work, families and communities in a globalising world". The conference offered a variety of perspectives on integrating the community, work and family from various parts of the world and disciplines.
The keynote Speakers (as noted below) reflected aims to encourage an international view of work and family and taking a theoretical and empirical 'view from the south' - that will encourage exchange with the north.

- Professor Raewyn Connell, University Chair, University of Sydney
- Professor Cindy Fan, Vice Provost for International Studies, UCLA
- Ms Jane Hodges, Director, Bureau for Gender Equality, International Labour Office
- Professor Rajni Palriwala, Department of Sociology, University of Delhi
- Jason Glanville, CEO, National Centre of Indigenous Excellence
Ms Koeberg presented a section of her masters' thesis at the conference, entitled 'A measure of work-family conflict of professional /registered nurses in the Cacadu District, Eastern Cape'. In this paper she investigates work-family conflict in a specific profession, and a specific context. The paper's focus was on how demographic factors, social support and gender role ideologies of this profession influence work-to-family conflict and family-to-work conflict.
Ms Koeberg would like to take this opportunity to thank Rhodes University for funding this invaluable experience and for the support provided by the Psychology Department, especially from her supervisor Ms Bernadette King and mentor Prof Roelf van Niekerk. She would also like to acknowledge and express her sincere gratitude for the contributions made by Dr Sizwe Madizela, Professor Fred Hendricks, and the Research Office. Ms Koeberg would furthermore like to thank Professor Lindy Wilbraham, Head of Department, for her amazing and continual support during this process.