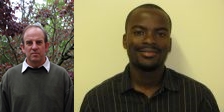 The 15th Annual Conference of the Society for industrial and Organisational Psychology of South Africa took place at the CSIR Convention Centre in Pretoria between 29-31 July 2013. The theme of the conference was Making a difference in the future world of work. The conference attracted considerable attention and was attended by a large number of academics, practitioners, and students. In total, 77 papers, 33 posters, and 11 workshops were presented.
The keynote speakers included Prof Adrian Furnham (Professor of Psychology at the University College, London), Mr Clem Sunter (Future Scenario Planner), Minister Trevor Manual (Minister in the Presidency: National Planning Commission), Prof Deo Strümpfer (Professor Extraordinary, UP; Professor Emeritus, UCT), and Dr Petrus de Kock (Research Manager, Brand South Africa).
At the end of the conference, two Psychology staff members won the Best Conference Paper Award. The title of the paper was "Psychobiographical analyses of entrepreneurs [2]: The personality characteristics of Steve Jobs." Prof Roelf Van Niekerk presented the paper drawn from a treatise completed by Mr Tinashe Ndoro (and supervised by Prof Van Niekerk (Ndoro, T. [2013]. The personality of an entrepreneur: A psychobiography of Steve Jobs, Unpublished MBA treatise, Rhodes University).