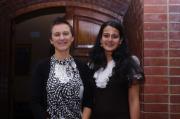 Three members fro the Psychology Department, Dr Anita Unni, Dr Tracy Morison and Ms Megan Campbell, have been accepted as Emerging Psychologist for the 30th International Congress of Psychology (ICP 2012). The Emerging Psychologist Programme (EPP) is part of ICP's strategy to develop and consolidate emerging scientists in the psychology discipline. ICP believes that this programme will form a platform to stimulate growth in various fields of these emerging scientists.
Dr Anita Unni is a Counselling Psychologist and a Rhodes University Post-Doctoral Research Fellow in the Psychology Department. Her research has focussed on adapting internationallly designed psychological treatment models to suit the needs of South African women who have experienced rape. Dr Unni contributed to the creation of a contextualised knowledge base regarding the treatment of vulnerable population groups in the country and provided practitioners with guidelines as to the flexible application of efficacious treatments in local clinical settings. She is currently undertaking research focussing on examining the aspects involved in the decision to publicly disclose rape within the context of the One in Nine Campaign solidarity marches that occur annually at Rhodes University. Dr Unni also runs a private practice and offers psychotherapy to adolescent and adult clients, especially those affected by traumatic events, and psycho-legal assessment services to local legal firms.
Dr Tracy Morison is currently a Lecturer in the Psychology Department. She recently earned her doctorate at the Rhodes University. Dr Morison's main areas of interest and expertise include sexual and reproductive decision-making, discursive methodologies, and post-structuralist feminist theory. Her doctoral work investigated heterosexual men's involvement in decisions around parenthood.
Ms Megan Campbell, a second year PhD student in the Psychology Department and part-time lecturer. Ms Campbell's research area is in the field of psychometric tool translation and adaptation. She is currently collaborating with the developer of an outcomes measure in the UK, to translate the tool into isiXhosa and adapt it for use within South African student counselling centres and primary mental healthcare contexts. Ms Campbell is a counselling psychologist in private practice and vice-chair of the executive board for the Counselling Division of PsySSA.
The EPP will run from 20 – 22 July 2012 in Cape Town, for an intensive training colloquium which is aimed to facilitate the interaction of leading emerging psychologist from across the world. 60 places were made available on the programme, of which 40 were chosen from Africa and the developing world. The colloquium will facilitate exchanges between young, potentially influential psychologists to transfer skills.