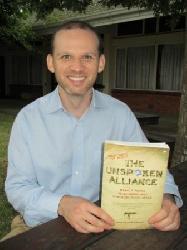 Dr Sasha Polakow-Suransky, author of The Unspoken Alliance: Israel's Secret Relationship with Apartheid South Africa, addressed students and lecturers yesterday (17 February) on his research as part of the 2011 Critical Studies Seminar Series hosted by the Departments of Politics and International Studies and Sociology. Dr Polakow-Suransky was in Grahamstown as part of a nationwide tour to promote his new book which details alleged shady dealings between the 1970 Apartheid government and the Israeli administration regarding their nuclear status.
In the book, which is earning him international acclaim, he unearths the dealings between the two countries which allegedly culminated in a possible offer by Israel to sell nuclear weapons to South Africa as part of a Jericho-missile deal. He also highlighted the regular sales of uranium to Israel from mineral-rich South Africa, which could have played a significant role in Israel's nuclear armament.
While Israel echoed the condemnation of many other countries in the 1950s, their policy and relationship toward South Africa changed drastically soon afterward, as did their military purchases from South Africa. This sudden change between the 1960s and 1970s led Dr Polakow-Suransky to examine the two countries' relationship further, as he believes it is crucial to understand "what changed and what it led to".
"What's really interesting is that in the 1960s the Israeli administration was really vocal about their disapproval of South Africa's apartheid regime, and yet just a few years later in the 1970s Israel effectively gets into bed with South Africa. You have to ask yourself, what changed to bring this about?"
For Dr Polakow-Suransky, a senior editor at Foreign Affairs, two wars can be identified that mark decisive turning points in Israeli-South African relations. The 1967 Six-Day war and Israel's occupation of Palestinian territories alienated former friends and won it new enemies, while the 1973 Yom Kippur War left the Israeli economy in shambles, and created a powerful incentive for Israel to export arms to and build fruitful relations with South Africa. "In essence the Israeli economy was suffering. The defence ministry wasn't doing well after the war, and you had a security obsessed government in Pretoria worried about conflicts in Angola and surrounds. It made for good business," he said.
"In the 1970s you also had a new generation of leaders come into the Israeli administration that were much more technocratic and security conscious than the former leaders. They were less committed to moral imperatives and if they felt they could benefit from fostering relations with apartheid South Africa they were committed to doing it," he said. And good relations opened doors for uranium deals from mineral-rich South Africa.
But although the economic imperative was always there, there was an ideological component to the "perfect marriage" as he explained. "During the 1970s in Israel you see a lot of expressions of sympathy and praise for South African leaders. The ideological links were made between black Africans and Arabs constituting a common enemy on the one hand, and South African whites and Israeli's being the victims on the other. Ideologically the message was, 'We are in the same boat, facing a common enemy.'"
In discussing the similarities between Israel and apartheid South Africa, Dr Polakow-Suransky suggests that there are many. "While Israel may not yet be an apartheid state, insofar as one would define one, if things don't change it will head that way fast. Once you've spent time there its difficult not to see the parallels between the two states," he said.
Polakow-Suransky holds a D.Phil in Modern History from St Antony's College, Oxford, where he was a Rhodes scholar from 2003 – 2006.
Dr Sasha Polakow-Suransky. Photo: Sarah-Jane Bradfield.
Source:
Please help us to raise funds so that we can give all our students a chance to access online teaching and learning. Covid-19 has disrupted our students' education. Don't let the digital divide put their future at risk. Visit www.ru.ac.za/rucoronavirusgateway to donate