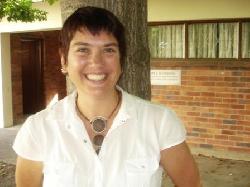 "With regards to the kinds of research we see into HIV and Aids during the 1980s, there was an identification of certain 'high risk groups' from the onset, and this had huge implications for the type of research that was conducted and the types of people who were assessed," Carla Tsampiras of the History Department told students and lecturers at this week's 2011 Critical Studies Seminar Series hosted by the Departments of Politics and International Studies and Sociology.
Tsampiras, who is completing her PhD at Rhodes, presented a paper titled "Not so 'gay' after all – constructing (homo)sexuality in Aids research in the South African Medical Journal 1980 – 1990" and highlighted the complexities surrounding the medical research conducted around the pandemic during the 1980s.
"You begin to see a very particular image emerge of who was affected by the virus, and this was predominantly homosexual white males, followed by heroine addicts, hookers and Haitians," she said. "That identification of the 'high risk people' influenced the research that was done," she said.
Tsampiras said the skewed belief that white homosexual males were the main carriers of the virus led to slanted medical research, which overlooked many groups throughout the country that were also being affected. "Homosexuals were always cast in the 'deviant other' light, in comparison to the heterosexual. The ways of creating groups around people and how people should be seen was also carried on to race and even had a xenophobic twist," she said, in so far as ethnic groups were mentioned in research documents.
Tsampiras also highlighted the claim of objectivity by medical researchers and writers and described this as problematic. "These writers claimed objectivity and told everyone that medicine wasn't political. They maintained that politics, health and medicine weren't related and that their research and writing was being done for the good of South Africa, but no one asked who it was good for," she said.
In describing the overall effect of the research that featured in the SAMJ during the specific period, Tsampiras likened it to a "hegemonic narrative that blamed those who were easiest to blame". "Fear was used and employed regularly. Basically the message was that 'normal' people should fear the new disease which the' high risk' people were bringing to our shores. But it was here already, and people were dying as a result," she said.
In considering what the shortcomings in the medical research can teach contemporary scholars, Tsampiras said the main lesson is to remain vigilant when conducting research. "The researchers at the time didn't think they were doing anything wrong. This opens a space for us to question our own ways of conducting research, to problematise it and think about it in different ways to make sure we don't make similar mistakes," she said.
Tsampiras holds a BA Hons from Rhodes and an MA from SOAS. Her research interests include slavery, past and present; gender and violence; the relationship between health, dis-ease and society; and the social history of HIV and Aids in South Africa.
Photo: Carla Tsampiras. By Sarah-Jane Bradfield
Source:
Please help us to raise funds so that we can give all our students a chance to access online teaching and learning. Covid-19 has disrupted our students' education. Don't let the digital divide put their future at risk. Visit www.ru.ac.za/rucoronavirusgateway to donate