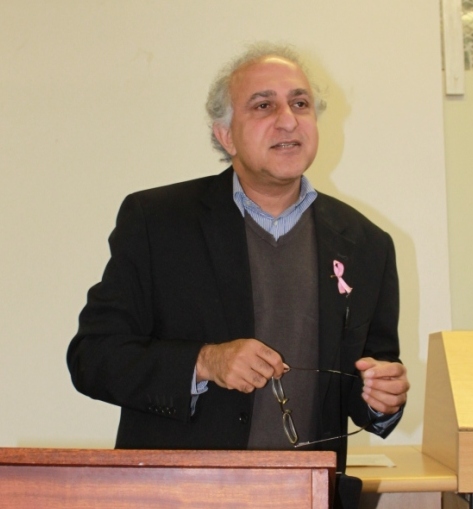 In the aftermath of the Truth and Reconciliation Commission, Dumisa Ntsebeza and Terry Bell complained that 'like so much of South Africa's recent brutal history, we shall probably never know exactly how many people were banished and what happened to all of them'. Now a new book, 'The Forgotten People: Political Banishment under Apartheid', by Rhodes University Vice-Chancellor Saleem Badat, answers many questions about banishment, an unknown aspect of our indeed 'brutal history'.
In the closing years of apartheid rule, key political opponents of apartheid, like Matthews Goniwe, Griffiths and Victoria Mxenge, Joe Gqabi, Dulcie September and others were "singled out for assassination, sometimes to have their bodies burned while their killers swilled beer and roasted meat alongside the makeshift funeral".
In the early years of apartheid, political opponents from rural areas were condemned to the living hell of banishment: an administrative weapon used to expel them to distant and often arid and desolate places for unlimited periods.
Banishment was used to punish, intimidate and control political opponents, part of a wider political strategy for suppressing opposition to state policies and maintaining apartheid rule.
In the anti-apartheid fighter Helen Joseph's words, apartheid's opponents were plucked from their families and communities and cast "into the most abandoned parts of the country, there to live, perhaps to die, to suffer and starve, or to stretch out a survival by poorly paid labour, if and when they could get it".
160 people were banished between 1948 and 1986. 150 were men, 10 were women. 101 people were banished within the first decade of apartheid alone, and the vast majority by 1965.
140 people were banished from rural areas. 78 of them were banished from just seven rural places in the 1950s and early 1960s - Mabieskraal, Witzieshoek and GaMatlala, Bahurutshe, Sekhukhuneland, Thembuland and Mpondoland.
Common to these areas was widespread popular resistance to new apartheid policies and measures: "betterment" schemes that affected land and livestock possession and use; a new system of administration, Bantu Authorities and the creation of bantustans, and the introduction of Bantu education, and passes for women.
Banishment was not devised by the Afrikaner Nationalists who came to power in 1948. The law that allowed banishment came from the colonial period in Natal, presided over by imperial Britain. In 1927 it became national law: section 5 (1) (b) of the Native Administration Act.
Those who were banished, as Helen Joseph wrote, "had no trial in court. They were neither charged nor told of the nature of their crimes. They were given no opportunity to defend themselves, yet they were deprived of their liberty, of their homes. They were punished within the law, but outside justice."
The banished were people "who broke no laws and who possessed no hidden information, but whose very presence presented a problem.
"Often these were community leaders or elected chiefs in the rural areas who did not accept without question government edicts; leaders who were perceived as insubordinate - 'cheeky' - by one or other authority figure."
For the state it was "a most efficient piece of legislation. It did away with the time-consuming necessity of judicial procedures and allowed the authorities to decide on the appropriate place to which to send each individual," and do it quickly.
Those banished were located across the length and breadth of South Africa, in mainly far-flung rural locations. 52 people were banished to the Vryburg, Mafeking and Kuruman districts of the Northern Cape. 22 people were banished to the Sibasa and Pietersburg districts in the northern Transvaal, and 11 to the King William's Town district.
The places of banishment included two inhospitable camps on "Native Trust" farms at Driefontein and Frenchdale in the Northern Cape gulags to 26 people and 14 people respectively.
On average, banishment orders were in force for nine years. 110 people were banished for more than five years; 11 were banished for more than 15 years, and three for more than 20 years.
Some of those served banishment orders did not go into banishment but escaped into exile either before or while banished. The trade union and political leader Elizabeth Mafekeng from Paarl and Gilbert Hani (father of Chris Hani) and Jacob Mpemba from Cape Town fled into exile soon after they were served banishment orders.
Rural militants like Ben Baartman from Worcester, Anderson Ganyile from Bizana and Jackson Nkosiyane from Umtata journeyed into exile from their places of banishment.
Banishment was feared by ordinary men and women. A teacher in Sekhukhuneland recalled that "another word that caused fear was St Helena" - a reference to the island to which Dinuzulu was banished after the 1906 Zulu rebellion. A Cala resident said about banishment: "that was a punishment those days".
The harshness of banishment forced some to agree to various restrictions to secure their release.
Others bore banishment with great courage, refusing to collaborate or compromise with the apartheid state.
In the Tugela Valley, Kenneth Mosenyi from Bahurustshe looked on his "banishment as an honour in the struggle of our people". He refused to request a release from banishment, saying: "I did not bring myself here. If he feels like it let the Native Commissioner send me home. It is not for me to go on my knees to ask for a favour."
Maema Matlala took part in World War 1 in East Africa. Banished to Bushbuckridge, he resisted all efforts by state officials to win him over, determined that "when I go home, I shall be accepted by the people".
The first urban people banished were Alcott Gwentshe and Joel Lengisi from East London. Gwentshe helped to establish the ANC Youth League in East London.
A "powerful and charismatic leader orphaned as a result of the Bulhoek massacre", his ability to mobilise people made East London a powerful centre of protest during the 1952 Defiance Campaign.
Gwentshe became the chairperson of the ANC in East London and also the president of the Cape ANCYL. He was a versatile man, also the "leader of the Hot Shots musical band".
In 1954, he was banished from Duncan Village to Pilgrims Rest in the Eastern Transvaal. A year later he was banished to Frenchdale because it was alleged he was being visited by ANC members in secret and that there were plans afoot for him to abscond.
In 1956, he was arrested in Mafikeng for disobeying the order to remain at Frenchdale, but released on bail of £25. Represented by Joe Slovo, he was found not guilty of contravening his banishment order. Gwentshe was released from banishment in 1960 to Tsomo, his home town, in Transkei.
As we read, the British devised banishment. They also used it to deal with their unruly colonial subjects in other places such as West Africa, East Africa and India.
The Dutch also practised banishment: political opponents from its colonies in the east were banished to various places, including South Africa! Already from the late 1600s, banished people from Indonesia and elsewhere were being sent to the Cape.
The best known of those banished from Java is Sheikh Yusuf. A "scholar of renown in the seventeenth century Indian Ocean Islamic networks", he was "revered as a ... national hero exiled for his beliefs and struggle against" the Dutch.
Sheikh Yusuf was initially banished to Batavia and then Colombo in 1684. Banished to the Cape in 1694, he died there in 1699.
There is a kramat in his honour near Macassar.
Tuan Guru was also a banished person, who was held on Robben Island "during the 1780s before his release in 1792". He established the Dorp Street Madrasah in 1793 and the first mosque in 1795.
The first person to be banished within South Africa was Autshumao ("Harry" the "Hottentot"), after he fell out with the Dutch. In 1658, Autshumao and two "companions, Jan Cou and Boubo" were placed on Robben Island. He escaped from the island on a small boat in 1659.
Others were banished during the British wars of colonial dispossession and conquest. David Stuurman, who was "involved in the third frontier war, and was a thorn in the side of the British for some years" was banished in 1819. Makhanda was banished to Robben Island and drowned in 1820 trying to escape.
Following the battle of Ulundi, the Zulu king Cetshwayo was captured by the British in 1879 and banished to Cape Town. Initially, Cetshwayo was held at the Castle. He made various pleas for clemency to Queen Victoria and also travelled to Britain to put his case. Subsequently, he "was moved to Oude Molen, a farm on the Cape Flats". He returned home from banishment in 1883.
In 1888, King Dinuzulu sought to resist British undermining of the Usuthu. He and two uncles were banished to the island of St Helena, where they remained for some five years. In 1910, Dinuzulu was again banished "for the rest of his life from Zululand and Natal" to a farm near Middelburg (Transvaal).
Following his banishment, "his home in Zululand was ploughed down and destroyed to prove to his still hopeful followers that he would never return". He died in 1913, according to his companion Mankulumana of a "broken heart".
This article was published on Daily Dispatch.
Source:
Please help us to raise funds so that we can give all our students a chance to access online teaching and learning. Covid-19 has disrupted our students' education. Don't let the digital divide put their future at risk. Visit www.ru.ac.za/rucoronavirusgateway to donate