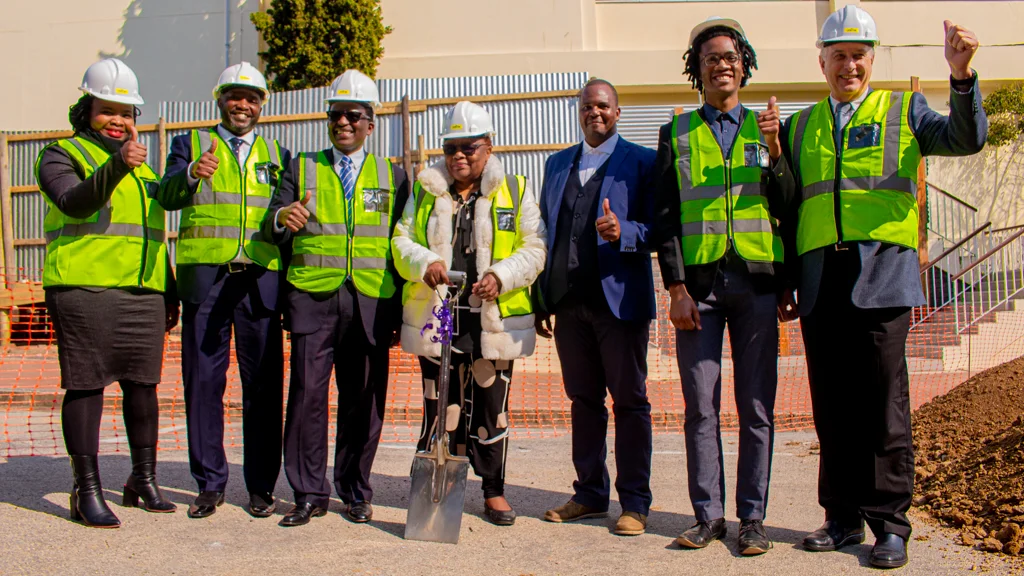 Rhodes University Vice-Chancellor, Professor Sizwe Mabizela, today officiated the sod-turning ceremony to mark the commencement of a R90 million state-of-the-art building that will house a global Institute for Nanotechnology Innovation (INI).
The new building will be the first of its kind on the African continent to provide cutting-edge technology and fit-for-purpose research facilities.
Rhodes University's INI is led by Distinguished Professor Tebello Nyokong, a recipient of five honorary doctorates and an honorary fellow of the Royal Society of Chemistry. It is one of the most prolific and successful projects of its kind in the world, with a global reach to over twenty countries in Africa, Europe, Middle East, North America, and South America.
INI conducts cutting-edge research to unlock the potential of Nanotechnology and supports the training of young nano-scientists and technologists, which has attained the status of a Critical Research Priority by the Department of Science and Technology.
The sod-turning was attended by the Department of Science and Innovation/Mintek Nanotechnology Innovation Centre Head: Professor Lucky Sikhwivhilu, Principal Research Scientist, Dr Teboho Mokhena, Makana Local Municipality Mayor: Yandisa Vara, Municipal Manager Moppo Mene, and senior academic leadership at the University.
Associate Professor of Inorganic-Analytical Chemistry, Professor Philani Mashazi gave a background to the project. He said: "What we are witnessing today is a project borne out of curiosity. INI started 40 years ago as a laboratory with one postgraduate student. We now have on average 34 students, and some are occupying makeshift spaces to do cutting-edge work. This is a health hazard, and that is why we need a new state-of-the-art building."
A doctoral student, Lindokuhle Nene, praised the symbolism as a platform that would allow students to reach their goals. "There is no turning back in the quest to ensure that young people like myself are able to aim for things that are labelled 'extraordinary'. We want to display that South Africa is home to many discoveries and innovations in science that will make an impact in the world. This building is a sign of that," she said.
Professor Mabizela said the construction of the new INI building is a significant milestone in the history of Rhodes University as a research-intensive university in the world. "The new building will stand as a monument and a fitting tribute to the many years of ground-breaking intellectual contribution of Distinguished Professor Nyokong and her legion of students and international collaborators. It is a culmination of many years of hard work, dedication, and commitment. As a research-intensive university, our vision is to be foremost in the generation and advancement of locally-responsive and globally-engaged knowledge dedicated to the creation of a just and sustainable world," said Professor Mabizela.
The Vice-Chancellor recommended that the name of the new building be "Nyokong Institute for Nanotechnology Innovation". He applauded Professor Nyokong for advancing the vision of the University and for creating a place that continues to unleash creativity, promote innovation, and foster intellectual curiosity.
Professor Sikhwivhilu said Rhodes University has been a strategic partner of Mintek since 2007, and the dream then was more to play technology "catch up" in terms of the research that was happening in the nanotechnology space. "Today, we are proud that the research we have done over 12 years is now culminating in a new building for Nanotechnology. This tells me we are not just investing in students and graduating them, but we are taking up the projects they do and drive towards. We are proud of Rhodes University for investing in this way. This will not only produce good research but, good research that translates into products, technologies and good innovations so we can commercialise and deliver the impact that society expects from us," said Professor Sikhwivhilu.
The construction of the new building will take about 18 months. With a strong focus on research and postgraduate training, every INI graduate has an international footprint as they are equipped with exposure to make them world-class scientists with published research.
The Institute is funded by Mintek, the Department of Science and Innovation, the Department of Higher Education and Training, and the National Research Foundation.