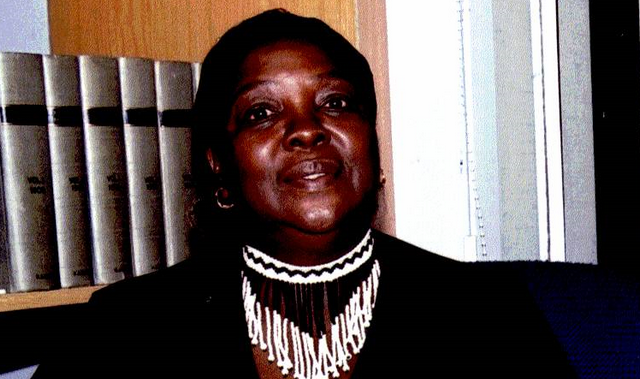 On its 72nd graduation ceremony on the 28th of April 2021, Rhodes University will confer a degree of Doctor of Laws (LLD) (honoris causa) on community builder, Nontsikelelo Ntsiki Biko.
Vice-Chancellor, Dr Sizwe Mabizela said this conferral on Mama Biko is in recognition and celebration of her long and sustained contribution as a dedicated community activist and an advocate for the upliftment of the poor and marginalised in our society. "Deeply rooted in the philosophy of black consciousness and the approach to community development that promotes self-reliance and personal agency, she has played a critical role in giving hope and livelihoods to the communities in which she has worked. Through her community activities, she has touched many lives and helped young and old regain their dignity, self-respect and humanity," explained Dr Mabizela.
Mama Biko was born in Libode close to Mthatha in the Eastern Cape. She completed her junior certificate at Buntingville Secondary School and matriculated at Shawbury Senior Secondary School. Ntsiki has training in General Nursing and Midwifery, a Diploma in Advanced Nursing Science from the University of South Africa and certifications in nursing from Grey Hospital (geriatric care and HIV/Aids counselling) and Dora Nginza Hospital in Gqeberha (primary health care).
In 1966, while in training, she met the leader of the Black Consciousness Movement, Bantu Stephen Biko who was a medical student at the University of Natal. When she was asked about her relationship with Steve Biko she replied: "I must say, he was very politically involved then as president of SASO… and somehow I fell for him." Three years later, in 1970, the young couple married and had two children, Nkosinathi and Samora (named in honour of Mozambique nationalist leader, Samora Machel). Mrs. Biko was further blessed with a daughter, Bulelwa Lindelwa, in 1988.
In 1972, when her husband was banned to Qonce, Ntsiki and her family settled in Ginsberg. She managed to get work at St. Matthews in Keiskamahoek. She was posted there until 1977, when she left due to pressure exerted by the Ciskei Government and worked for two months at All Saints Hospital, eNgcobo until Steve was arrested on 18th August 1977 and subsequently killed by the Security Police in September. Ntsiki was unable to work until 1981 due to the inquest into Steve's death, other related court cases and the perpetual interference of the security police.
Ultimately, Ntsiki obtained employment at Grey Hospital in King William's Town where she was on staff until 1999 when she was boarded off due to injuries sustained in a serious car accident. Even here, however, the authorities intimidated the matron so as not to associate with her. Working with stern resilience, Ntsiki continued to be a champion of community-based activism - a distinct trait of the approach of the Black Consciousness philosophy - upholding the Biko family name and preserving Steve's legacy. During this time, Mama Biko as she came to be fondly known, focused on community work, with her passions directed towards education and healthcare. She became member of the Ginsberg Civic Association and a Trustee of the Ginsberg Education Trust which would later evolve into the Zingisa Trust Fund; assisting impoverished youths to access education opportunities through bursaries.
Mama Biko spearheaded the establishment of the Steve Biko Foundation, together with her son, Nkosinathi. The Centre is now her primary base for her continuing community activism and she participates consistently in programmes at the Centre including public dialogues, book launches, exhibitions and performances. "It is an honour to have been awarded this recognition of my life's work by Rhodes University. Having devoted my life to the provision of public health care services, amongst others, I must dedicate this honour to the thousands of frontline workers who have defended our country against the COVID-19 pandemic," she concluded.