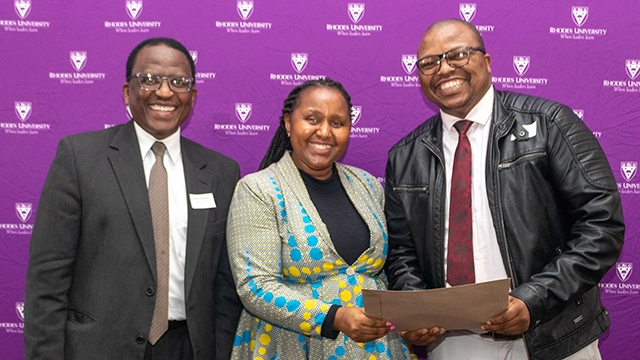 By Tokologo Lekoma
Fifty-eight Rhodes University staff members were recognised at this year's Vice-Chancellor and Thomas Alty Awards on 14 August 2023. This ceremony acknowledges staff members who have attained further qualifications within the last year, either through Rhodes University or an external institution. This award is a mark of excellence and a massive sign of empowerment for many others within the community.
Manager of Learning and Development at Rhodes University, Mr Schalk van der Merwe, opened the evening by saying, "To all the recipients, allow me to express my congratulations on your remarkable achievement. Your contribution is commendable and serves as an inspiration to all of us."
Of the awardees, 60% were women, and 40% were men. Vice-Chancellor Professor Sizwe Mabizela said, "It is always heart-warming that our staff who are female excel, as do our undergraduate students. We celebrate them."
Moreover, 45% of these esteemed recipients are support staff members, and 55% are academics. The VC encouraged staff members to continue their education journey and expressed joy by saying Rhodes University is a "learning community".
Senior Communications Officer Mr Velisile Bukula, who received a Postgraduate Diploma in Media Management, said, "When I was employed at Rhodes University in 2019, I told myself it was an opportunity to further my studies. I have a very supportive Director, Dr Luzuko Jacobs, who is always motivating staff in the Division to further their studies."
According to Bukula, his newly-acquired knowledge further enhanced the skills he already had and, by implication, his contribution towards shaping an improved image of Rhodes University in the public domain. "I had to sacrifice personal time to work hard at my studies, but in the end, it paid out. I will forever be indebted to the University, and it will forever hold a special place in my heart."
This year's recipients obtained six PhDs, 12 Masters degrees, three Honours degrees, nine Bachelors degrees, 14 postgraduate diplomas, and 14 postgraduate certificates.
Vice-Chancellor Awardees
Dr Marcellin Atemkeng Teufack - Postgraduate Diploma in Higher Education (with distinction)
Sandisiwe Bom - CATALyst certificate
Velisile Bukula - Postgraduate Diploma in Media Management (with distinction)
Ronaldo Burger - Advanced Diploma in Business Analysis
Nothando Calane - Bachelor of Journalism
Prof Megan Campbell - CATALyst certificate (with distinction) & Postgrad Diploma in Higher Education (with distinction)
Nangamso Phila - Bachelor of Science
Pulane Choane - -Postgraduate Diploma in Media Management
Prof Stephen Folaranmi - CATALyst certificate
Chad Gill - Bachelor of Commerce (Hons)
Mhleli Khomo - Bachelor of Laws
Megan Knowles - Postgraduate Certificate in Education (with distinction)
Ethan Langson - Bachelor of Fine Art
Dr Pedzisai Makoni - Postgrad Dip in Enterprise Management (with distinction)
Nwabisa Malimba - CATALyst certificate
Siyathanda Matiwane - Bachelor of Arts
Prof Mmamosheledi Mothibe - CATALyst certificate
Athenkosi Mpotulo - Advanced Diploma in Business Analysis
Nomahlubi Mrubata-Mhlebi CATALyst certificate
Nqobile Msomi - CATALyst certificate
Prof Arthur Mukenge - Diploma in Training of Trainers
Nangamso Myoli - Postgraduate Diploma in Media Management
Dr Thando Njovane - CATALyst certificate (highly competent)
Mandla Nonqane - Postgraduate Certificate in Education
Aphiwe Nonyukela - Bachelor of Laws
Dr Lungile Penxa - Postgraduate Diploma in Higher Education (with distinction)
Sisisa Ponoshe - Advanced Diploma in Management
Lumka Salamntu - CATALyst certificate
Allistair Sampson - Advance Diploma in Information Technology
Princess Shabangu - Bachelor of Social Science (Hons)
Dr Zelalem Shibeshi - Postgraduate Diploma in Higher Education
Unami Sibanda - CATALyst certificate
Caitlin Stoltz - Bachelor of Laws
Anelisa Takane - Postgraduate Certificate in Education
Nande Titi - Bachelor of Social Science
Dr Tendamudzimu Tshiwawa - CATALyst certificate
Siphesihle Tyobeka Advanced Diploma in Business Analysis & Bachelor of Commerce (Hons)
Rene Zimmerman - Bachelor of Commerce
Thomas Alty Awardees
Tammy Booysen - Master of Education (with distinction)
Paige Cox - Master of Arts
Zikho Dana - Master of Arts
Russel Dixon - Master of Science (with distinction)
Shuying Fu - Master of Education (with distinction)
Sisipho Hamlomo - Master of Science
Angela Jones - Master of Education (with distinction)
Ntsikohlanga Kitsili - Master of Education
Ntando Mkhwanazi - Master of Science
Sone Pretorius - Master of Commerce
Emma Sandenbergh - Master of Science (with distinction)
Thato Tantsi - Master of Business Administration
Dr Stones Chindipha - PhD
Dr Luzuko Jacobs PhD
Dr Daniel Malamis - PhD
Dr Monelo Nxozi - PhD
Dr Lungile Penxa - PhD
Dr Callie Thomson - PhD