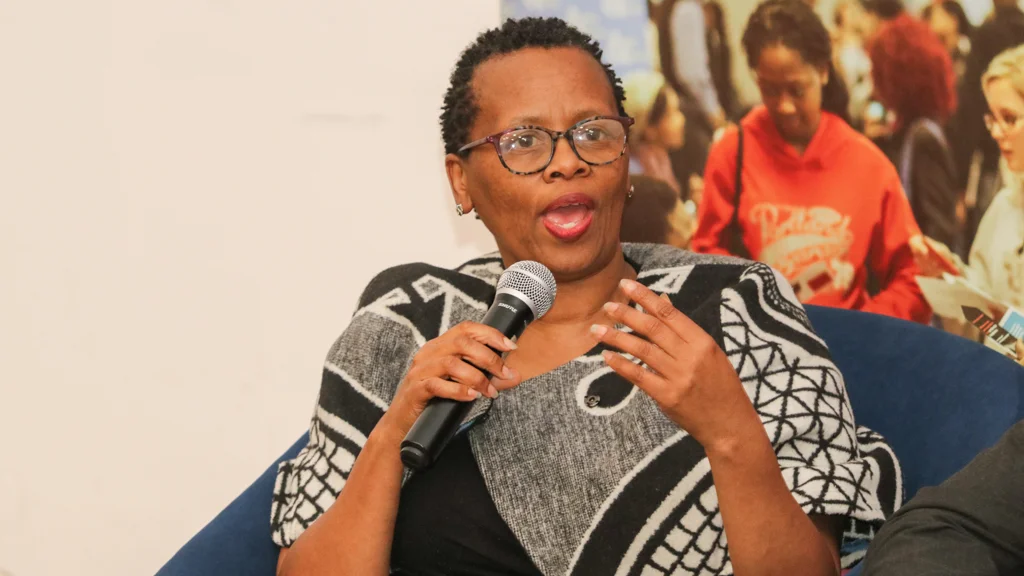 By Zindzi Nkunzi
Last week, Rhodes University hosted an evening on the Commercialisation of Research themed "Transforming ideas into impact". Vice-Chancellor Professor Sizwe Mabizela, Deputy Vice-Chancellor for Research, Innovation, and Strategic Partnerships, Dr Nomakwezi Mzilikazi, Associate Professor and Head of Political and International Studies, Professor Siphokazi Magadla, Economics Professor and Head of Department, Professor Jen Snowball, distinguished guests, and students.
The Student Representative Council (SRC) Postgraduate Affairs Councillor, Milisa Mamase, welcomed all attendees. "We are gathered here not only to celebrate the remarkable potential of research but also to inspire an entrepreneurial spirit that resides within each and every one of us," she said.
"As we delve into the world of research commercialisation, we are reminded that knowledge is not just confined to the pages of our thesis, our research, and degrees. It is a powerful force that can shape industries, transform communities, and create lasting change," she added.
The keynote speaker for the evening, Executive Director for the South African Observatory based at the Nelson Mandela University (NMU), Unathi Lutshaba, spoke on the relationship and intersection between artists and academics and understanding the economic impact of the creative economy in South Africa. "Academic commercialisation is essential for the future of academic endeavours. Commercialisation is a necessary part of both adding and increasing the value of academic products," she said.
She urged academics to "embrace a mindset of entrepreneurship because entrepreneurs bridge the gap between ideas and real-life impact". When speaking about the power of academic entrepreneurship, Lutshaba said that artists and academics have shared input, and their link is Intellectual Property (IP).
She drew on the roles and similarities between the artists and academics and highlighted the striking similarities between IP and the challenges faced in commercialising creative work and academic research. "Today we explore how academics can harness the power of entrepreneurship, another Intellectual Property powered industry, to transform their ideas into impactful and monetisable ventures," she explained.
"Both groups are driven by profound curiosity and hunger for knowledge and desire to create, explore the unknown and to push boundaries," she added.
Director of Entrepreneurship at the Department of Higher Education and Training, Dr Norah Clark, shared that, for the first time, they have been working on social innovation for societal impact. She said: "We have to dispel the notion that we can't do good while making good money". She proposed that students start thinking about themselves and how they can make money while contributing to society. "We need to think broadly beyond the word 'entrepreneur'. We need to think broader about what it means. What does it mean to be responsible for your own economic future?," she asked.
She shared possible questions one must ask themselves about entrepreneurship and commercialisation. She said it was essential to think about what research is good for.
Rhodes Business School Senior Lecturer, Professor Tshidi Mohapeloa shared and outlined initiatives provided by University to help student entrepreneurs. She spoke on how the institution could make money from creating knowledge. She added that the institution was looking at involving students from different disciplines and not only Science and Technology, Commerce but also the Arts and Humanities etc. Professor Mohapeloa suggested that students should start "to think of doing a business that is going to make an impact on society and change people's lives". Highlighting the aspect of Intellectual Property, she said, "We do not want people taking ownership of the things you have created". Therefore, the institution helps safeguard and protect your work. Additionally, she emphasised commercialising your research and any work, products, and services you provide.
Sharing his personal story, the Division of Corporate Relations Coordinator at Toastmasters Southern African, Bonolo Moche, said universities should help protect students' ideas and research. "We have so much that we can give and so much we need to give, but how are we going to do it? How are you taking advantage of the space?". There is a lot that your research can do for the world, but at the same time, there is a lot for you to make money off that," he said.
SRC President, Avuxeni Tyala, said the shared insights were incredibly invaluable. She said the conversation about the commercialisation of research was meaningful, especially in the context of the youth today with the high unemployment rates. "Things like commercialisation are things we need to talk about as the youth. Especially the conversation about creating a business that benefits us and our society as we embark on becoming ethical and holistic leaders," she concluded.