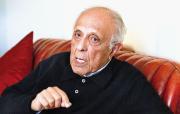 It was a very powerful moment when Nelson Mandela's fellow prisoner of 26 years, his confidant and friend, Ahmed Kathrada rose to speak at his funeral in Qunu on Sunday.
Amid the banal tributes by politicians, Kathrada - along with the members of Mandela's family - lent some much-needed fibre to the funeral. Until they spoke, the 10 days of mourning was at risk of turning into a shabby attempt to lend President Jacob Zuma credibility after a series of scandals.
Of all of those who spoke, Kathrada could best lay claim to be a bearer of the Mandela legacy.
And so he stood tall, delivering a clarion call for the continuation of openness, accountability and the embracing, forgiving and generous vision for South Africa which Mandela had come to embody.
Kathrada's speech has been severely under-reported, not least by the cheerleading SABC, perhaps because what he said was uncomfortable.
He refused to allow Mandela to become an "icon", an abstraction suspended above normal life.
Instead, he spoke of a real person, and of the emotions that a friend feels when that person is fading from life.
"The last time I saw Madiba alive was when I visited him in hospital. I was filled with an overwhelming mixture of sadness, emotion and pride. He tightly held my hand until the end of my brief visit. It was profoundly heartbreaking. It brought me to the verge of tears when my thoughts automatically flashed back to the picture of the man I grew up under. How I wished I'd never had to confront the reality of what I saw."
Compare this response to Mandela in his final days of illness to the mawkish pose struck by Zuma when he made a nationally televised appearance at the side of a clearly confused and ill-at-ease Mandela, who was made to endure flash photography, blinking in agony as the SABC cameras rolled.
Just as powerful was Kathrada's decision to spread the ownership of Mandela beyond the ANC. Which is not to say that he ignored that Mandela was an ANC leader. He spoke of how Mandela had joined the party's "A team", which he listed as Chief Albert Luthuli, Walter Sisulu, Oliver Tambo, Yusuf Dadoo, Jack Simons, Moses Kotane, Bram Fischer, Dr Monty Naicker, JB Marks, Helen Joseph, Ruth First, Professor Z K Matthews, Beyers Naude, Joe Slovo, Lilian Ngoyi and Michael Harmel.
Look closely at this list and you will see that, in the spirit of Mandela, Kathrada is conscious of the symbolic power of racial inclusivity. Compare this to Zuma's speech at FNB Stadium when he said: "We thus remain truly grateful to his peers, Walter Sisulu, Oliver Reginald Tambo, Govan Mbeki, Raymond Mhlaba, Dorothy Nyembe, Florence Mophosho and countless others who left indelible marks in the history of our struggle."
Whether or not the likes of Dadoo, Slovo, Joseph and Naude are included among Zuma's "countless others", we will never know.
But Kathrada went further, stretching his inclusivity beyond the party. "Madiba has also joined men and women outside the ANC - Helen Suzman, Steve Biko, Alan Paton, Robert Sobukwe, Cissie Gool, Bennie Kies, Neville Alexander, Zeph Mothopeng and many other leaders."
Suzman has recently been under attack by the ANC, whose apparatchiks have somewhat disingenuously described her as an ally of the apartheid military in one of those strange debates which grips the Western Cape from time to time.
But perhaps the most powerful moment of all came when Kathrada, his voice quavering with grief, spoke of the gratitude South Africa should have for its "chapter nine" institutions, which safeguard democracy. Among these institutions is the office of the public protector, headed by Thuli Madonsela, which has been investigating the irregular expenditure of more than R200-million on Zuma's Nkandla estate. This line was not in his original speech.
He said: "We are fortunate that today we live in a noisy and lively democracy."
I hope the B team got the message.
By Ray Hartley
Nelson Mandela's fellow prisoner of 26 years, his confidant and friend, Ahmed Kathrada. File photo by: RAYMOND PRESTON
Source: The Times
Source: The Times
Please help us to raise funds so that we can give all our students a chance to access online teaching and learning. Covid-19 has disrupted our students' education. Don't let the digital divide put their future at risk. Visit www.ru.ac.za/rucoronavirusgateway to donate