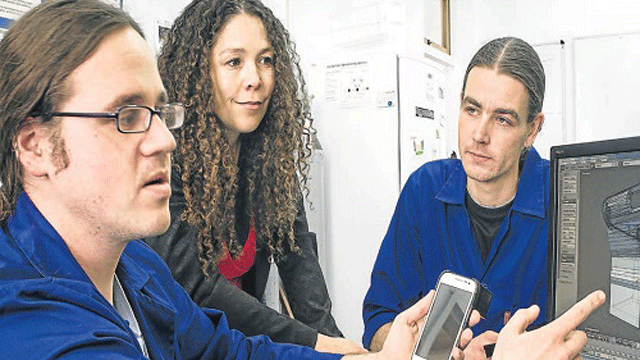 By Devon Koen
PIONEERING the way forward in the treatment and care for people living with HIV and Aids, Rhodes University has just finalised a R3-million partnership with Unicef.
The partnership was announced last year, following an innovation mission by the United Nations Children's Emergency Fund's (Unicef) Global Innovation Centre's director.
Rhodes University's Biotechnology Innovation Centre (Rubic) was identified as a potential partner after the mission learnt about several of the institution's programmes – including a cellphone app capable of reading CD4 counts in H I V- positive patients.
Rubic founder and director Professor Janice Limson, a biotechnology specialist, said the Unicef funding would allow the unit to focus time and resources on developing prototypes to translate technology into real, simple and rapid tools for healthcare providers.
Limson, along with postgraduate student Jan Kruid, showcased their prototype for monitoring CD4 counts at the launch of the Unicef Global Innovation Centre in New York last year.
Partnership agreements between the two institutions were finalised last month. Limson and her team developed a method of testing CD4 cells in blood using a cellphone camera and a test strip.
"The test strip is similar to those used by diabetics to monitor their glucose levels," she said. The strip had biomaterials able to detect CD4 in blood with high specificity.
The strip's design allows for a drop of blood, placed on the strip, to change colour when the CD4-positive cells bind to the biomaterials.
By taking a photograph with cellphone camera software, the phone then analyses the intensity of the blue colour into a number, revealing the person's CD4 count. The blue's intensity indicates the amount of CD4 in the blood.
CD4s are white blood cells important for the immune system in protecting the body, as they help fight infection.
Limson said the longer one waited for CD4 test results before starting antiretrovirals (ARVs), the poorer the patient's prognosis. "The CD4 count is crucial as it also helps monitor how the patient is responding to medication," she said.
Laboratory test results could take weeks to reach the patient.
"We aim to bring a new tool to help address the struggle for affordable and accurate healthcare for women and children irrespective of where they are or what their income might be," Limson said.
Rapid diagnostic tests like the project Rubic was working on could provide faster, more simplified decision-making information so that the project "may [bring] life-changing benefits to people", she said.
"We feel privileged that our work is receiving attention from a global organisation whose vision we share," she said.
"We feel connected now to a global drive to bring life-saving and life-changing technology to children and women in need across the world."
The project and partnership with Unicef were a key first step in building a dedicated innovation facility at Rhodes University. "It is part of our bigger dream to see scientific solutions and products developed right here in the Eastern Cape," Limson said.
She praised project co- leader Dr Ronen Fogel, "who is central to this work", as well as several postgraduate students who had been involved in the project over several years.
Born and raised in Port Elizabeth, she said she stayed motivated and inspired by women who continue to beat the odds.
TESTING BLOOD: Dr Ronen Fogel, in front, Professor Janice Limson and PhD student Jan Kruid demonstrate their device for determining CD4 counts in patients with HIV. Picture: Supplied
Source: http://www.heraldlive.co.za/rhodes-unicef-r3m-partnership/