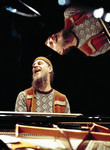 Biography pays tribute to the innovative South African pianist and arranger Chris McGregor.
CHRIS MCGREGOR AND THE BROTHERHOOD OF BREATH by Maxine McGregor (Rhodes University)
The Brotherhood of Breath: an inspired name for a band — and an inevitable choice for the title of Maxine McGregor's book about her late husband, although for South Africans Chris's Blue Notes are probably closest to our hearts. It was with that band that the McGregors left this country for Europe in 1964.
Originally published in the United States in 1995, this Rhodes University republication is no academic tome; it is part personal memoir, and part musical document; as such, it is unlikely to satisfy any one reader completely. Chris McGregor grew up in the then Transkei. There he was drawn to the local polyphonic tribal chants and church music. But piano was his first love.
However: "Although I still loved Chopin and Brahms, I can remember quite clearly feeling a certain malaise, a feeling that they excluded too much of my real day-today experience of Africa." The book contains extensive quotes by McGregor, taken from tape recordings, letters and articles. And there are many others' perspectives too — reviews, musicians' thoughts and so on, which give a rounded view of the man and his music.
Awarded a scholarship, McGregor studied enthusiastically at the College of Music in Cape Town, but in his second year was drawn to playing other music. "Cape Town was a mecca of jazz in 1957," he said. Pianist Dollar Brand (later Abdullah Ibrahim) was much in evidence at a dancing school where coloureds and whites mixed freely. Political awareness followed: Chris demonstrated against attempts to exclude blacks from the University of Cape Town.
Post-Sharpeville, he became "detached from the academic world" and finally left it to concentrate on playing. In Johannesburg his septet (soon to morph into the Blue Notes) was compared favourably to Dollar Brand's Jazz Epistles (which boasted Hugh Masekela, Kippie Moeketsi and Jonas Gwangwa).
Enter Maxine, a journalist, sent by a newspaper to interview the 26-year-old musician. She'd seen him play at Dorkay House in downtown Johannesburg, where she'd been fascinated by the combination of bebop and mbaqanga, but most of all by him. The attraction was mutual. As manager of the Blue Notes (a six-musician band, five of them black), Maxine describes in detail the hair-raising exploits of undisciplined band members on tour and the nail-biting process of obtaining passports for them to appear at the Antibes Jazz Festival in 1964.
Occasionally, there's a patronising air to her descriptions, not helped by her often Edwardian-quaint style, as in "we repaired there daily", and her carelessly phrased political/social pronouncements: she refers to "the trouble between the Zulus and the African National Congress". What would JZ have to say about that? But she paints a convincing picture of the disorientation of artists in exile in a truly foreign environment.
Like his role model, Duke Ellington, Chris was a fine pianist but, more important, an inspiring arranger and band leader. In his perceptive introduction, Denis-Constant Martin describes Chris as a "federator rather than their leader". Some musicians, Maxine admits, felt that Chris could have been firmer in his musical direction but British trombonist Annie Whitehead, a member of a later edition of the Brotherhood of Breath (the larger band that grew out of the Blue Notes), cites an instance of Chris's refusal to intercede on her behalf with an assertive Archie Shepp; she and the American saxophonist struck a deal: "Chris .... let us work it out ourselves. He just seemed to know when to let things be."
In the 27 years Chris and Maxine were together, there were, she says, times when she despaired of his lack of concern about their financial stability, but after "one of the very few acid trips I ever undertook" she realised "with amazing lucidity ... that Chris was like he was and it was not up to me to try to change him or influence him".
Though understated, her love for him and dedication to his artistry shines through, as does her pain at being parted from him as, having handed over the management of the band to others, she raised children in rural France, while he toured, often as a solo pianist. The "a year in Provence" tales of bucolic heaven and hell may induce the music-lover to skip these pages, although it is difficult not to feel sympathetic pangs when she describes the loss of Chris's piano along with all the band arrangements in a flood. Amid "the fragile terrain" of artists trying to survive, there are other losses.
The untimely deaths of tenor saxophonist Nikele Moyake and young trumpeter Mongezi Feza reduced the Blue Notes to a quartet. Bass player Johnny Dyani died in Berlin in 1986, having made some very significant music of his own, and then, aged only 53, Chris himself died of cancer in 1990, followed a month later by alto saxophonist and composer Dudu Pukwana. Maxine is unsentimental about her husband's passing: "Because he was able to really accept life in its entirety, to accept all that came his way, to let go and not set such store on results ... Chris was able to take his life — and death — with a lightness, an expansiveness and a sense of humour that led to peace."
In an "Eiplogue" [sic] Maxine deals with Chris's legacy. She quotes a number of writers who attest to the unique influence McGregor and his musicians had on European jazz, particularly the avant-garde. "You'll hear bands today," said British jazz journalist Val Wilmer in the 1990s, "with people who were not even born when they came here in '65, and you'll hear them playing things that came straight out of the townships."
The intimidatingly dense layout of the book doesn't quite live up to its striking cover (a soulful close-up photo of the musician by George Hallett). There is a valuable discography by Chris's brother, Tony, there are a few informative photographs, and a useful index to the sources of the many quotes, but, disappointingly for a university publication, there is no detailed index. Some stringent editing and proofreading would have helped too. All carping aside, in a desert of documentation on South African music, this book about McGregor and his fellow musicians is an oasis.
As drummer Louis MoholoMoholo (the only Blue Notes survivor) says in the book: "He saw the gold, which we didn't because we were in the gold." Thanks are due to Maxine McGregor and the Rhodes University Jazz Heritage Project for bringing the gold to the surface. Chris was able to take his life — and death — with a lightness, an expansiveness and a sense of humour that led to peace"
Caption: The joy of jazz: Besides being a skilful pianist and arranger, Chris McGregor was an inspiring band leader of the Blue Notes and then the Brotherhood of Breath. Photo by: David Redfern/Redferns
Article Source: MAIL & GUARDIAN