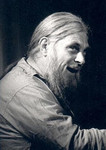 Had he lived — he died in 1990 — jazzman Chris McGregor would be in his 80s now. But, like jazz veterans across the globe, he would probably still be surprising audiences with harmonic innovation. Health permitting, jazz isn't a calling in which years mean much.
McGregor was born on December 24 1936 in Somerset West. And next Tuesday, October 8, at 6pm, the Amandla Forum in Cape Town hosts the Western Cape's regional launch for the most comprehensive book about his life and work so far.
Written by his widow, Maxine McGregor, Chris McGregor and the Brotherhood of Breath is published by Rhodes University Press. The launch takes place at the District Six Museum, 25 Buitenkant Street, while the Mahogany Room Jazz Club hosts a subsequent concert in tribute to both McGregor and Sathima Bea Benjamin from 8pm.
What made McGregor's music remarkable is well summarised by editor Cornelius Thomas in his jacket note: compositions, arrangements and working practice embodied "the social coherence of African sound and culture amid the release and logic of free jazz". It was the creative tension between these elements that gave McGregor's sound its thought-provoking character.
Though his full opus has yet to find its rightful place in music curriculi here, McGregor's legacy survives in many ways.
Some of his works have become standards, such as Mra, his tribute to baritone player and teacher Christopher Columbus Ngcukana.
(In Cape Town, Ngcukana was the pioneer of what he called the "fowl run" of free blowing.) The characteristic Eastern Cape chords inspired by overtone singing — which McGregor heard growing up in Blythswood in the then Transkei — can be heard on today in Andile Yenana's pianism and trumpeter Lwanda Gogwana's arrangements. Other composers, such as Marcus Wyatt, are exploring similarly piquant combinations of structured marching beats and joyous dissolves into improvisation.
McGregor did not work alone, and his distinctive sound was also shaped by the intellectual and stylistic visions of his collaborators: equally inspired composers and players such as Louis Moholo, Johnny Dyani and Dudu Pukwana.
All of these titans demand equally detailed biographies, and this event makes a valuable start to that project. Launch details are available from 083-886-7164 or andre40marais@gmail.com, or (021) 466-7200 and mandy@districtsix.co.za; bookings for the concert from the Mahogany Room on 076-689-2697.
BY GWEN ANSELL
Article Source: Business Day