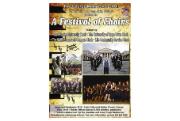 The George Male Voice Choir, conducted by Jan-Erik Swart, will be hosting a unique choral concert on Saturday 8 September.
Two university choirs, the Rhodes University Choir, conducted by Peter Breetzke and the University of Cape Town Choir, conducted by John Woodland, will perform with the George Male Voice Choir in the historic Dutch Reformed Church in George.
Special guests will include the NMMU Saasveld Campus Choir and Life Community Choir, a choir of orphaned children from Thembalethu.
The UCT Choir is a fully student-run ensemble which welcomes students from every faculty and discipline, as well as alumni and external members. The forty-person choir is an active participant in the musical life of Cape Town. Singers and audiences are exposed to a rich variety of choral music from classical to contemporary genres, drawing strongly on our own South African musical heritage.
Both the UCT and George Male Voice Choir received a gold rating at the recently-held regionals of the ATKV Animato competition, and will be competing in the finals in Cape Town on 30 September 2012.
Now in its 59th year, the Rhodes University Chamber Choir (RUCC) was founded in 1953 as one of the first university choral ensembles in South Africa. It was established with the aim of providing students from all faculties with a platform for participating in and enjoying choral music. Over the years the Choir has built up an impressive and varied repertoire of sacred and secular music in many different languages. The annual repertoire always strives to be an eclectic mix of music ranging from ancient Gregorian chant, through sixteenth century to contemporary and traditional styles. The aim of the Rhodes Choir is to promote all repertoires in order to retain the traditional and old and blend it with new and non-Western additions to the choral repertoire.
The George Male Voice Choir was founded in 1982 by composer-pianist Dalene Steenkamp-Brits, and has a membership of 30+ talented male singers from George and its surroundings. In its 30-year history, the Choir has received many accolades, toured several countries and promoted choral music through its excellent artistic reputation.
Picture credit: Classicsa.co.za
This article was published on Classicsa.co.za.