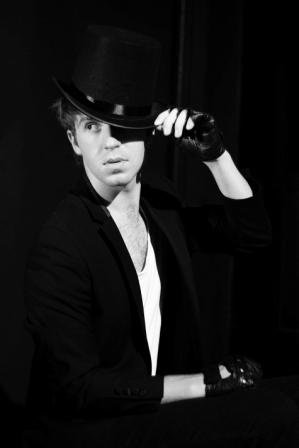 Brett de Groot, a Rhodes University student is debuting a musical tribute at this year's Festival, and it promises to be anything but ordinary.
The production, aptly titled Simply Broadway, includes a wide range of musical numbers, with music from Cole Porter, to classics like Phantom of the Opera and Chicago and new musicals, such as Wicked.
"This show isn't a cabaret ­- it's more like a history lesson, but with a lot more high notes," De Groot says. Now in his third year of a BA at Rhodes University, with triple majors in Journalism, Law and Music (Voice), De Groot's passion lies in musical theatre.
"I noticed a gap in the Festival market which hadn't been fulfilled. No one had ever put on a show which involved musicals. And so I started plotting out a script and compiled what I think is a programme with some of the greatest music written for the stage in the history of musical theatre."
The show, 50 minutes in duration, provides an immense challenge to the man who will be performing all the numbers himself.
"This show will really test me in a way I've never been tested before. Most show-stoppers are extremely difficult to sing, and because my show is a compilation of [only] show-stoppers, it's really going to test my stamina as a singer," he said. "In the end I hope to establish myself as a solo performer, and of course to entertain the audience."
Originally from Johannesburg, De Groot comes from a family of performers. He is specialising in musical theatre, which has enabled him to create a large repertoire for himself. De Groot started training with the East Cape Opera Company in 2010 during his first year at Rhodes.
He will be accompanied by Jacques du Plessis on piano. "We have stripped down and reworked many of the songs, injecting new life into them, and placing them into their simplest most exquisite form. Consequently the name Simply Broadway came about," he said.
"I truly believe that the Festival is a fantastic platform for South African performers and artists, and thus I want to use the Festival to get my name out there," he added.
Describing himself as "extremely over-ambitious", De Groot said he has more than one plan for his future. "I intend on continuing a career in musical theatre here in South Africa, or perhaps overseas. I also wish to further my studies by completing my last two years of LLB."
De Groot's first taste of professional theatre was as a 10-year-old in the Nelson Mandela People's Theatre production of Noddy in Toyland, shortly followed by the Johannesburg Youth Theatre's production of Oliver!, landing the title roles in both productions.
In 2004, at the age of 12, he outperformed adult actors and was awarded Best Comedic Performer in the World Championships of Performing Arts. Earning more than 100 diplomas from national eisteddfods throughout his school career, he also collected seven best actor awards from inter-house school productions, as well as directing the award-winning Monster Soup, which wiped the floor at both the inter-house play competition, as well as earning 16 awards at the RAPS One Act Play Festival.
He has appeared in several musicals including Footloose (Willard), The Sound of Music (Fredrik) as well as his critically acclaimed performance as Pharaoh in Joseph and the Amazing Technicolor Dreamcoat.