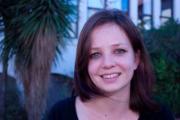 Mia Pistorius has been offered a Commonwealth Scholarship to study towards an MPhil in Music Performance at the University of Oxford.
"The scholarship is open to all fields of study, and in the current economic climate, the one thing people don't want to give money to the arts," says Pistorius.
And yet, thanks to her hard work and the assistance of the Rhodes Music Department, she was included the initial selection of 30 candidates from South Africa, and was awarded a fully-funded scholarship at Magdalen College. The college, which forms part of Oxford University, was founded in 1458 and is renowned for its exceptionally high academic standards.
The MPhil degree comprises two performances, of which one is half an hour and the second an hour. A large component of the course is academic study. "I'm excited about doing a course that is weighted towards music scholarship," says Pistorius, naming the theory and philosophy of music as examples.
The BMus degree at Rhodes prepared the pianist through its focus on research, an advantage she would not have had if she had completed a degree in pure performance. She feels indebted to the Department for allowing her to do interdisciplinary work involving music and literature, and music and psychology respectively.
"You won't necessarily get to do interdisciplinary research at other universities," she says. She adds that she has had "amazing teachers" and very willing referees, a vital requirement for successful scholarship applications.
As Oxford University is an institution renowned for its large concentration of great minds, Pistorius expects to learn a lot there. "I'm a bit nervous, but you have to be very foolish or arrogant not to be nervous. The most important thing is to be in a position where there are so many incredible people to learn from," she says.
Pistorius is also excited about the possibility to pursue studies in twentieth century music and performance, a field in which large-scale studies have recently been conducted at Oxford. This subject receives marginal interest in South Africa.
"There are many composers here but few musicians and audiences willing to engage with New Music," she says, and hopes to contribute towards its expansion upon her return.
The scholarship recipient is also considering becoming involved in music outreach projects in South Africa in the future, but will not pass up the opportunity of further studies in Europe if it arrives.
"It's always nice to put off becoming a real adult for a little longer," she smiles. With a balance in performance and her passion for academia, no candidate could be better-suited to a college with a focus on academic excellence and a rich musical tradition with three orchestras and a world famous choir.
Story and photo by Ruth Woudstra