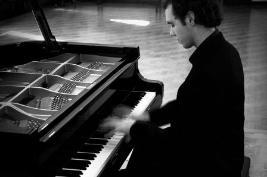 Christo Greyling, a second year student studying piano with Catherine Foxcroft at Rhodes University Department of Music and Musicology, won second place (R 11,300.00) in the prestigious 2012 UNISA South African Music Scholarship competition on 19 October 2012. He was also awarded a Hennie Joubert music award (R 1000). Mr Greyling performed the Scarlatti Sonata K 517, the Chopin Nocturne Op 48 No 1, and the Rautavaara Sonata No 2 during the competition. He performed the Rautavaara Sonata No 2 at the prizewinner's concert.
Other prize winners included pianist Willem de Beer, a 2nd year student of Professor Joseph Stanford at the University of Pretoria (1st prize), and violinists Carli D'Alebout (a pupil of Zanta Hofmeyr at Potchefstroom Gymnasium), and Samantha Durrant (a pupil of Professor Jack de Wet at Reddam House College, Cape Town). The violinists were both awarded a Du Toit - Van Tonder scholarship.
This longstanding national competition is for UNISA Grade 8 candidates who achieved at least 85% for their Grade 8 examination, as well as at least 85% for the repertoire section of the exam. Therefore, the field of competitors represents a cross-section of high achieving young South African classical performing talents. As Head of Department Dr Jeffrey Brukman says, "this places Christo's well deserved ranking into perspective - a fine achievement of which we are all justly proud."
Christo follows Mia Pistorius as the second pianist studying at Rhodes Department of Music and Musicology to win a prize in the UNISA South African Music Scholarship competition. Mia was awarded a Du Toit - Van Tonder scholarship in October 2008