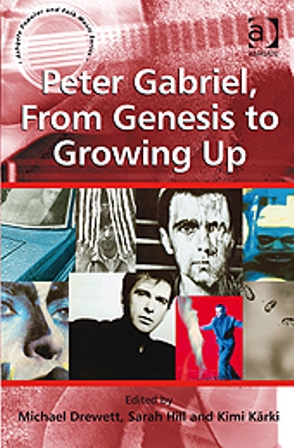 The book was edited by Michael Drewett, Associate Professor in the sociology department, Dr Sarah Hill of Cardiff University and Kimi Kärki of the University of Turku, Finland, with a contribution by Professor Brenda Schmahmann of the Fine Art department.
Prof Drewett said he first started thinking about working on a book about Gabriel, who fronted the progressive rock band Genesis from the late 1960s until the mid 1970s, many years ago when he attended a conference with Dr Hill. Standing outside the Turku Cathedral at the International Association for the Study of Popular Music (IASPM) Conference in Finland in 2001, the final session of the conference had just ended and had featured a discussion of Gabriel's recording techniques in the song "Blood of Eden". Prof Drewett said both he and Dr Hill were moved by Gabriel's music and spoke about doing something then. "It's taken us many years to get this book together, but I believe it's been worth the wait," he said.
The importance of Gabriel's contribution to popular music has been widely noted by academics and journalists around the world, with his subsequent solo career in the 1970s attracting widespread attention for poignant recordings, innovative music videos, groundbreaking live performances, the establishment of WOMAD and for his political agenda.
Known as a sensitive, articulate and critical performer, Gabriel's socio-political links extended to a variety of political initiatives, including the Artists Against Apartheid Project, Amnesty International and the Human Rights Now tour.
Like many people around the world, Prof Drewett said he had been personally affected by Gabriel's music as a schoolboy attending a middle class school in Johannesburg during the 1980s. "I managed to get hold of one of his albums which was banned in South Africa because of the song 'Biko'. That song opened up a whole world for me and changed the way I viewed society," he said. "It challenged the socio-political conventions I'd been surrounded by in apartheid South Africa."
Prof Drewett said the book is intended as an exploration of the most central themes found in Gabriel's work. These are divided into three conceptual areas arising from Gabriel's activity as a songwriter and recording artist, performer and activist, including "Identity and Representation", "Politics and Power" and "Production and Performance".
Rod Amner, lecturer in Writing and Editing at the Journalism department also spoke of the personal influence Gabriel had on his life growing up in middle class apartheid South Africa. While giving a synopsis of the book, Amner shared his memories of listening to Gabriel's music growing up, and the sense of comfort it gave him. "Peter Gabriel's music has affected many people. I can remember listening to his music as a young boy at a privileged high school in South Africa, similar to the one he attended in Britain. It gave me insight into things and also comfort that I wasn't alone in hating school," he said.
Prof Schmahmann of the Fine Art department, who contributed a chapter to the first part of the book, also attended the launch.
Story and photo by Sarah-Jane Bradfield
Photo: Dr Michael Drewett of the Sociology department, Rod Amner of the Journalism department and Prof Brenda Schmahmann of the Fine Art department with copies of "Peter Gabriel, From Genesis to Growing Up".
Source:
Please help us to raise funds so that we can give all our students a chance to access online teaching and learning. Covid-19 has disrupted our students' education. Don't let the digital divide put their future at risk. Visit www.ru.ac.za/rucoronavirusgateway to donate