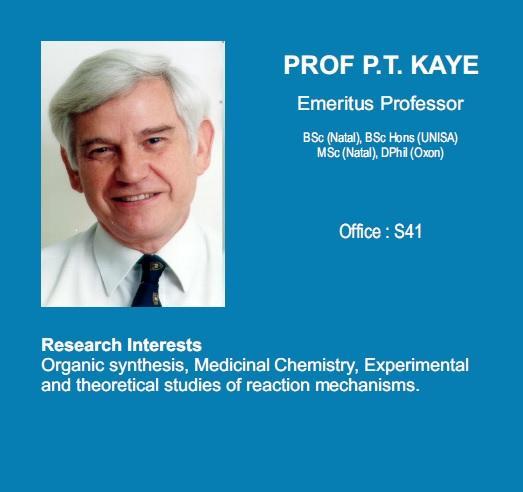 About:
Synthetic Methodology

Applications of the Baylis-Hillman reaction in the synthesis of benzanulated heterocyclic systems and their elaboration to biologically active compounds.

Medicinal Chemistry.

Design, synthesis and in silico and in vitro evaluation of the medicinal potential of novel compounds as anti-parasitic (anti-malarial and anti-trypanosomal), HIV-1 PR, IN and RT inhibitors and anti-TB agents.

Physical Organic Chemistry

Kinetic-mechanistic studies of organic reaction mechanisms using spectroscopic and computational methods.
Contact Information:
Telephone: +27 46 603 8268
Fax: +27 46 622 5109
Secretary: +27 46 603 8254
Postal Address:
Department of Chemistry
Chemical and Pharmaceutical Sciences Building
Corner of University and Artillery Roads
Grahamstown
6140
For more info on me click on the following link ->> Professor Perry T. Kaye

Last Modified: Wed, 08 Jan 2020 16:05:50 SAST