MOROUNTODUN
written by Femi Osofisan
directed by Andrew Buckland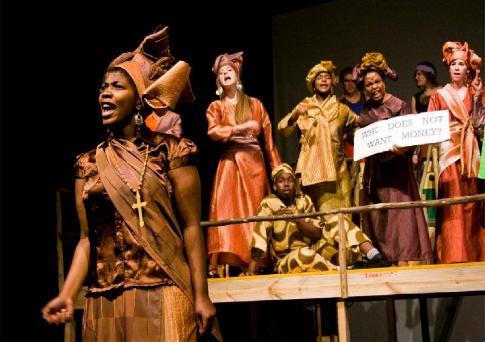 a powerful scene from Morountodun
PRAISE FOR MOROUNTODUN
Kirsten Lee: It was amazing! well done to everyone
Trevor Kana: I just watched it, I'm not a big theatre fan but I know good show when i see one. Loved it
Louella - Victoria Girls High School: The kids were blown away by the show! They found it totally entertaining (and accesible) and were able to put some of their theory in context. They also loved how it dealt with the empowerment of women. Please pass our congratulations on to the cast and director.
morountodun rhodes media release
Friends of Fort England Benefit Concert
The performance of Morountodun on Saturday 24th April will be a benefit performance for The Friends of Fort England Association. All ticket sales for this night will go to the association to help with their many projects.
RUBBER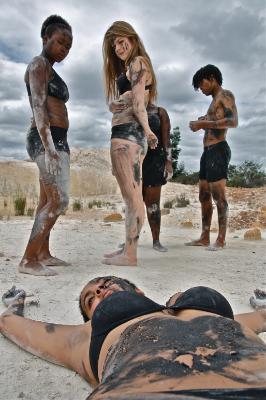 Rubber
National Arts Festival | Student Festival
Directed by Robert Haxton
Devised by Robert Haxton and the Cast
Robert and his cast worked together to create this darkly interesting piece of theatre.
Rubber also appears in Issue 4 of Jiggered Magazine | on sale at the National Arts Festival and after.

Jiggered
BEST OF FEST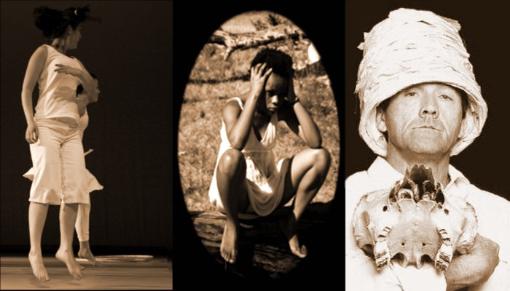 Best of Fest
A selection of shows from the National Arts Festival 2010 plus a special performance of Mistero Buffo, performed by Andrew Buckland
YOUNG DIRECTORS' SEASON '10
A feast of post graduate talent

young directors' season posters
Wednesday 18th to Saturday 21st August
Box Theatre | Main Theatre
young directors season 10 media release
young directors season 10 programme
THEATRE IN MOTION '10
Exciting | Innovative | New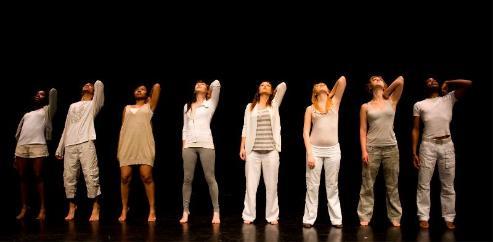 Theatre in Motion
Wednesday 20th to Saturday 23st August
Box Theatre | Main Theatre
Theatre in Motion showcases exam pieces from young and talented performers in the Rhodes Drama Department. Physical Theatre, Contemporary Performance, Dance Performance and Choreography all create superior theatre pieces from their extensive study over the year. The work is original and inspiring, intelligent and delightful.
theatre in motion media release1.pdf theatre in motion 10 media release
theatre in motion 10 programme
Last Modified: Thu, 12 Sep 2013 12:59:31 SAST