Warden's welcome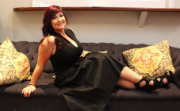 Olive Schreiner
Warden's welcome 2020
A warm welcome to all residents, new and returning, to Olive Schreiner House!
We trust you will find a home here and easily adapt to and embrace the bonds of family-hood that exists within the house.
Our residence is named after Olive Emilie Albertina Schreiner (24 March 1855 – 11 December 1920), a well-know South African author, anti-war campaigner and intellectual. She was an advocate for minorities, including women, and a freethinker who promoted friendship and understanding.
As her namesake, our residence aspires to uphold the values that she spent a lifetime advocating for. We strive to prosper academically as intellectuals and persevere in our efforts to attain gender equality, including inclusivity of all. Our goal is make and maintain our residence a space where every resident is free to be their authentic self, without fear of judgement or retribution.
As warden, together with the 3 sub-wardens, house head student and 7 House Committee members, we undertake to make your stay here as pleasant as possible. I am also a senior lecturer at Rhodes University and can assure you of my commitment to serve you to the best of my abilities. I, along with the other members of the team, apply an open-door-policy and will always have a willing ear for a resident in need.
Need-to-know things:
This is one of the biggest residences on campus, made up of 87 beds on 2 floors.
There are 2 common rooms where house meetings are held, residents can relax and which often serve as study venues during exam periods.
There are washing machines, dryers and a printer available for your convenience.
Each floor has a communal kitchen equipped with a fridge and microwave.
There are two computers available in the common room as well as eduroam WIFI throughout the whole residence.
Respect for ourselves and each other is highly valued, this includes everything from hygiene to using the facilities available.
If you see something, say something – this means that we communicate often and openly on the available platforms.
I trust that you will enjoy your time here and that you will have so many wonderful memories and lessons to take with you into the wide world after graduation!
#youmustaksss #choosehappiness #crunchyisbetterthancrusty #schreiner
Kindest regards,
Anje van der Merwe CA(SA)
House Warden: Olive Schreiner House
Last Modified: Thu, 28 May 2020 14:33:08 SAST