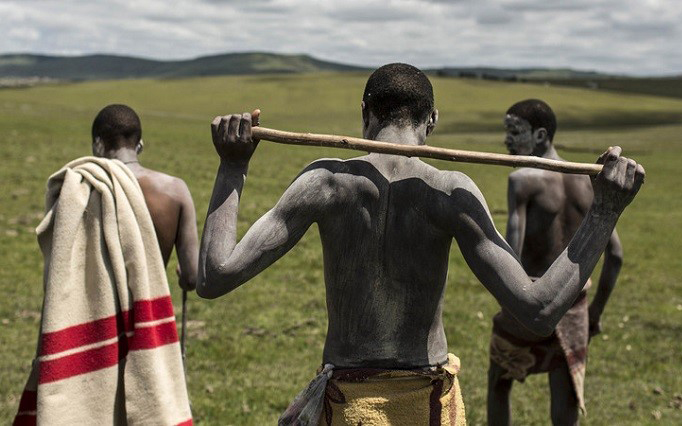 Written by Sithembele Xhegwana
THE CLEANSING RITUAL
I
There is an African saying, "You have to mutter a word before entering someone's
household" (Ubodumzela xa ungena komny'umzi). This saying is used in songs sung by the
elders, both men and women, not only at a young man's circumcision homecoming celebration but also in other traditional ceremonies. The AmaXhosa of the Eastern Cape, besides possessing a shrewd ability of coining and preserving wise words that speak directly to matters of social significance, they also are great composers. Besides demanding respect, humility seems to be the living spirit behind this line.
In the same vein, the African Independent Churches demand that every member of the
church conducts their own cleansing ritual by throwing whatever is in their hands into a bigger circle of things before the service begins, as a way of greeting the spirit. This simple act also demands that individuals verbally confess all their weekly personal misdemeanors. To speak directly to the occasion, there are chosen songs and portions of the church liturgy in form of Psalms from the Hebrew Bible.
In a more traditional setting, the singing of "Nomame", the most sacred song as far as the AmaXhosa tradition and cosmology is concerned, demands that elders should confess all their sins of omission as far as offerings are concerned. This is done up to a point of discrediting the living patriarchal lineage and their "silent" forbears for the sake of appeasing the lion spirit. That is just before entering the African kraal as one, in full awe of the spirits, holds the venerated spear. The belief is that directly addressing the ancestors, who also happen to be gatekeepers, will not only clear the way for the heifer or bull of sacrifice but is a cleansing opportunity for every member of the particular clan.
Even the most feared and respected sanuse, chief sangoma, sings appeasing songs to the different spirits claimed by the mountains, forests, caves, rivers and oceans. He/she not only addresses the guardian spirits by name but offers gifts to them. After many twilights in my life, what else can I do but come in full circle. As I enter the sacred place, in full murmur, this is my own cleansing ritual. The space is not mine; it belongs to the elders.
II
Possessed with feelings of antagonism I reluctantly consented to undergo the process of initiation, a moment that would define the course of my life. My family had the upper-hand. Against my will, as custodians of the rite of male circumcision, they insisted on brewing the traditional beer and slaughtering the goat to prepare for my "getting-in" ritual or umngeno. As my faith was grounded elsewhere, I refused to partake in any of these proceedings. Now that I had agreed to be circumcised, I just wanted my circumcision to be as simple as possible.
A week just before this ritual, I refused to perform the last dance with my initiation
cohorts. Nevertheless, they received all their entitlements; food, traditional beer and even the
highly prized "bottle of the horn" – ibhotile yephondo . On a Friday afternoon, a day just before the ingcibi would use the traditional weapon, umdlanga , to perform the surgical operation the medicated right shoulder of the sacrificial goat (umngcamlo) was eaten on my behalf by one of my many sisters. This was just after my head was shaved; the first mark towards this journey of transition. I did not spend all the prescribed three weeks in the mountain. Instead, after undergoing a lot of stress and imagining that some people were practicing witchcraft on me, I summoned an ambulance and went to recover at S.S. Gida hospital in Keiskammahoek, a rural small town few kilometres from home.
At some point, I had to leave the born-again Christian church I belonged to as it could no longer accommodate the "prophet" I was quickly becoming. In fact, after spending nearly a decade there, the pastor of this mostly "coloured" church in Cape Town summoned me to the cry room and said, "Brother Isaac, I think you should start your own church". This would be the beginning of a completely new journey for me, back to the African roots of my Eastern Cape childhood.
Instead of "starting my own church" I returned to the Methodist church where I had grown up. There I quickly progressed to the point of registering for studies to train as a minister. This was while I was working in Pretoria for Statistics South Africa. Before I could sit for my first exams, I could feel that cry room moment approaching again. So I prepared for it by summoning the elders and telling them of my new challenge – the calling from the ancestors to be a sangoma. They were very supportive. They relinquished me "to do what was right" with the proviso that once everything was settled I should come back home again.
Instead, the road unwounded to unexpected possibilities. The cry room "prophecy" was finally fulfilled as I ended up starting my own church after I shadowed within the African Independent faith healing church ( of St John's Faith Mission that was founded by Christina Nku in 1906). The late Archbishop Fihla was my mentor. At the same time, within a lot of pain and doubt, I was also growing as a sangoma up to a point that I started practicing. I am a ventriloquist who uses both the Bible and oracle cards to dig into people's pasts, present and futures. For personal purposes, I also occasionally throw bones. I translate some of these 'rare moments' into poems that not only offer personal healing but also serve as media through which I transverse alternative worlds of thought. My Master of Arts thesis in Creative Writing at the University of Cape Town owes its existence and success to such moments.
I dig herbs that sometimes come through my dreams. I use the media of the mountain,
forest, cave, river and the ocean to assist people to embrace both their healing and spiritual
completeness. The vibration of certain crystals complements some of my healing activities.
However, another moment would push my "rolling stone" life towards another direction. I
started having dreams about spears and sacred herbs. One aspect of this is presiding over family traditional functions through assisting with the bellowing of the heifer or bull of sacrifice. Around 2010 I performed my first of these kind of functions within the blessings of the patrilineal Nkabane clan. Another aspect is presiding over traditional male initiation functions. This has not yet been resolved as I myself doubt my manhood within the AmaXhosa context, considering the direction that my own traditional initiation function took.
However, this has led to another aspect, a research interest in the area of traditional male circumcision and indigenous knowledge systems. For the past two years while registered for my second Master of Arts degree with the Rhodes University department of Journalism & Media Studies (under the sponsorship of the South African Reserve Bank Economic & Financial Journalism unit), I have worked on this topic from the media perspective.