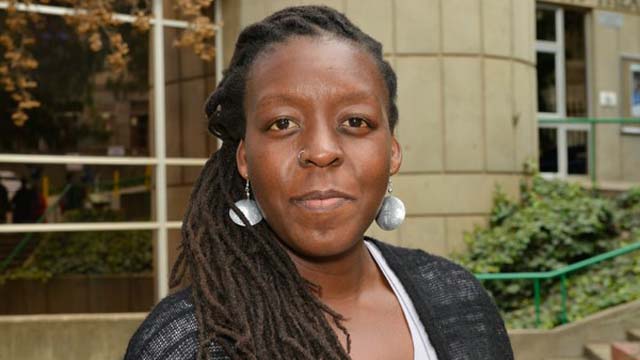 Theatre Maker, Performer and Lecturer at the University of the Witwatersrand, introduced her acclaimed style of immersive theatre when she visited Grahamstown for the first time as a facilitator at the Rhodes University Drama Department and not as a performer for the Arts Festival. She spent the past five weeks directing her theatre production Astronautus Afrikanus which showed between 21 and 23 May 2015.
The idea of immersive theatre, which she describes as a form of theatre where the audience is fully engaged in the play, is one that is constantly embedded in her work and which she incorporated in her interaction with the students at the Drama Department.
Kabwe explained that in this production, she was invited to be a Director in Residence as well as to make work with second and third year Drama students at the university. However, unlike the conventional style of teaching and learning, she mentioned that hers was to create a collaborative exchange of knowledge between students, herself and the audience.
"In every work that I do, I try to develop a non-traditional relationship between the audience and the performer where we explore exactly what it means to be African," she said.
The theme on African identity and what constitutes an African is one that she admits has inspired and continues to inspire her work.
"This is a constant question and a personal one," she said. "It informs my teaching and helps to shape my work," she added.
Kabwe further mentioned that her interpretation of theatre is one that affords the audience some form of agency to travel and stimulate their curiosity to make sure that they never relinquish the process of asking questions. According to her, it is important that we all continue to ask questions about everything happening around us, touching on current issues such as xenophobia and the recent debate on transformation surrounding Rhodes University. The aim, she clarifies, is not to find answers, but to encourage more and more people to partake in these discussions.
The inspiration for her theme on African identity for this particular production was inspired by Zambian high school teacher Edward Makuka Nkoloso who, in the 1960s, had a dream of training the first African Astronauts through his Zambia National Academy of Science, Space, Research and Philosophy. Kabwe, therefore, uses him as a symbol of African knowledge and the way that people come to know about themselves and those around them
In doing so, she also challenges formal education and the main ways through which education came about and also seeks to problematise the perception that knowledge can only be gained through this type of education.
Second year drama student Kyle Prinsloo expressed his admiration for Mwenya's theatrical approach, calling her a "game changer."
"What I like about her is that she manipulates the space around her, I even got to see places in the Drama Department that I had never seen before," he explained.
When asked about her signature approach to facilitating theatre productions and performing, Kabwe indicated that she was quite reluctant to characterise her work under one as she is still in the process of learning and evolving in the world of theatre. Nonetheless, she did reveal that reoccurring features of her work are centred on ideas of migration and travel where she relinquishes the passive nature of audiences. Another one is her use of what she calls Afroisms where she attaches the prefix Afro to either the names of her characters, as she did in Astronautus Afrikanus, or the title of the production itself. Her element of promoting Africanism is so strong that she reveals how she had thought about compiling a dictionary of Afroisms that would allow her to express what being African is in a way that is fun, light and seeks to reclaim our African-ness in a way that English fails to do.
By Phiwokuhle Mandisa Dhlamini