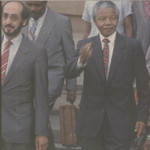 The men in robes and animal skins bore simple wooden staffs as they stepped jovially down the paths in Mvezo.
Were it not for the cellphones and the Gars, the arrival of the traditional leaders could have been a scene picked out of the past. The birthplace of Nelson Mandela, the village hosts the powerful beauty of the Transkei, but it is rough. It is far. Traditional ceremony is a distinctive but usually intimate feature, marked for collective memory.
Mvezo is a place of mostly old people with long remembered stories, but for many villagers, the handing over of the royal chieftainship in April 2007 was particularly unforgettable. This was despite the fact that the man they had come to honour was not well known to all of them. He was not a child of the village as such, having gone to school at Waterford Kamhlaba in Swaziland and later moving on to Rhodes University, where he had graduated with a degree in politics just days before he became chief. Outside, there appeared to have been controversy around his investiture, with rivals to the chieftainship - and others - claiming that his rise may have been unjust. At worst, some called it nepotism. But there was a clear line to his ascendance.
Mandla Mandela, then 32, was the son of Makgatho Mandela, whose death from an Aids-related illness in 2005 had made it possible for the Xhosa-speaking villagers of the abaThembu nation to choose a successor. Two years passed and they named the grandson of the statesman, in lieu of Nelson Mandela himself. It had been the grandfather's suggestion, and he hoped that it would be the making of the young man.
On the occasion, Mandla Mandela was handsome and serene. And if he did not properly grasp it then, he would soon begin to embrace the unusual gravity of the position with which even an elder. would struggle. Anointed as the head of the Mvezo Traditional Council, he would be known from then on as Nkosi Zwelivelile Mandela. Although primarily ceremonial, his more important job was bigger than Mvezo: the chief was to carry South Africa's most valuable legacy.
On the day of his investiture, Nkosi Zwelivelile was presented as the political heir to his grandfather, the international statesman. And his engagement that April was designed to transform an otherwise ordinary young man into a figure for national comfort and moral direction. Immediately, however, the control of the Mandela legacy was called into question, and the issue of that control would never quite be resolved during Mandela's lifetime.
Afro-sceptics tried unsuccessfully to derive irony, saying a largely unknown young man could not take on the presence of his grandfather, whose impact was too great to quantify. But that was not the point. Indeed, Mandela's greatness had long filtered through the world. It would continue to resonate on a philosophical, emotional and political level wherever there was conflict. Yet Mandela himself had created his grandson's role of assuming charge of his name, and that had little to do with the global meaning of Mandela.
"The real critical issue," Nkosi Zwelivelile said in 2009, "is, who has the voice?" There have been other challenges upon the legacy, most painful perhaps the argument over hi art between Mandela and his former lawyer an comrade Ismail Ayob.
The end of their long and trusted friendship came after a battle over the authentication of lithographs from Mandela's limited Hand of Africa series, designed to raise move for charity, and from his Robben Island drawings.
Although it was agreed that genuine work should bear one reproduced signature and one original, Mandela claimed that not all of those that carried the two signatures were his. So he sued Ayobi 2005, saying forgery had happened and alleging the there was no proof that all money raised from sale had gone to the right place.
It left bitterness and sadness. No one would even be entirely sure that either party was right. The most unfortunate fallout surrounded Mandela himself as it had come across as if he was not completely in control of his own legacy or how it was spinning out into the world.
The Nelson Mandela Foundation sought to confirm its control over protocol. It sent out notice after notice over the years warning that the Mandela name was protected, and that no one had the right to use it without permission.
Thus, the legacy was increasingly at odds. Who owned it, if indeed I could be owned? In an interview with Nkosi Zwelivelile before the general elections in April 2009, before the young Mandela was sworn in as an MP by the fourth president of a democratic South Africa, Jacob Zuma, he reiterated his own position. He was the voice for what his grandfather would leave behind. His views carne as dissension had started brewing over the role of the Mvezo chief in the greater Mandela family affairs.
Rumours had started that Nkosi Zwelivelile did not have the full support of a] sides of the family, particularly that represented y, his grandfather's ex-wife Winnie and their daughters. The depth of the relationship between Mandla; Mandela and Nelson Mandela's wife Grata Mache and her children was also uncertain.
There was more vociferous talk. The foundation and Mandla Mandela had apparently been at odds Of particular concern to the foundation was that Nelson Mandela had been taken to Dutywa in the Eastern Cape, seemingly under the aegis of his grandson, to campaign on behalf of the ANC 2009.
It seemed the organisation had been overruled When photographs appeared in major newspapers of a frail Mandela having to be helped up stairs to a podium in driving rain, a war threatened. The foundation was said to have complained that its mandate had been violated before. Its chairman, Jakes Gerwel, was reported to have told a newspaper that "the usual considerations" had not been taken into account, eliciting a furious response from the ANC's Fikile Mbalula, who said the foundation's comments were "regrettable... damning and dangerous, to say the least".
It was his words about Mandela's continuing support of the ANC that gave a richer understanding as to where the statesman's legacy might lie: "Even to question Mandela's membership to the ANC is insulting to (his) memory." Zuma also lashed out at the foundation, saying it did not own Mandela. "This is Madiba's ANC," he told supporters, bolstering Mandla's position that neither he nor the party needed permission from the foundation when they wished to engage with his grandfather.
"My grandfather's final chapter is being written," said the young chief. "That eventuality, his death, will happen, God forbid. And who's going to stand out and speak out on behalf of Mandela? There is no mouthpiece outside the Mandela household." Soon, the arguments about Mandela being steered on to that party podium petered out. Soon, the editorials stated something different.
Nelson Mandela had, of course, made the choice himself to campaign for the party he loved and had supported for 60 years. Those who challenged that position would be seen to be challenging Mandela's own sanity, let alone his stateliness and grace. Mandla Mandela stood firm at his first political test, taking on his critics. He had already established that his family could not make big decisions around the Mandela name without him having the final word. Indeed, his acceptance of the ceremonial lion skin at the Mvezo Great Place, the home of the Madiba clan, was significant.
Placed over his shoulders by controversial abaThembu King Buyelekhaya Dalindyebo, it cemented ties of blood. It cemented tradition. These were the things that neither the foundation nor, in fact, anybody outside that blood and tradition could ever claim. "This is my birthright," said Nkosi Zwelivelile. "My name runs through my veins." And there could be little doubt that Nelson Mandela himself approved.
When his grandson was heralded in that April event marked by the slaughter of several oxen, its wider symbolism was remarkable. To have a Mandela as a chief again after Nelson Mandela's father, Henry, was deposed as head of the Mvezo Traditional Council in the early 1900s was regarded as a means to restore the dignity of the entire abaThembu people. Nelson Mandela had turned down the opportunity to wear the lion skin once before, when, after initiation, he said he would relinquish his claim in order to pursue his legal and political career.
The anointment ceremony propelled Nkosi Zwelivelile into the most contested of arenas. It compelled him to take on the heaviest mantle of them all. How he bears it now will be the making of his own legacy.
Caption: Nelson Mandela and his lawyer and comrade Ismail Ayob before they fell out.
Picture by: KAREN SANDISO
By: Janet Smith
Article Source: SUNDAY INDEPENDENT