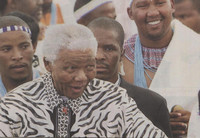 Mandla Mandela tells Zine George about a confusing first encounter that led to a deep relationship Mandla Mandela was 12 years old when he met his grandfather for the first time.
His aunt, Zindzi Mandela, arranged the 1982 trip, and its first stop was Winnie Mandela's home in Brandfort. They drove in his aunt's maroon Beetle one Friday morning from Orlando East, Soweto, where Mandla was staying with his mother. "All Aunt Zindzi told me on the way was that I am going to meet my grandparents.
I never knew I had other grandparents other than Mamqwathi (Mandela's first wife, Evelyn), whom I stayed with in Cofimvaba, where I grew up." Evelyn was the mother of Mandela's late son Makgatho, who is Mandla's father. Zindzi booked Mandla and Mangutyana, as Winnie was known to him, on the first flight to Cape Town the following Saturday, a journey Mandla describes as one that raised more questions about his family tree. "In the first place, I never knew that I had a grandfather.
Now I was told that I would be meeting him in Cape Town, only to be told later that he was in fact a prisoner." Activist and, later, cabinet minister Dullah Omar met Winnie and Mandla at the airport and drove them to Pollsmoor Prison. "We waited in a very cold waiting room ... This tall man came out and hugged Mangutyana. I sat there in a corner in a state of confusion.
These people were all strangers to me. Dalibhunga (Mandela) stared at me with a big smile, and invited me closer. "I did that with hesitation because I was asking myself, Who is this? How does he fit within my family?' But I was too scared to ask, although he tried to make me feel comfortable by asking me about my favourite sport, and what grade I was doing at school. After about 45 minutes, we left the cell. "I was eager to see my father and ask him why I was related to someone who is in jail.
My understanding at the time was that only hooligans, thugs, criminals are kept in jail. No member of my family was a criminal." Even an overnight stay at the Mount Nelson Hotel and his fust taste of crayfish, ordered by his "new grandmother", Winnie, was not as exciting as the prospect of discovering the truth. "That night, I did not sleep well because my life had many missing pieces of a puzzle."
The mystery continued to obsess him until he met his father back in Johannesburg. "My father explained the link between me and this stranger, saying that Mamqwathi was Dalibhunga's first wife, and Mangutyana the second. "He also explained how Dalibhunga's commitment to end apartheid led to his arrest. That's the day I started having an interest in politics." From that day, Mandla regularly visited his grandfather, and a bond developed between them.
Mandla remembered when he visited his grandfather at Tygerberg hospital, where he was admitted with tuberculosis. "I came to see him so that I could update him about what he was mostly interested in, my progress at school, when he surprised me with soccer boots. These were my very first pair of boots. I was very excited. When I left for Johannesburg, I thought to myself, 'Oh, indeed this is my grandfather.'
"In all the meetings we had in prison and even after he was released from prison, Dalibhunga valued education most." After their regular meetings in the early '80s, Mandela realised that his grandson could hardly speak English. He advised him to visit anti-apartheid activist Helen Joseph as regularly as possible so that his English could improve.
"I went to Helen Joseph's house every weekend between 1982 and 1984 just to get used to speaking English. Remember, I grew up in Cofimvaba, and for the most part of my life I never interacted with whites, not until I met her. Things got better with time, and Dalibhunga could easily see the difference, and he commended me for listening to his advice."
The visits to Joseph not only helped to improve Mandla's language skills; he got a chance to understand people of other races as well. "Since birth, whites to me were police who used to terrorise us when they were looking for my aunt at our Orlando East home. But this changed when I realised that there were white people like Helen who were participating in the struggle to end apartheid. This was an eye-opener for me. I told my grandfather about it at some point, I remember vividly.
"When there were uprisings in 1985 and 1986, he was the one who convinced me to go and stay with Aunt Zenani in Swaziland. I came back with a matric and two diplomas. But he convinced me over the years to go back to school, as the diplomas I had were no guarantee of a bright future." Mandla registered for a humanities degree in political studies at Rhodes University in 2003. Mandela and his wife, Grata, attended his graduation ceremony.
"Were it not for him, I would not have gone back to school, because I was running successful businesses with my diplomas, but he kept on telling me to go to university." Mandla also accepted an offer to become a chief Initially, the approach was made to Madiba by Tembuland King Zwelibanzi Dalindyebo. Mandela declined the offer. "When I told Dalibhunga that I would become chief, he was ecstatic. He said I was fulfilling a wish he could not. I am very proud of my decision to accept the challenge of leading my people.
"There is one thing that the world does not know about Dalibhunga —the fact that his generosity, kindness and willingness to share is something that he was socialised into. "The world sees him as the hero, but no one bothers to find out how come there is such a kind person on this earth. It's the Mvezo people, the Mandelas who made Dalibhunga share a bowl of umvubo or samp and beans with his 16 other siblings. "He was taught to share right from the beginning, at the same time earning the respect of his peers as someone of royal blood. It's not politics which moulded his character, it's his grass roots.
We are following in the same steps even though we grew up in a different environment. "The values of kindness to your fellow men, and the culture of sharing, were instilled in our generation as well." You have shown me the way A tribute to Nelson Mandela by Mandla Mandela YOU have fulfilled the wishes of the great men of Tembuland. It was not by mistake that you were named Rolihlahla, and that's exactly what you did. It was not by mistake that you were given the name Dalibhunga, as you did facilitate and become part of very successful negotiations which brought us to where we are today.
As an Mvezo chief, I will take up where you left off and see to it that our people's lives do change for the better. I will remain true to the Tembuland people, and the entire chain of traditional leadership, whenever my services are needed.
Picture Caption: FULFILLING A DESTINY: Nelson Mandela arrives at the ceremony in Mvezo on April 16 2007 where his grandson Mandla Mandela, rear right, reclaimed a traditional leadership post that Mandela had renounced decades ago to become a lawyer and dedicate his life to fighting apartheid. Picture by: AP
Article Source: The SUNDAY TIMES