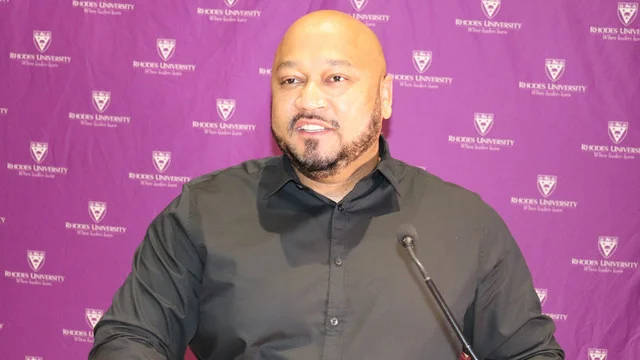 The Rhodes University community, its alumni network in its expanse - far-flung all over the globe - students, and employees of the University are in deep mourning over the passing of the respected alumnus, Mr Eusebius McKaiser.
The recipient of the coveted Distinguished Alumni Award paid his last visit to the Rhodes University campus in February to attend the launch of the MINA menstrual cups aimed at fighting period poverty and to engage with students.
"This is a particularly sombre moment to hear about Eusebius McKaiser's passing and to talk about Eusebius in the past tense. Eusebius was not only a graduate of Rhodes University; but he was a passionate member of our alumni network," Director of Communication and Advancement at the University, Dr Luzuko Jacobs, said in reaction to the news of Mr McKaiser's passing.
Jacobs described Mr McKaiser as someone who was invested in Rhodes University and who showed boundless enthusiasm about the University and all that it stood for. "Someone who, by his own admission, had 'purple blood' running in his veins. Eusebius would avail himself to feature in our alumni activations in whatever capacity designated for him" Jacobs said.
He did not just participate actively and passionately in alumni activities, Eusebius would travel to Makhanda and ardently engage with our students, paying it forward. That is the type of person that Eusebius was.
He invested in this University. He invested in humanity. He was a formidable debater - he was someone who could engage with any topic. As the University, we cannot remember him except for matters cerebral.
Eusebius was born in Makhanda. He first enrolled at the University in 1997 to study towards a Bachelor of Arts in Law and Philosophy. An Honours and then a Masters in Philosophy degree, both with distinction, followed prior to him being selected on a Rhodes Scholarship to Oxford. He also lectured philosophy at Rhodes University.
Eusebius spoke proudly about his association with Rhodes University as an alumnus and always sought to impart his wisdom and knowledge to young people and students in particular.
He described Rhodes University as "a very special and amazing academic institution where leaders come to learn".
We will miss him. We will miss his contributions, but as we do that, we are very grateful for what he has done for Rhodes University. For his responsiveness to our calls in the service of Rhodes University, its community and what Rhodes University stands for.
He personified the ethos of this institution. He was a free spirit and a great human being.
Rhodes University Vice-Chancellor, Professor Sizwe Mabizela said: "We are shocked and deeply saddened by the passing of our exceptional alumnus, Eusebius MacKaiser. Eusebius was a formidable public intellectual with an amazing ability to write and speak on a wide range of social and political issues. He was a fierce debater with an incisive mind and a profound sense of social justice. He loved his alma mater and was always ready to play his part in our events in Johannesburg. He left us too soon. Humanity has lost an intellectual giant."
Rhodes University, its Vice-Chancellor, and all its alumni send heartfelt condolences to the family, friends, colleagues, and all who knew him. May his great soul rest in eternal peace.