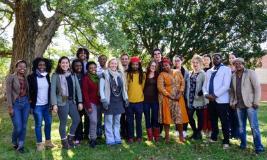 POSTDOCTORAL RESEARCH FELLOWSHIP (2017)
THE ARTS OF AFRICA AND THE GLOBAL SOUTH
HOSTED BY THE ARTS OF AFRICA RESEARCH TEAM (AART) AND THE FINE ART DEPARTMENT
RHODES UNIVERSITY, SOUTH AFRICA
Suitable candidates are invited to apply for a Postdoctoral Research Fellowship hosted by the Arts of Africa Research Team (AART) linked to the National Research Foundation SARChI Chair in 'Geopolitics and the Arts of Africa' at Rhodes University, South Africa. The research chair is based in the Fine Art Department, and it welcomes relevant research from cognate disciplines that engages meaningfully with the arts of the 'global south' as well as the research themes listed below.

The successful Postdoctoral Research Fellow will be an active participant in the research team, which consists of research staff, a postdoctoral fellow, visiting scholars/artists, and postgraduates. She or he will focus on publishing and will not be involved in undergraduate teaching. Funding for participation in relevant academic conferences will also be available.

Research Themes:

1) positioning Africa and the arts, 2) globalization and the geopolitics of art, 3) spatialization, site and art, 4) art and the 'global south', 5) the curatorial turn, biennialisation and the 'south', and 5) art, decoloniality and a geopolitics of knowledge. (For further information on the research themes, please email arts.africa@ru.ac.za).

The Goals of the Research Team:

1) to produce high quality research outputs, 2) to foster a culture of academic sharing and cooperation by working on related topics, 3) to develop non-hierarchical forms of 'sideways learning' and ways of 'unlearning', 4) to build research capacity through a co-operative research culture, 5) to build collaborations with scholars predominantly on the African continent and in the 'global south' and 6) to address pertinent socio-political concerns in Africa and the 'global south'.
Summary of Fellowship Criteria:
Candidates must have obtained their PhD in a relevant discipline within the last five years, and the fellowship is renewable for up to three years. The successful candidate will be resident in Grahamstown for the duration of the fellowship.

Preference will be given to candidates based on the African continent or in the 'global south' who are working in a research area relevant to the Chair themes.

Please feel free to contact Professor Ruth Simbao (arts.africa@ru.ac.za) for further information.

APPLICATION PROCESS

1. EXPRESSION OF INTEREST

Please send an EXPRESSION OF INTEREST to the Research Chair, Professor Ruth Simbao (arts.africa@ru.ac.za and cc'd to c.mostert@ru.ac.za) by the 30th of October 2016. Further information and an application form will be sent to suitable applicants.

The EXPRESSION OF INTEREST must include the following:

1) your institutional affiliation (if applicable), 2) details of your completed PhD (institution, academic department, year obtained and thesis title), 3) a brief summary of your research interests, and 4) a brief summary of your publication track record.

2. FINAL APPLICATION

An application form will be sent to suitable applicants upon receipt of an expression of interest. Final applications are due on the 30th November 2016