New Books - January 2016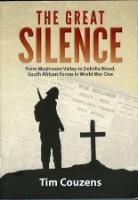 The great silence: from Mushroom Valley to Delville Wood, South African Forces in World War One - by Tim Couzens.
'This book meticulously bringing the details of the different Campaigns to light, with a dedicated chapter on each major theatre of action, from Sandfontein to Delville Wood, plus a special chapter on the contribution of black South African troops to the Allies' ultimate victory.'
Call number: 940.41268 COU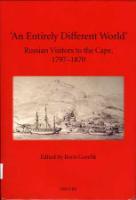 'An Entirely Different World': Russian visitors to the Cape 1797-1870 - edited by Boris Gorelik.
This book is part of the Van Riebeeck Society for the Publication of Southern African Historical Documents, second series no 46.
"The Russian view of the Cape as represented in this volume may be unique. During the period in question, Russia had no cultural, political or economic ties with South Africa. Russians saw the Cape only as a convenient stopover en route to the Far East, to their country's distant domains that could not be reached by sea otherwise. The Cape was one of the 'exotic' lands they would visit on such journeys, their first and only introduction to the African continent. Although amazed and perplexed by the 'entirely different world' they found here, Russian travellers would often draw unexpected parallels between life in their motherland and the realities of the Cape Colony."
Call number: 968(75) VANR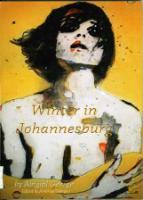 Winter in Johannesburg: a collection of short stories - by Abigail George and eited by Ambrose George.
This book consists of 24 stories. Ordinary; One foot in the Grave; I write what I like; Ingrid Jonker; Winter in Johannesburg; and the aftermath of loneliness are some of the short stories listed in this book of 166 pages.
Call number: 822.914 GEO
New Books - December 2015
Cory Library would like to give thanks to M. van Wyk Smith for the following book donations received and taken into stock.
1. Zulu horizons by Benedict Wallet Vilakazi; rendered into English verse by Florence Louie Friedman, from the literal translation of D. Mck. Malcolm and J. Mandlenkosi Sikakana. Call number: 896.39861 VIL
2. The Magic tree: South African stories in verse edited by Guy Butler and Jeff Opland. [Call number: 828.91008 MAG]
3. The sons: a novel by David Abbott. [ Call number: 823.91 ABB]
4. The Congress of the People and Freedom Charter: a people's history by Ismali Vadi. [Call number: 323.168 VAD]
5. Mzala: the stories of Mbulelo Mzamane by Mbulelo Mzamane. [Call number: 828.91914 MZA]
6. The park and other stories by James Matthews. [Call number: 828.91914 MAT]
7. Mating birds by Lewis Nkosi. [Call number: 828.92914 NKO]
8. 92 Queens Road by Dianne Case. [Call number: 828.93914 CAS]
9. Joburg, sis by Barney Simon. [Call number: 828.93914 MAT]
10. Call me not a man by Mtutuzeli Matshoba. [Call number: 823.914 MAT]
11. LM and other stories by Peter Wilhelm. [Call number: 869.342 WIL]
12. Sol Plaatje: a biography by Brian Willan. [Call number: 968.06 PLA]
13. Voorslag: a magazine of South African life and art edited by Roy Campbell, William Plomer and Laurens van der Post with an introduction and notes by Colin Gardner and Michael Chapman. [Call number: 828 VOO]
14. Voices from within: black poetry from southern Africa indtroduced and edited by Michael Chapman and Achmat Dangor. [Call number: 828.91008 VOI]
15. Olive Schreiner: a short guide to her writings by Ridley Beeton. [Call number: 828.938 BEE]
16. Waiting for Leila by Achmat Dangor. [Call number: 828.93914 DAN]
17. The blood of our silence by Kelwyn Sole. [Call number: 828.91914 SOL]
18. No more lullabies by Mafika Gwala. [Call number: 828.91914 GWA]
19. Bulldozer by Achmat Dangor. [Call number: 828.91914 DAN]
20. Inside by Jeremy Cronin. [Call number: 828.91914 CRO]
21. Dispossed by Modikwe Dikobe. [Call number: 828.91914 DIK]
22. Afrika my music: an autobiography 1957-1983. [Call number: 828.93914 MPH]
23. Fools and other stories by Njabulo S. Ndebele. [Call number: 828.93914 NDE]
24. Among the souvenirs by Mike Nicol. [828.91914 NIC]
25. A world of their own: Southern African poets of the seventies edited by Stephen Gray; introduction by André P. Brink. [Call number: 828.91914 WOR]
26. The children of Soweto: a trilogy by Mbulelo Vizikhungo Mzamane. [Call number: 828.93914 MZA]
27. Mama ndiyalila: stories by Mothobi Mutloatse. [Call number: 828.93914 MUT]
28. Reconstruction: 90 years of black historical literature compiled and edited by Mothobi Mutloatse. [Call number: 828.908 REC]
29. The castaways by Sheila Fugard. [Call number: 828.93914 FUG]
30. Grass for the unicorn: poems by Perseus Adams. [Call number: 828.91914 ADA]
31. Looking for Muruga by Kriben Pillay. [Call number: 828.91914 PIL]
32. Facets of Olive Schreiner: a manuscript source book by D.R. Beeton. [Call number: 828.938 BEE]
33. Bandiet: seven years in a South African prison by Hugh Lewin. [Call number: 365.450968 LEW]
34. To every birth its blood by Mongane Serote. [Call number: 828.9191 SER]
35. Children of the earth by Sipho Sepamla. [Call number: 828.93914 SEP]
36. Casey and co: selected writings of casey 'kid' motsisi edited by Mothobi Mutloatse. [Call number: 828.93914 MOT]
37. Shades of darkness: a novel by Jonty Driver. [Call number: 828.93914 DRI]
38. Fireflames by Oswald Mtshali. [Call number: 828.91914 MTS]
39. From the calabash: poems and woodcuts by Mothshile wa Nthodi. [Call number: 828.91914 MOT]
40. One hundred and three poems by Eva Royston. [Call number: 828.91914 ROY]
New Books - July 2015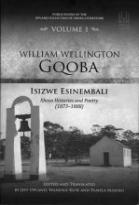 William Wellington Gqoba, Isizwe Esinembali: Xhosa histories and poetry (1873-1888) - edited and translated by Jeff Opland, Wandile Kuse and Pamela Maseko. Volume 1.
"William Wellington Gqoba (1840-88) was prominent among the African intellectuals emerging in the Eastern Cape region of South Africa towards the end of the nineteenth century."
"This book assembles and translates into English all of William Wellington Gqoba's clearly identifiable writings. They offer an insider's perspective on an African nation in transition, adapting unvomfortably to Western mores and morality, seeking to affirm its identity by drawing on its past, standing on the brink of mobilisation to resist white control and to construct its social, political and religious independence from European colonialism."
Call number: 896.39851 GQO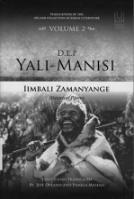 D.L.P. Yali-Manisi, Iimbali Zamanyange: historical poems - edited by Jeff Opland and Pamela Maseko. Volume 2.
"David Livingstone Phakamile Yali-Manisi (1926-99) was a Thembu Imbongi, the most powerful exponent of the art of praise poetry in the Xhosa language in the second half of the twentieth century."
"Yali-Manisi extended the panegyric mode of the imbongi into narrative poetry; he also displayed an astonishing capacity to compose poetry in the act of performance."
Call number: 896.39851 YALI
New Books - May 2015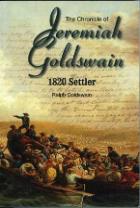 The chronicle of Jeremiah Goldswain: 1820 Settler - edited by Ralph Goldswain.
"This is the story of the 1820 Settler, Jeremiah Goldswain, in his own words. It is the story of hardship and the struggle for survival of Jeremiah and his family - his wife Eliza and their ten children - on one of the most volatile borders the world has ever seen. Even in peacetime the conflict and violent clash of cultures were constantly present and many settlers were murdered, including members of Jeremiah's family. Through all this we see a man making his way in a world he could not have imagined while growing up in rural Buckinghamshire. He lived during an important historical time for South Africa, not only observing and fighting the wars, but meeting and serving with some of the most famous names in South African history. He saw, in detail, the effects of the Cattle Killing of 1856, the Boer uprising in the Orange River Sovereignty, as well as several other famous and notorious historical events.
Call number: 968(75) GOL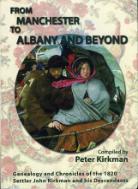 From Manchester to Albany and beyond: genealogy and chronicles of the 1820 Settler John Kirkman and his descendants - compiled by Peter Kirkman.
"Recruited from all over the United Kingdom, the Settlers were conveyed to Algoa Bay in sailing ships, from whence they were transported to allotments in Albany by wagon. There they were deposited in the open veld with only the meagre possessions they brought with them. Facing an uncertain future in a hostile and dangerous environment with limited resources, the Settlers endured untold hardships. Somehow they survived the primitive pioneering experience, and in the main they prospered. From the confines of their original bridgehead in Albany, the Settlers and their descendants eventually fanned out into the rest of the country and to places beyond."
"This book treats with the history and genealogy of one of the Settler families, and traces the dispersal of their descendants through several generations. It deals with engrossing individuals, the interesting folk they married, the absorbing characters and the backgrounds of the families they became conjoined with through marriage, as well as the fascinating events that shaped their lives."
Call number: 929.2 KIR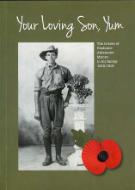 Your Loving Son, Yum: the letters of Grahame Alexander Munro 1915-1916.
"They may have been 'men' who fought (and died) for their countries but many of the the millions who participated in the First World War were, in fact, still very much 'boys'. On of them was Grahame Alexander Munro, just 18 when he enlisted. This charming collection of two years of his letters home reveals the boy within the man."
Call number: 940.3092 MUN
New Books - March 2015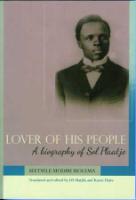 Lover of his people: a biography of Sol Plaatje - Seetsele Modiri Molema; translated and edited by DS Matjila and Karen Haire.
"Lover of his People is surely one of the best biographies of an African intellectual, journalist, writer and political visionary to be published."
"Molema balances Plaatje's public and political persona - as a pioneer black politician and man of letters - with an intimate account of Plaatje the human being: his physical features, habits, temperament, talents, personality, character, fears, struggles, dreams and aspirations."
Call number: 323.168 PLA/MOL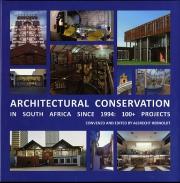 Architectural conservation in South Africa since 1994: 100+ projects - convened and edited by Albrecht Herholdt.
"The process started with the appointment of regional conveners. The six convenors were responsible for writing an overview on conservation projects completed in their area, and assisting in selecting appropriate examples. The book gained real momentum inthe latter half of 2013 and the work of 67 practices responsible for 114 projects are included. Each project is explained and illustrated over four pages. The first page comprises a column that depicts essential details and a review by an independent critic. The second page illustrates the project with plans, elevations and sections. Where possible, the new has been highlighted in red. Page three and four elucidates the project with photographs. Old photographs and pictures before restoration are portrayed in greyscale."
Call number: 720.968 ARC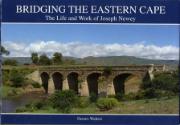 Bridging the Eastern Cape: The life and work of Joseph Newey - Dennis Walters
Joseph Newey was an English Civil Engineer from West Bromwich, who came out to South Africa in 1873 to erect two iron lattice girder bridges at King William's Town and Committees Drift for the Public Works Department of the Cape Colony. He stayed to design and build dozens of other bridges throughout the Eastern Cape and Transkei. Notably seven stone arch bridges at Cala, Barkley East (2), Ugie, Maclear, Aliwal North and Lady Grey. The devastating flood of December 1874 totally destroyed six bridges and damaged many others, being the PWD man on the spot, he was entrusted with the job of having them repaired. The erection of the iron lattice grider bridge over the Great Key River in 1878 was intupted by the Nineth Frontier War, when he had to run for his life to fortified Komga. He was appointed District Inspector of the PWD at King William's Town in 1882, when all public buildings of the area were added to his bridge building activities. He was appointed the Chief Inspector of Public Works of the Cape Colony in 1893, when even more diverse projects were to be managed by him.
Call number: 725.98 NEW/WAL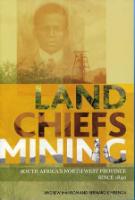 Land Chiefs mining: South Africa's North West Province since 1840 - Andrew Manson and Bernard K Mbenga.
"Written in a direct and accessible style, the book provides the general reader with an understanding of the region, but also opens up avenues for further research."
"At the heart of this compelling account of the Setswana-speaking people of North West Province lie three defining and interlinked issues: ethnicity; the ownership of land; and the impact of mineral wealth, Land, Chiefs, Mining traces the ways in which, over three hundred years, the land has determined the relationships between the people who live on it, and how, in the twenty-first century, mining activity has added another layer to the complex of chiefly influence and commercial interests.
Call number: 968(11) MAN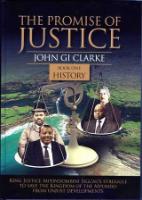 The promise of justice: History (The story and his story). Part 1 - John GI Clarke.
This book "looks back to see what may be learned from recent post-apartheid history and pre-apartheid history from the 19th century colonial era. It comprises; Part 1: The story, which summarises the back story that got King Justice Sigcau into trouble with government, notably his opposition to the mining of coastal dunes of the Wild Coast, and plans by the South African National Roads Agency (SANRAL) to offer a commercial tolling concession to construct a new highway nearby."
Call number: 968(13) CLA
New Books - February 2015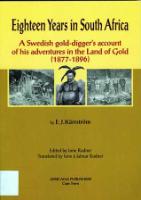 Eighteen years in South Africa: a Swedish gold-digger's account of his adventures in the Land of Gold (1877-1896) - by E.J. Kärrström, edited by Ione Rudner and translated by Ione and Jalmar Rudner.
"A young Swede's dream to see the world as a sailor ended in 1877 when his three-masted ship, the Ellen Browse, was wrecked on the South African coast near East London. He could not have foreseen the adventures that he would experience thereafter as a soldier in the 9th Frontier War, the Zulu War of 1879 and the Basutho Gun War, nor that he would make his fortune mining for gold and diamonds at Barberton, Colesberg and Kimberley."
Call number: 968 KAR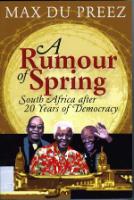 a Rumour of spring: South Africa after 20 years of democracy - by Max Du Preez
This book "investigates and analyses the progress and lack of progress the country has made during these twenty years. He looks at the legacies of Nelson Mandela and Thabo Mbeki in an attempt to understand how we got there, and examines Jacob Zuma's presidency to better understand where we are."
Call number: 320.96806 DUP
New Books - September 2014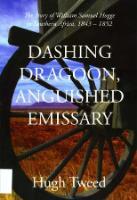 The story of William Samuel Hogge in Southern Africa, 1843-1852. Dashing dragoon, anguished emissary. - Hugh Tweed.
This book tells the story of William Samuel Hogge reflected as a captain in the 7th Dragoon Guards which covers the period between 1843 and 1847. The second period covers 1851 to 1852 when he was requested by HM Government to go to the colony as a civilian Assistant Commissioner. "This is the story of a former cavalry officer thrust into the turbulent politics of mid-19th century southern Africa. During service with the 7th Dragoon Guards in Cape Colony he establishes a reputation as a leader of native irregular troops and receives accolades from his superiors.
Call number: 968(75) TWE
Healdtown under the eagle's wings. The legacy of an African mission school. - Trevor Webster.
The book consists of three parts. Part 1: Healdtown - the largest Methodist mission station in South Africa; Part 2: under the eagle's wings - refers to both the motto on the school badge and also to the eagle on the bell tower on the Healdtown parade ground; Part 3: the legacy of an African Mission School.
'Healdtown begun as a Methodist mission in 1855 during a time of frontier conflict, it became the largest high school in the country where many of the black elite who were to become leaders in the struggle for democracy were educated. Prominent leaders such as Govan Mbeki, Robert Sobukwe and Nelson Mandela, first President of a Democratic South Africa in 1994, are counted among the school's alumni. Many leaders in other fields, such as Seth Mokitimi and Justice Skweyiya of the Constitutional Court and various university Vice-Chancellors were also moulded at Healdtown.'
Call number: 371.07 WEB
New Books - August 2014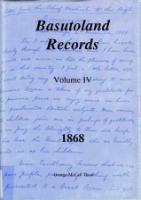 Basutoland Records: Volume IV 1868. - Compiled by George MCcall Theal.
Published by The Institute of Southern African Studies, National University of Lesotho. "These last three volumes of Basutoland records contain correspondence and other documents covering 1868 to 1872. The material in these three volumes have been a source for many scholarly works dealing with Lesotho's colonisation by Britain. Quoting these records, the argument these works make is that it was more strategic and economic considerations that had an important bearing on that decision. The purpose of this essay is to suggest, based on material from these same sources, that sympathy, careerism and prestige - largely ideological factors - have been overlooked as factors behind the recommendations of the man who was most critical in influencing Britain's decision to colonise Lesotho."
Call number: 968(6) THE
Basutoland Records: Volume V 1969-70. - Compiled by George MCcall Theal.
Published by The Institute of Southern African Studies, National University of Lesotho. "These last three volumes of Basutoland records contain correspondence and other documents covering 1868 to 1872. The material in these three volumes have been a source for many scholarly works dealing with Lesotho's colonisation by Britain. Quoting these records, the argument these works make is that it was more strategic and economic considerations that had an important bearing on that decision. The purpose of this essay is to suggest, based on material from these same sources, that sympathy, careerism and prestige - largely ideological factors - have been overlooked as factors behind the recommendations of the man who was most critical in influencing Britain's decision to colonise Lesotho."
Call number: 968(6) THE
The world's great question: Olive Schreiner's South African letters 1889-1920. - edited and introduced by Liz Stanley and Andrea Salter.
This "presents the political letters of the country's foremost liberal and feminist during the critical era of gold, war and union in the sub-continent's history. Schreiner is also best known today as a one-work literary figure, but, as with them, this was only one part of her oeuvre. She used her high literary status among contemporaries to give weight to her views on social and political issues of the day, almost as a pedestal from which to lobby the powers-that-be-more effectively."
This is the second series no 45 from the Van Riebeeck Society.
Call number: 968 VANR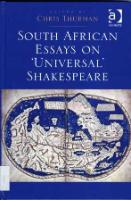 South African Essays on 'Universal' Shakespeare. - edited by Chris Thurman.
This book "collects new scholarship and extant (but previously unpublished) material, reflecting the changing nature of Shakespeare studies across various 'generation gaps'. Each essay, in exploring the nuances of Shakespearean production and reception across time and space, is inflected by a South African connection. In some cases, this is simply because of the author's nationality or institutional affiliation, in others, there is a direct engagement with what Shakespeare means, or has meant, in South Africa. By investigating the universality of Shakespeare from both implicitly and explicitly 'southern'perspectives, the book presents new possibilities for considering (and reassessing) shifting manifestations of Shakespeare's work in major Shakespearean 'centres' such as Britain and the United States, as well as across the global North and South."
Call number: 822.33 SOU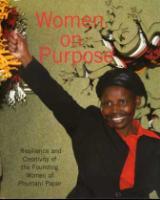 Women on purpose: Resilience and creativitiy of the founding women of Phumani paper. - By Kim Berman and Jane Hassinger.
This book "pays tribute to 26 founding members of the Phumani Paper enterprises - all of whom have remained active from the project's inception in 2000. Their narratives reveal common challenges faced by many women in South Africa today. In this book, the result of interviews conducted in 2008, the women of Phumani Paper share inspiring stories about family, faith, hard work, the value of education, and the strength and power gained from engagement in their communities. Their stories reveal the unswerving, shared determination of participants and collaborators to keep the dream for their papermaking projects alive."
Call number: 754.054 BER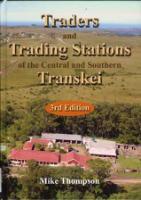 Traders and trading stations of the Central and Southern Transkei. - Michael Charles Thompson.
"The period covered by the book is 65 years, from 1903 to 1968. That is three generations which in a broader perspective, is but a scantling of time. However, in that period there has been an avalanche of change enough to baffle any emergent Rip Van Winkle. It was the phase when the Transkei was saturated with trading stations and the traders resided at their stations. The phase ended abruptly when, for political reasons, most of the traders were bought out. The book is a catalogue of which traders lived where and when. Precise locations of the trading stations are not given and such details have to be looked for on topographical maps. The book also has a genealogical basis as it shows the inter-relationships between traders and deals with the transfer of stations down the generations."
Call number: 381.0968758 THO
8115 A prisoner's home. - Alf Kumalo and Zukiswa Wanner.
"This book is a pictorial record of the life and times of an international icon, compiled by one of South Africa's most accomplished photographers, Alf Kumalo. It is thanks to his camera that many people will now have an opportunity to appreciate and embrace the life of Nelson Rolihlahla Mandeal through pictures that reveal both poignant and historic moments. This book will enrich the souls of its readers, enabling them to reflect on the past as it is depicted in its pages and empowering them for the future."
Call number: 323.168 KUM/MAN
New Books - July 2014
Concordance to the Ndebele Bible. - Edited by Foy Short.
"For many years there have been concordances of the Bible in English and in many other languages, but this is the first concordance for the siNdebele Bible. This concordance does not give the references for all the words in the Bible." At the end of the Concordance there is an Index of personal names as well as an index to place names which is useful for finding a reference.
Call number: 220.596398 SHO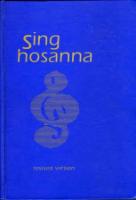 Sing Hosanna: Old notation. - Compiled by the Reverend G Owen Lloyd.
"This bilingual English-Afrikaans hymnbook is a successor of the music version of the Evangelisch Gezangboek published in 1922 by the Congregational Union of South Africa." This Hymn book consist of 400 hand written sheet music accompaning english and afrikaans words. The index contains tunes, metrical index, Index of composers, themes for worship, index of authors, register van eerste reëls van afrikaanse gesange and Index of first lines of English hymns which are sorted each in alphabethic order.
Call number: 264.2 LLO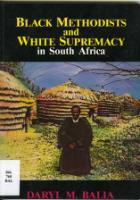 Black Methodists and White Supermacy in South Africa. - Daryl M. Balia.
The contents of this book starts off with preachers and pioneers, followed by Charles Pamla and the 1866 revival, Unzondelelo, Nehemiah tile and the Tembu Church, the birth of the Ethiopian Church and ends off with Pilgrimage of blackness.
Call number: 266.768 BAL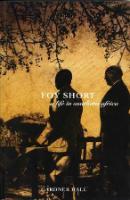 Foy Short: a life in southern Africa. - Gardner Hall.
The book tells the life story of Foy Short as a Missionary in South Africa as well as in Zimbabwe. The contents of the book deals with his roots and childhood as well as history of Zimbabwe.
Call number: 276.89 SHO/HAL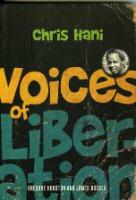 Chris Hani: Voices of liberation. - Gregory Houston and James Ngculu.
The book Chris Hani tells the life of the person in 3 parts. Part 1 - his life (assassination; exile; african countries; return home); Part 2 - Auto biography (life, struggle and as a soldier); The African National Congress Umkhonto we Sizwe and the armed struggle; The South African Communist Party; Negotiations; and part 3 - reflections on Chris Hani.
"Voices of liberation series celebrates the lives and writings of African Liberation activists and heroes."
Call number: 323.168 HAN/HOU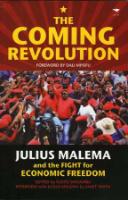 The coming revolution: Julius Malema and the fight for Economic Freedom. - Edited by Floyd Shivambu, Foreword by Dali Mpofu. Interview with Julius Malema by Janet Smith.
"The struggle for economic freedom in our lifetime predates the formation of EFF as a movement that seeks to fight for the economic emanipation of the oppressed people of South Africa, the African continent and the world. The struggle for economic freedom is a political struggle, the primary mission of which is to ensure that all the people of South Africa equitably share in the natural and economic resources of our country."
Call number: 324.268 COM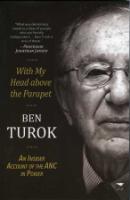 With my head above the parapet. - Ben Turok.
It is dealing with the ANC as leaders of South Africa, from the time of Nelson Mandela as president, then Thabo Mbeki and present leader Jacob Zuma. The author have been in the stuggle for 69 years. This book also commemorated 20 years of the ANC as leaders to the new South Africa.
Call number: 324.268083 TUR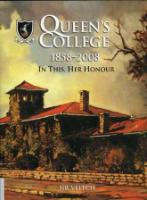 Queen's College 1858-2008: in this, her honour. - NR Veitch.
Celebrating 150 years as a school for boys in Queenstown, Eastern Cape, South Africa. What a wonderful book full of pictures of early buildings, principles and teachers as well as school boys. Telling the story of Queen's College from when it started off as a school up to what it became.
Call number: 370.9687 VEI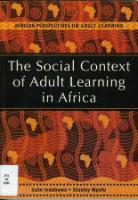 The social context of adult learning in Africa. - Sabo Indabawa with Stanley Mpofu.
Each chapter deals with adult education, its role, religion, back ground, gender, empowerment, democracy in the African context, HIV/AIDS, poverty and tools of social analysis. After each discussion or topic is an activity which deals with certain real life issues.
Call number: 374.96 IND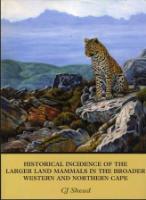 Historical incidence of the larger land mammals in the broader western and northern Cape. - CJ Skead.
This is the second edition. The first edition: Historical mammal incidence in the Cape Province.
This book comprises of six chapters each dealing with another topic. Chapter 1: includes background information and geographical areas is briefly described. Chapter 2: contains a brief review of the mammal position when the Europeans and British arrived at the Cape. Chapter 3: provides a description of the nature of the veld. Chapter 4: presents a fully revised account of the known historical distribution records for a wide range of mammal species. Chapter 5: provides a review of the patterns and trends in the status of the larger mammals. Chapter 6: lists and provides comments on non-indigenous larger mammal species.
Call number: 599.09687 SKE
Boots in the Baviaans. - Bartle Logie.
What a journey to read this book. Small towns from Klipplaat through to Andries Kraal. Stories about places and people in this quite and abandoned places. Their lives and everyday experiences. This book brings back many memories for those born and bring up in these areas also to those who knew these towns and its people.
Call number: 916.8 LOG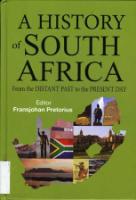 A history of South Africa: From the distant past to the present day. - Editor Fransjohan Pretorius.
Written by various historians on topics dealing with various aspects of South Africa, this book is a must read to all interested in history. The book starts of with the Dutch era at the Cape, 1652-1806; The emigration of the Voortrekkers into the interior; the Anglo-Boer war (1899-1902) to the post-war race relations, 1902-1948. It deals with black political awakening, 1875-1949; South Africa after apartheid, 1994-2004; coloured: a complex history and even on the Indians in South Africa.

Call number: 968 HIS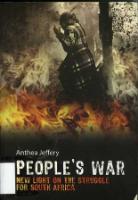 People's war: new light on the struggle for South Africa. - Anthea Jeffery.
An history of the ANC and its followers. Black people fight the struggle, working conditions, white leadership and many more from period 1960 up to 1994.
"This book shows the extraordinary success of people's war in giving the ANC a virtual monopoly on power. It also shows, in part at least, the great cost at which this was achieved. Apart from the killings, the terror, and the destruction that market the period from 1984 to 1994, the people's war set in motion forces that cannot easily be reversed. For violence cannot be turned off 'like a tap', as the ANC suggested, and neither can anarchy easily be converted into order."
Call number: 968.06 JEF
Mandela's Kinsmen: Nationalist elites and apartheid's first bantustan. - Timothy Gibbs.
"Gibbs reassesses the Bantustans and the changing politics of chieftaincy, showing how local dissent within Transkei connected to wider political movements and ideologies. Emphasising the importance of elite politics, he describes how leading ANC exiles, like Chris Hani, attempted to re-enter South Africa through the Bantustans. This failed in KwaZulu, but Transkei provided vital support after 1987, and the alliances forged were important during the apartheid endgame."
Call number: 968.29 GIB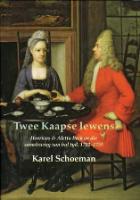 Twee Kaapse lewens: Henricus and Aletta Beck en die samelewing van hul tyd, 1702-1755. - Karel Schoeman.
Henricus Beck arrived in 1702 as minister to the Cape, where he service at Drakenstein, Stellenbosch and Tafel Valley. His sister arrived a few years later and was a poet. Unfortunately she died in 1752 and Henricus in 1755.
This is part of the 6th series 'Kolonie aan die Kaap' which will be part of 8 parts and of which will consist of the full VOC time period in South Africa.
Call number: 968.70320922 SCH
New Books - May 2014
We are going to kill each other today: the Marikana story - Thanduxolo Jika, Lucas Ledwaba, Sebabatso Mosamo, Athandiwe Saba.
"In August 2012, after a standoff of several days, South African police opened fire on armed mineworkers who had gathered on a koppie at Marikana in North West Province in defiance of their employer, their trade union and ultimately, the South African state. Among those at the scene were the journalists and photographers who contributed to this book."
Call number: 331.892968 JIK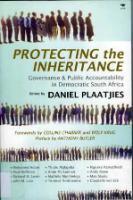 Protecting the inheritance, Governance and Public accountability in democratic South Africa - edited by Daniel Plaatjies.
"South Africa's new constitution has enabled the country to establish a comprehensive and funtional democratic governance system, designed to ensure that the state strives towards good governance and public accountability." Studies in this collection also explore the relationship between the branches of government, and the role of the courts and of parliament in promoting accountable government."
Call number: 320.968 PRO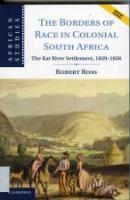 The Borders of race in colonial South Africa: the Kat River Settlement, 1829-1856 - Robert Ross.
"This book provides a detailed narrative of the Kat River Settlement in the Eastern Cape of South Africa during the 19th century. The settlement was created by the British to use the Khoekhoe as a living barrier between the Cape Colony and the amaXhosa. The history of the settlement is thus crucial in understanding the development of both colonial racism and the creation of the colony's non-racial democracy."
Call number: 968(75) ROS
The South Africa Reader: History, culture, politics - edited by Clifton Crais and Thomas V. McClendon.
"Among the selections are folktales passed down through the centuries, statements by 17th century Dutch colonists, the songs of mine workers, a widow's testimony before the Truth and Reconciliation Commission, and a photo essay featuring the acclaimed work on Santu Mofokeng."
Call number: 968 SOU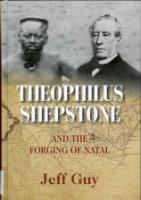 Theophilus Shepstone and the forging of Natal - Jeff Guy.
"Theophilus Shepstone is recognised as one of the key figures in the history of colonial Africa. He is credited with developing some of the essential and widely copied features of colonial administration, including indirect rule, customary law and segregation." biography and history are uses to break this silence and examine the man and his politics as they evolved in the conflicted and violent history of colonial Natal."
Call number: 968 (4) GUY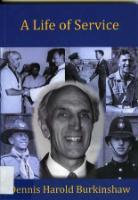 A life of service - Dennis Harold Burkinshaw.
"These Memoirs were written by Dennis based on his superb memory and also in consultation with his diary of events, compiled since 1961 when he became Diocesan Secretary in Grahamstown. The diary, recorded on foolscap paper, started off being a record of travelling and meetings, as a basis of expenditure, but with time became a more comprehensive record of important events in Dennis and Ruth's lives, especially after retirement."
Call number: 929.2 BUR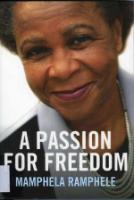 A passion for freedom - Mamphela Ramphele.
"When Mamphela Ramphele was born in a rural village in Limpopo, few would have predicted that she would become not only a medical doctor, but an acclaimed author, academic and business leader, prominent in two political movements: Black Consiousness in the 1970s and Agang SA in 2013. This book charts the incredible story of a woman who, despite detention, banishment, and the loss of the father of her unborn child to police torture, never gave up expanding the bouds of the possible."
Call number: 920 RAM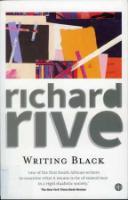 Writing black - Richard Rive.
"From his beginnings in Cape Town's vibrant and tumuluous District Six, to his later acclaim as academic and writer, this book records the development of an uncommon brilliance that emerged during the heights of South Africa's political turmoil."
Call number: 920 RIV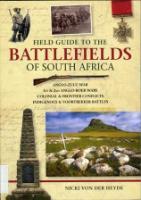 Field guide to the battlefields of South Africa - Nicki von der Heyde.
This book covering three wars and a series of conflicts, from the colonial clashes that characterised the 18th and 19th centuries to the 2nd Anglo-Boer War of 1899-1902.
Call number: 968 FIE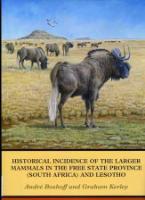 Historical incidence of the larger mammals in the Free State Province (South Africa) and Lesotho - André Boshoff and Graham Kerley.
"Using a diverse range of sources of information, this book attempts to estimate the distributions of 54 larger mammal species for the early historical period."
Call number: 599.09685 BOS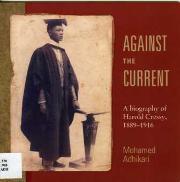 Against the current: a biography of Harold Cressy, 1889-1916 - Mohamed Adhikari.
This book celebrates the sixtieth anniversary of the founding of Harold Cressy High School as well as the man himself Harold Cressy. The school was founded in 1951 as Cape Town Secondary.
Call number: 370.968 ADH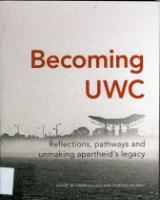 Becoming UWC: reflections, pathways and unmaking apartheid's legacy - edited by Premesh Lalu and Noëleen Murray.
"The book offers us ways to think about the ideas that defined UCW, about its design, architectures and its textures, and about its creativity. It also invites us to revisit some of the foundation narratives that guided the university through South Africa's turbulent 1970s and 1980s."
Call number: 378.68 BEC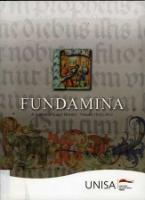 Fundamina: a journal of Legal History - UNISA
various articles from Laws on adultery up to the legal-historical context of urban forced evictions in South Africa are being written about. A historical perspective on the recognition of same-sex Unions in South Africa, etc.
Call number: 340.56 ERA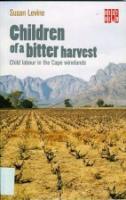 Children of a bitter harvest: child labour in the Cape winelands - Susan Levine.
"Document moments in the lives of children who worked in the heart of South Africa's wine industry between 1996 and 2010." Child labour of the 1990's inevitably gave way to adult labour, with the breath between childhood and adulthood as tender as it is tenuous."
Call number: 331.31 LEV
The taking of the slaver Meermin 1766 - Dan Sleigh and Piet Westra.
"In February 1766 while the slaver Meermin was returning to Cape Town from Madagascar with 140 slaves, some male slaves got hold of a number of their native spears, killed most of the officers and crew on deck and trapped the remainder, some of them badly wounded, in a cabin in the stern of the ship. The dramatic tale of courage, bloodshed, endurance, death, deceit and betrayal, also sheds light on the economic and social conditions at the Cape at the time."
Call number: 326.968 SLE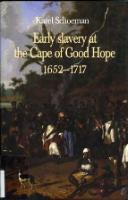 Early slavery at Cape of Good Hope 1652-1717 - Karel Schoeman.
"The purpose of this book is to bring together the widely scattered information on the fist sixty-odd years of slavery at the Cape." The period covered the arrival of the first white settlers under Jan van Riebeeck in 1652, while the first known slave reached the Cape in 1653."
Call number: 326.968 SCH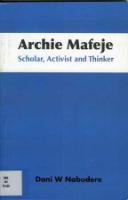 Archie Mafeje: scholar, activist and thinker - Dan W Nabudere.
"Archie Majefe was an independent Pan-Africanist and cosmopolitan individial who sought to understand the world at a global level in order to locate Africa within that tapestry." It also reflects the African people's journey in the search for Africa identity, self-control and self-understanding.
Call number: 306.01 NAB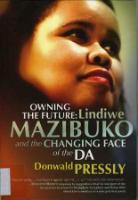 Owning the future: Lindiwe Mazibuko and the changing face of the DA - Donwald Pressly.
This book tells "the story of the remarkable public campaign that made Lindiwe Mazibuko the youngest MP to ever lead a party in parliament in South Africa and begins to unpack the future that she and the young team of MP's around her envision for all South Africans. This is a crucial first biography of a young woman who stands at the heart of opposition politics in South Africa, a young woman who is committed to restoring South Africa's faith in democracy and who believes passionately that all South Africans can own their own future."
Call number: 323.168 MAZ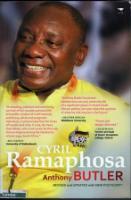 Cyril Ramaphosa - Anthony Butler.
This biography tells the story of Cyril Ramaphosa as one of South Africa's most celebrated political leaders. "He is widely credited with playing a major role in the negotiations that led to the democratic settlement in South Africa, and in devising the country's new and internationally renowned constitution."
Call number: 323.168 RAM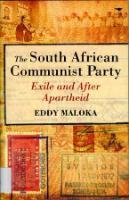 The South African Communist Party: exile and after apartheid - Eddy Maloka.
This book "is the history of the SACP during the exile years until its unbanning in 1990, the 1990-94 negotiated transition, and the immediate period after the 1994 first democratic elections." "It is also the story of the SACP leaders who were forced into exile in the aftermath of the Rivonia Raid and the introduction of the 90-day detention act. Maloka tells of the relationship between the SACP and the ANC, and the struggle to keep the movement alive until the eventual homecoming in the early 1990s."
Call number: 322.420968 MAL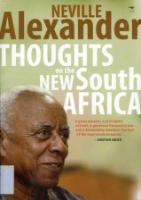 Thoughts on the new South Africa - Neville Alexander.
The writer of the book urge readers to take a step back and try to get a perspective on what has actually been happening since 1990, when the new South Africa began and also find a point of engagement, with a view to initiating or becoming part of trajectories.
Call number: 320.968 ALE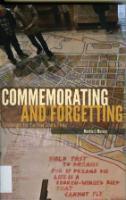 Commemorating and forgetting challenges for the New South Africa - Martin J. Murray.
"When the past is as painful and riddled with violence and injustice as it is in post-apartheid South Africa, remembrance presents a problem that is at once practical and ethical: how much must be forgotten for the nation to unify and move forward? Martin J. Murray explores the new South Africa's confrontation with this dilemma in this book"
Call number: 320.968 MUR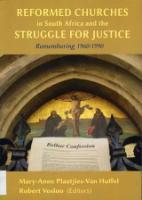 Reformed Churches in South Africa and the struggle for justice: remembering 1960-1990 - Mary-Anne Plaatjies-Van Huffel and Robert Vosloo (editors).
This book named after an conference held 14-16 May 2012 at Stellenbosch explore the ambivalent and complex history of Reformed faith during the years 1960-1990 in apartheid South Africa. Light is shed on the role of Reformed churches in the struggle for justice, freedom and dignity. The various sections in the book starts off with "Memory and Reformed identity" through to "Remembering Ecumenical, Public and International Engagement" Both the editors are lecturers at the Faculty of Theology at University of Stellenbosch.
Witchcraft and a Life in the New South Africa - Isak Niehaus
This book reconstructs the biography of an ordinary South Africa, Jimmy Mohale. Jimmy had died in 2005 of an undiagnosed sickness which propably related to AIDS. This study casts new light on scholary understanding of the connections between South African politics, withcraft, and the AIDS pandemic. This book is part of the International African Library Series.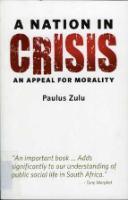 A nation in crisis: an appeal for morality - Paulus Zulu.
"This book examines the tension between justice and democracy in South Africa's transition." A close analysis of the South African transition shows that, despite the Constitution and the Bill of Rights, there are problems with equality."
Call number: 172.0968 ZUL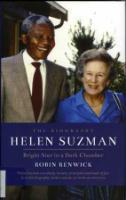 The bibliography of Helen Suzman: bright star in a dark chamber - Robin Renwick.
"This book recalls the determination, indeed ferocity, with which she opposed every one of the apartheid laws and the spate of security legislation introduced by the Verwoerd and Vorster governments." Helen Suzman battled the racist regime and earned her reputation as a legendary ant-apartheid campaigner."
Call number: 323.168 SUZ
Last Modified: Fri, 23 Jun 2017 14:19:10 SAST