The Prophetic Nun
The prophetic nun: Sister Margaret CR, Sister Pauline CR, Sister Dorothy Raphael CSMV / by Guy Butler. Johannesburg : Random House, 2000.
Available from Cory Library @ R228.00 plus postage and packing.
Please email us here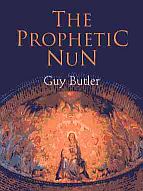 This is the interwoven story of three extraordinary women who brought inspiration and joy to many:
* Sister Margaret, a visionary painter;
* Sister Pauline, a brilliant teacher of sculpture; and
* Sister Dorothy Raphael, a dynamic social worker.
Well ahead of their times in the often turbulent conditions of Southern Africa, they all contributed significantly but in different ways to our social and cultural heritage - Sister Margaret through her murals and other paintings, Sister Pauline through her ability to teach and inspire students of sculpture including Ernest Mancoba and Job Kekana, and Sister Dorothy Raphael through her tireless social activism among the disadvantaged black communities of Johannesburg. The culmination of many years of painstaking research by a staunch advocate of South African cultural awareness, this book brings together the outstanding achievements of these truly remarkable women.
"Gathering information about these diverse but equally dedicated personalities has been a protracted, humbling pleasure. Through them the sacrificial yet joyful aims of the Community of our Lord and the Community of St Mary the Virgin moved many individuals to try to follow their example of obedience to the Word."
Guy Butler, who died in April, 2001, Grahamstown
Last Modified: Thu, 22 Jun 2017 16:14:48 SAST