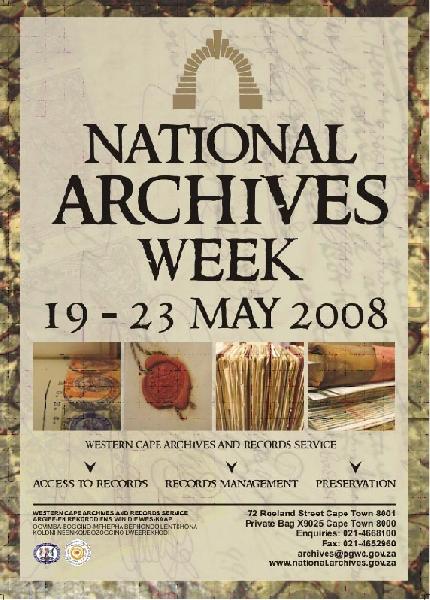 INVITATION: NATIONAL ARCHIVES WEEK: 18 - 22 MAY 2009
The Western Cape Archives and Records Service invites you to join us for the National Archives Week Celebration in Cape Town at the Western Cape Archives (72 Roeland Street). The National Archives Week offers a great opportunity for everyone to visit the archives and to learn about the importance of preserving our documented memory and its impact on our daily lives.
The program will run everyday from Saturday 9:00 - 13:00 and Monday to Friday 08:00 - 15:00. The activities include guided tours of the building, video shows and exhibitions. The duration of the visit, which includes a tour of the building, takes about an hour. A workshop will also be presented about genealogy on Tuesday (19 May) and Thursday (21 May) from 8:30 - 12:00 for which bookings have to made in advance.
The Western Cape Archives and Records Service is the oldest archives service in South Africa with some of South Africa's oldest records, starting with records of Jan van Riebeeck's journey to establish a victualing station at the Cape in 1651. The archives cover many aspects of the Western Cape's history, e.g. slavery, trade, wills and estate papers, early maps of the Cape and Cape Town, church records, nineteenth century photographs, immigration, property and farm sources, building plans, marriage and birth information amongst others.
The Western Cape Archives and Records Service ultimately receives all documents from government departments that are of enduring value. The documents are extensively used by researchers from across the globe for a variety of research projects from: family history, slavery, land claims, academic study for both under- and post-graduate degrees.
You are most welcome to join us any time during this week. For appointments of group visits and for more information, please contact Erika le Roux at:
• E-mail address: erleroux@pgwc.gov.za
• Tel No: 021-466 8125
• Fax No: 021-465 2960
You are most welcome to attend the Archives Week activities.
Mr NM Tshirado