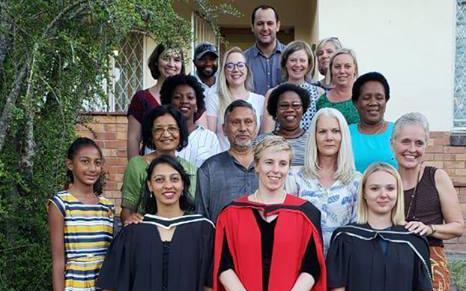 The April graduation ceremonies at Rhodes University were a cause for celebration at the Critical Studies in Sexualities and Reproduction Research Unit. Five researchers from the CSSR received various postgraduate degrees for their work in sexualities, all under the supervision of Distinguished Professor Catriona Macleod.
Sibongile Matebese and Nontozamo Tsetse graduated with Magister Artium degrees in Psychology after their theses examining the narratives of, respectively, women who drank during pregnancy, and family members, were recognised as being of excellent quality. Current members of the CSSR wished them well in their absence, as they are both pursuing professional training in psychology elsewhere. Hopefully they will find time to publish their groundbreaking work in the future.
Cassandra Ann Robertson-Ormston received her MA in recognition of the quality of her thesis. Her work analyzing and describing discourses related to sexual activity and relationships among young people on an anonymous online platform is a great example of how qualitative methods can be applied to data from novel sources. We eagerly anticipate her presentation of this research at the Psychological Society of South Africa conference in September.
Yamini Kalyanaraman, another valued member of the CSSR, received her Magister Artium in Counselling Psychology and thus progresses toward professional registration. It is to the benefit of the CSSR that Yamini is still with us and planning a PhD. Her master's thesis, titled 'An intracategorical intersectional framework for understanding 'supportability' in womxn's narratives of their pregnancy' is also due to be presented in September.
Finally, the CSSR celebrated the achievement of Dr. Ulandi du Plessis, who was awarded a PhD for her work on the govermentality of pregnancy in South Africa. The degree was awarded by the department of Political Studies and represents a step toward the CSSR's ideal of interdisciplinary research. Mastering the breadth of literature and theory involved in this research was a tremendous feat, and one well celebrated at the CSSR.
Source: Written by Pieter Bredenkamp