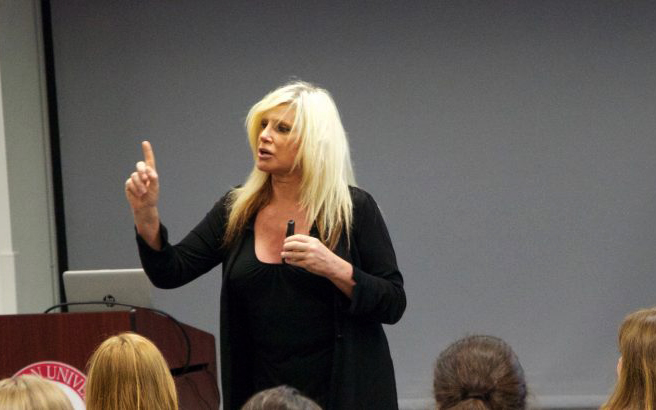 On the 21st of August the Nkoli-Fassie society organized an LGBTea with Jessica Lynn. Arriving five minutes late for the meeting, I was surprised to find the room empty. I wondered if I had arrived at the right venue, but the tea and coffee was neatly laid out in anticipation of an intimate evening chat, and I had double-checked the venue before I arrived. As I stood, contemplating my next move, I heard loud and joyous laughter coming from the art studio next door. Looking in, I saw an older woman excitedly talking to the first year art students and peering attentively at their artwork. She had long blonde hair and spoke animatedly to those in the room.
"This is such a wonderful space!" she exclaimed, gesturing at the walls bedecked with colourful art and rough ink paintings. "There's just so much fun stuff happening!"
She turned then, and saw me standing at the door. Aaron, the chairperson of the Nkoli-Fassie society, beckoned me closer and said to Jessica: "This is Elliot, vice-chair of Nkoli-Fassie."
I held out my hand in greeting but Jessica pulled me into an enormous hug instead. I laughed nervously; I had prepared to play the role of host to this woman, but here she was acting as though I were her guest instead.
We relocated to the seminar room while other members of Nkoli-Fassie and the committee trickled in and greetings were exchanged. Jessica's voice filled the room with a warmth and vitality – she was at ease and confident. We introduced her to rooibos tea - something she had never heard of before - while we talked with her about her travels, her life, and her beliefs.
Jessica grew up in Los Angeles in the USA, home of movie stars, and now lives in London. She spends most of her time travelling the world to share her life story and encouraging those around her to do the same; to date she's given her talk in 27 different countries, speaking over 750 times to audiences of teachers, professors, students, doctors and nurses, law enforcement, business leaders, and more. She is a Kinsey Institute Global Ambassador, a Stonewall School Role Model, and serves several different projects around the world, including the Butterfly Project which aims to educate people about the queer community by giving people a platform to share their stories. She had an MTV documentary made about her life, titled True Life: I Have A Trans Parent, and she even starred in an episode of Glee. In short, Jessica has seen more of the world in her half-century than most people can ever dream of.
But her life is not all roses – the catalyst of Jessica's motivational speaking career is personal tragedy, loss, and heartbreak. Jessica had three children while she still presented as male, two of whom she is still in contact with and who love her. The third, however, remains at a distance. Jessica's ex-wife took their youngest child away from her and moved far away, despite the US courts granting Jessica full parental custody. Thus ensued a long and heated legal battle, costing Jessica tens of thousands of dollars and much of her time. Eventually, a judge ruled that – despite being the better parent – Jessica's decision to transition openly and publicly would traumatise her child, and she was forbidden from contacting him.
So Jessica decided to talk, to tell the world about the injustices she had faced on account of being transgender. She spoke out against transphobia and slowly started to build a reputation as someone you wanted to talk to. Her openness, honesty, and self-confidence drew in audiences by the thousands, and soon the whole world wanted to hear her speak. Jessica has been touring the world and sharing her story in the hopes that the lives she touches be improved, in any way, no matter how small. And that someday, her son will hear her story and come find her.
Jessica's visit was not something we could have imagined. Her story was incredibly touching for everyone who met her. Hearing a trans woman from such a different context speak about her life, and the similarities we could draw between our experiences, was eye-opening for us. People came to us afterwards and told us they felt acknowledged, they felt seen by her. They felt accepted by her. The mere fact of her presence enacted change within people who had never been exposed to anything like that before. Someone came to the society and confessed that Jessica's talk had shaken something loose in them, something they could never articulate; Jessica had helped them realise their own identity. We may never see the extent of the impact Jessica had on the people she met here, but we are hopeful that it was to the benefit of the queer community within Rhodes University and within Grahamstown at large.