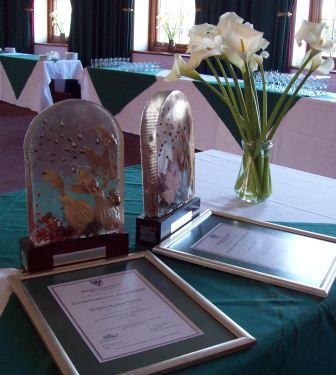 Congratulations to the 2010 Environmental Award winners. They are Mike Powell (individual category) and SEACC Student Forum (student society / residence category). Their achievements were honoured at a celebratory function on Wednesday 20 October, hosted by the RU Environmental Committee. In his speech, the Deputy Vice Chancellor Dr Sizwe Mabizela commended the winners for leading the way in promoting and implementing practices that support environmental sustainability. Their names will appear in the Rhodes University graduation booklet, and will also be placed on the Environmental Awards Honours Roll - to be housed in the Environmental Learning Research Centre. More about the winners:
Mike Powell is actively involved in ecological restoration in the Eastern and Western Cape where land degradation has been severe. He is an expert on spekboom (Portulacaria afra) – part of the reason why he is sometimes described as a 'spekboom evangelist'. He has a Master of Science from Rhodes University. He is the leader of the Rhodes Restoration Research Group, generating peer-reviewed publications, developing Best Management Guidelines pertaining to invasive alien species, and developing Restoration Protocols relevant to subtropical thicket.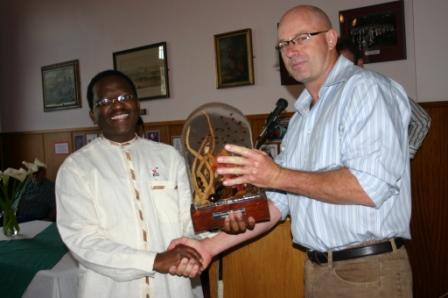 Dr Mabizela congratulating Mike Powell
Mike is involved in a number of innovative projects, serving as Regional Ecologist for the Eastern Cape Restoration Programme and Ecological Advisor to the Living Lands Group. Through his links with these and other agencies, he raises funds for his own research as well as for student research. Mike is also involved in co-supervising students at Honours and Masters level, which ensures that restoration research and implementation skills are taken up more widely.
Mike is has spearheaded the creation of South Africa's first carbon offset farm, in collaboration with the Nollen Group and overseas investors – this will provide at least 67 jobs. With a growing international trend for conferences and other events to achieve carbon neutrality, there is no doubt that Mike will help Rhodes University lead the way in restoring 'natural capital' in South Africa.
The South East African Climate Consortium Student Forum was formed in February 2010 in response to the pressing issues of sustainability and climate change. SEACC SF has the backing of the Wilderness Foundation, the Sustainable Seas Trust, and various academics across the Eastern Cape, as well as the patronage of Professor Mervyn King, head of the UN Global Reporting Initiative. SEACC SF is leading a student crusade to protect the natural environment and to defend the rights of current and future generations to an environment that is not harmful to their health or well-being, as enshrined in Section 24(a) of the South African Constitution.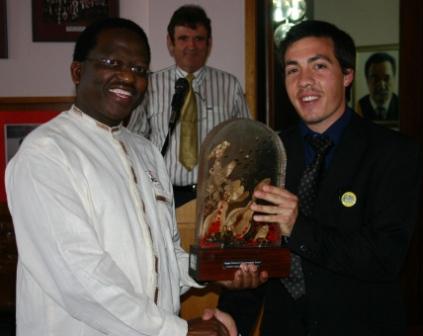 Alex Lenferna accepting trophy for SEACC SF
In just one year, SEACC SF has made great strides in conceptualising its direction, and is already a well-known environmental group at Rhodes University. They have established an online knowledge-sharing platform for the network; hosted informative lectures on issues of sustainability and climate change; engaged in awareness raising demonstrations; and formed a partnership with the Environmental Learning and Research Centre to assist a rural community in developing mitigation measures to adapt to climate change. SEACC SF was heavily involved in organising the Rhodes University Environmental Week, and assisted the Rhodes University Environmental Committee with the Green Fund Run on 10th of October. As part of a network of students across the Eastern Cape, they also interact with nodes at Nelson Mandela Metropolitan University (NMMU) and the University of Fort Hare (UFH). SEACC SF RU has achieved all of this with extremely limited internal (student-sponsored) funding.
SEACC SF is committed to: helping Rhodes University 'go green'; working with the local community to formulate more sustainable ways of living; and developing a number of sustainability models that can be applied across different contexts. As part of a strategic plan to maintain strong ties and partnerships among the SEACC SF network, SEACC SF will limit the SEACC SF network to the Eastern Cape. However, they are one of the founding and driving members of the Youth Environmental Coalition of South Africa, which aims to create a network of young environmentalists across South Africa. SEACC SF aims to take forward a representative student contingent to the United Nations Framework Convention on Climate Change Conference of the Parties 17 next year in Cape Town.
Through their interactions with peers at Rhodes University as well as with student bodies and academics at other tertiary institutions, SEACC SF is leading the way on the student front in networking and taking action for environmental sustainability.
Last Modified: Fri, 13 Dec 2019 06:36:00 SAST