Congratulations to the 2014 Environmental Award winners: Biological Control Research Group Mass Rearing Programme (RU institute / department category) and Nombulelo and Mary Waters Interact Clubs (Makana community).
A celebratory function was held on 30 September, where Dr Sizwe Mabizela presented the winners with the unique and beautiful floating trophies and framed certificates. Dr Catherine Luyt - well known for her work in developing a low-cost water-testing kit - gave an inspirational speech and congratulated all who have helped to brighten the future of this country, encouraging them to continue striving for their dreams. Winners' efforts to promote sustainability are acknowledged in the Rhodes University graduation booklet and on the Environmental Awards Honours Roll.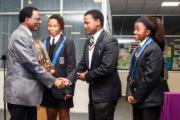 More about the winners:
Photo gallery: to be uploaded soon.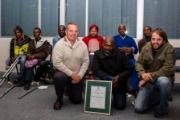 Biological Control Research Group Mass Rearing Programme: This Rhodes University unit has established an impressive mass rearing facility in order to meet the demand for biological control agents - host-specific natural enemies which are used to control waterweeds. It should be noted that invasive aquatic weeds are choking South Africa's waterways, posing a serious threat to the integrity of aquatic ecosystems, and to the quantity and quality of potable water... and costing the government millions of Rands to control each year. Water hyacinth alone, the world's worst aquatic weed, accounts for up to 40% water loss through evapotranspiration, and threatens the livelihoods of poverty-stricken communities in rural Africa.
Thanks to this unit, close to a million biological control agents have been released over the last 6 years to control common waterweeds in South Africa. This has helped restore aquatic ecosystem services, increase the supply of water, and improve water quality. As a result, there is hope for the livelihoods of poor rural communities. The mass-rearing programme has also resulted in the socio-economic upliftment of local people with disability who are employed by the unit.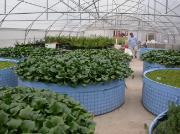 They have met the Environmental Award criteria in many ways:
Collaborative and cohesive efforts which strengthen and build community relationships: including Working for Water, SAEON Elwandle Node in Grahamstown, the Association for Persons with Physical Disability, a local secondary school and a student outreach programme, WildREACH. The programme has provided practical leadership opportunities to local school children, which also ensures community involvement in environmental stewardship. Furthermore, this facility can be used to teach a number of different skills to scholars, for example, numeracy, and written and oral communication.
Leading by example: this unit serves as a role model of how research and implementation can be carried out by the same organisation. Not only local organisations can learn from them... further afield, the City of Cape Town's Invasive Species Programme has developed a similar programme with their assistance. South Africa and Rhodes University are at the forefront of biological control of aquatic weeds worldwide, and their expertise has been called upon to assist in the control of these weeds beyond our borders, throughout Africa, and into Europe, the USA, and as far away as Australia and New Zealand.
The activities have been in place for 18 months or longer: in fact, since 2008.
Continuity of the activities: this programme is one of the most productive in South Africa, and has been upgraded to include even more employees and facilities, ensuring ongoing production of large numbers of good quality biological control agents.
Promoting environmental awareness: the unit focuses on understanding the ecology, biology and management of invasive aquatic weeds. By involving members of the community and a local school, the concept of biological control has been introduced to ordinary people, teachers and scholars – who have become involved in maintaining healthy plants and insect cultures, and collecting the insects for distribution to infested sites. Similar awareness has been created amongst stakeholders throughout the country – from governmental organisations to private landowners.
Initiating environmentally sound practices: biological control offers the most effective long-term solution to controlling many invasive alien plant species and insect pests, and promotes pollution control. By establishing a productive facility which supplies much-needed biological control agents to control invasive waterweeds, this unit has also created sustainable employment opportunities. Furthermore, by providing accessible working conditions, they have empowered people with physical disabilities to continue this important work.
It is clear that the Biological Control Research Group Mass Rearing Programme offers sustainable solutions for the management of a variety of invasive species. And you will be pleased to know that the first releases of biological control agents – for aquatic weeds in this City – have now been made!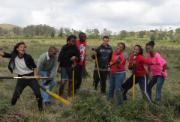 Nombulelo and Mary Waters Interact Clubs: This group, comprised of school children aged between 12 and 18 years, has made a tangible, significant contribution to the ecological health of the Grahamstown environs by the sustained removal of invasive alien plants. As Interact Clubs, formed under the auspices of Rotary Club of Grahamstown Sunset, they undertake projects to benefit their communities, thus instilling in their members an appreciation for the ideal of selfless community service.
This group started in July 2012 to remove Port Jackson Willow and Black Wattle from the commonage around Grey Dam and along Mountain Drive. They have taken out more than 13,000 saplings and small trees to date, resulting in large areas that are now free of invasive alien plants. Through this, they raised R7,500 from sponsors and used this money to fund their other projects – repairing the ceiling at Luzuko Pre-school, and contributing towards a Rotary "Shelterbox", thousands of which have been distributed around the world, each able to support a family for six weeks following a disaster.
They have also undertaken other smaller projects involving the collection and re-use of domestic waste to create useful items. For example, creating home-made soccer balls out of orange/onion bags stuffed with used paper and plastic bread bags; and making crackers and toy binoculars using empty toilet rolls – both for pre-school children. Also, making eco-bricks by filling empty 2-litre plastic cool drink bottles with non-recyclable waste – a cheap and useful building material.
The above-mentioned projects meet the criteria of an award in many ways, in particular:
Collaborative and cohesive efforts which strengthen and build community relationships: involving a Rotary Club, two Interact Clubs, four pre-schools, as well as Round Table, WESSA, Working for Water and the Kowie Catchment Campaign.
Leading by example: serving as role models for the children in their schools and community, and setting an example of selfless community service.
Evidence that the activities have been in place for 18 months or longer.
Continuity of the activities: these will continue as long as sponsorship is forthcoming.
Promoting environmental awareness: the children have learned about the environmental threat posed by invasive alien plants, they are now able to identify two major invasive weed plants, they appreciate the difference between indigenous and alien vegetation, and have seen the benefits of removing invasive species.
Initiating environmentally sound practices: demonstrated through the invasive removal project, as well as through the re-use of domestic waste to make toys and eco-bricks.
The nominator was impressed and encouraged by the response of township children to these projects, and the way they tackle their tasks with cheerfulness and enthusiasm. It is credit to them that swathes of the Mountain Drive Commonage are now free of invasive plants, a fact that has been acknowledged on the plinth put up by WESSA at Grey Dam. It has been a gratifying, eye-opening experience working with these citizens of tomorrow, who report: "In short: we try to save the planet!"
Last Modified: Fri, 13 Dec 2019 06:33:54 SAST