Congratulations to the 2013 Environmental Award winners: IWR Unilever Centre for Environmental Water Quality, Catchment Research Group, and iNqaba yeGolide.
A celebratory function was held on Friday 20 September in the Environmental Learning Research Centre, where the winners were presented with unique floating trophies and framed certificates. Their efforts to promote sustainability are acknowledged in the Rhodes University graduation booklet and on the Environmental Awards Honours Roll in the RU Library.
More about the winners:
IWR Unilever Centre for Environmental Water Quality: This RU Institute has demonstrated efforts to promote sustainability through all five of the Environmental Awards criteria. These are: Operational protocols and/or practices that promote human and ecological health or 'living communities'; Collaborative and cohesive efforts which strengthen and build community relationships; Leading by example; Evidence that these activities have been in place for 18 months or longer; and evidence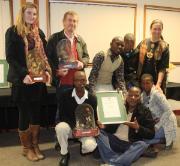 Rhodes University recognises that South Africa is facing a water crisis and there is an urgent need to proactively and adaptively manage SA's water resources. Through their water project 'Towards a New Paradigm' (TNP), the IWR UCEWQ is promoting on-the-ground water resource protection, better integration of use and management, and improved social and ecological water justice, through constructive co-management and service delivery of water. The outcomes of their work will inform the updated National Water Resource Strategy.
Their TNP case study in Makana is an extension of their work with the Lower Sundays River Valley Project, with a focus on local government governance. It links strongly to Water for Dignity, specifically addressing microbial pollution and human health, through regular contact with water representatives in municipal wards, hand-washing, sanitation and health issues in schools and clinics, and "walking the river" to contribute to cleaning up the local freshwater resource. The project involves a variety of other stakeholders, the main one being Makana Local Municipality, and others including Khulumani Support Group, Galela Amanzi, Kowie Catchment Campaign, as well as research groups such as EBRU, ISER and the CRG, among others.
The UCEWQ's TNP project works from the understanding that people in catchments comprise complex social ecological systems. They use appropriate, complexity- and systems-based approaches and methods in their work, with the aim of capturing such experiences and making practical approaches to complex water problems widely available, in an accessible manner. Their aim is to do this in South Africa – through the Integrated Water Resource Management (IWRM) – and internationally. The Director, Professor Tally Palmer, has been Chairperson of the Water Research Commission, and is currently completing a 3 year term as Chair of the Scientific Advisory Council to the national Minister of Water Affairs.
The UCEWQ has impressive experience in practicing a transdisciplinary, integrative, adaptive, community partnership approach to water management research in several ongoing projects, including the Eastern Cape Water and Local Government Case Study, the Crocodile River in the Inkomati Catchment (funded by NRF/ THRIP and industries that depend on the catchment), and the Olifants River Catchment – Mpumalanga-Limpopo (funded by USAID).
They have encouraging results: stakeholders in the key Eastern Cape water project in the Lower Sundays River Valley (LSRV) have moved to a point where constructive co-management and service delivery of water will be more effective in the Sundays River Valley Municipality (SRVM). As a result, they have been able to leverage additional research funding that moves the work to a national scale and includes additional graduate students.
As a result of their success in previous projects, the UCEWQ has been awarded R5-million by the WRC, over 4 years, to continue their work through their project entitled 'Towards a New Paradigm for Integrated Water Resource Management in South Africa (TNP)', one of the case studies focussing on Makana.
The Catchment Research Group was established as an informal group of postgraduate researchers in the early 2000s, making significant contributions to sustainable management of the water environment. Since 2011, this group's profile has increased significantly with student-driven outreach activities. ‌
The CRG aims to raise awareness and mobilize action amongst all water interest groups in and around Grahamstown. The main focus of initial outreach activities was the facilitation of monthly seminars, called Water Circle Seminars, with guest presentations from students, researchers, professionals and practitioners in the water sector. The seminars aim to bring together water researchers from around the University, with talks by academics from different departments. A number of South African and international speakers have been included in the programme. Reports on seminars and other activities are available through their blog site.
Since 2011 the CRG has also been actively involved in Rhodes Water Week and various other environmental awareness raising activities. They work closely with other Rhodes student groups such as Galela Amanzi and Rhodes Legal Activism. The group has also encouraged discussion around water issues through initiating the Karoo Water Watch and the Grahamstown Water Watch.
This year's Water Week included a wide range of activities under the title of Trandisciplinarity in the Water Sector, organised entirely at the initiative of the students. Poster presentations brought together many different departments and research units from the University who have a common interest in water. The meaning and practice of transdisciplinarity was explored through a panel discussion, an interactive information session was hosted "as a place for dialogue" and school communities were brought into the water circle through demonstration of water quality testing (involving a staff member from the IWR) and the playing of the Sustainability game - created especially for Water Week - with learners from C M Vellem School and Archie Mbolekwa School.
Similar community outreach to schools took place in 2011 when the students engaged with Upstart clubs and the GADRA Matric School on local water quality issues, using materials that they created, including a water quality poster based on local research and a game called "The downstream effect".
Since its inception, the CRG has been run by Masters students. The continuity of action over the last three years demonstrates the sustained nature of their mission to promote interdisciplinary engagement around water issues within Rhodes University and the wider community.
The students who promote these activities clearly lead by example, the group has been active for more than 18 months and, given the momentum evident in the group, we have good reason to believe that they will go from strength to strength in continuing to be a force for promoting water awareness and action.
iNqaba yeGolide registered themselves as a cooperative in 2011, in an attempt to empower themselves in the face of unemployment and poverty. The five unemployed young people from Makana's Hlanani location specialise in environmental projects such as neighbourhood cleaning, greening and composting. Their innovation in composting backyard vegetables has attracted local and regional media attention, and their activities have also been acknowledged by the Director-General from the Ministry of Environmental Affairs. ‌
They have an enterprising attitude, submitting proposals to a number of institutions, and have persevered in seeking new opportunities to enhance their skills. As a result, they have established a collaborative relationship with the Environmental Learning Research Centre at Rhodes University. The group has participated in training programmes at the ELRC, and also attended a short course on nursery management at the University of Fort Hare.
The Makana Local Municipality's Agriculture and Environmental Management offices recognised their enthusiasm and initiative, and as a result have formalised a working relationship with this youth group. The Environmental Management office enlisted them as Community Environmental Facilitators, and together with 25 other unemployed local youth, they participate in the implementation of the municipal environmental education and training strategy. They are instrumental in mobilising local communities towards a concerted effort to keep their wards clean, healthy and aesthetically pleasing. The project is now supported by the Expanded Public Works Programme.
They are currently negotiating to acquire land to start a nursery and a green composting initiative (more at Organic) in the Belmont Valley. Based on the evidence, iNqaba yeGolide is sure to go from strength to strength in its efforts to promote sustainability, especially in terms of human and ecological health and wellbeing.
Last Modified: Mon, 16 Mar 2020 11:38:48 SAST